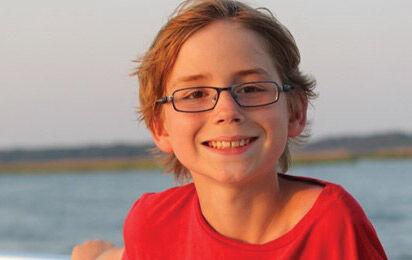 A Webster Groves family is in need of a Christmas miracle as they try to raise the funds needed to place and keep  their 13-year-old son in a long-term care treatment facility following a year in and out of hospitals and shorter-term facilities.
Timothy, who previously attended Hixson Middle School, Steger Sixth Grade Center and Bristol Elementary in Webster Groves, has been hospitalized 11 times and placed in three different residential care facilities since attempting suicide in January 2020.
Born in another country and adopted by Paige and Chris Clausen at the age of 5, Timothy suffers from post traumatic stress disorder due to pre-adoption trauma, as well as major depressive disorder and reactive attachment disorder. The latter is a rare but serious condition in which an infant or child doesn't establish healthy attachments with parents or caregivers, most often because their basic needs are not being met.
Despite being adopted into a loving family, Timothy never switched out of "fight or flight" survival mode because of the extreme abuse and neglect he suffered before being adopted. He has essentially remained in "flight" mode his entire life, and it's taken a devastating — and nearly fatal — effect.
Timothy has only been able to stay at home a handful of days since January before attempting self harm and being placed in acute care again, his mother Paige Clausen explained.
The Texas facility where he's been for the past six months plans to discharge him by Christmas Eve because they feel they cannot do any more for him and he is no longer advancing in therapy. Upon being discharged, Timothy will placed back into a short-term acute care situation, which will only further set him back, his mother added.
"With reactive attachment disorder, it's detrimental for him to bounce from one place to another," she said. "He needs stability to learn to trust and develop healthy attachments to feel safe in this world. 
"He needs longterm specialized care to move forward and not go into "flight mode" and attempt suicide again — and a longterm specialized care facility needs to be close enough to our home to have us involved in his therapy and recovery," she added.
But finding and being able to afford care at such a facility has been nearly impossible. The Clausens, who have two other adopted children and three biological children, have spent the better part of this year calling hundreds of such facilities across the country — as well as insurance companies.
The best and closest residential reactive attachment disorder therapy facility is Calo (Change Academy at Lake of the Ozarks). Like the majority of specialized facilities of its kind, it is exclusively private. The price tag? Roughly $14,000 a month — or $168,000 a year — and the average stay is 12-18 months. Before being admitted, two months must be paid in full.
"Even if we sold our house right now and lived in a shack, which would displace all of our other children, we still couldn't pay $168,000 a year," Paige Clausen said.
Desperate to get their son the help he needs, the Clausens finally decided to ask for financial assistance through a GoFundMe campaign for Timothy. 
"We knew that insurance wasn't going to cover this, but we held back and held back and held back (on asking for help)," Clausen said.
But with the current facility's discharge plans before Christmas Eve nearing, they couldn't wait any longer.
"This is urgent. This is now. We don't want his next destination to again be the emergency room, then more acute care facilities," Clausen said. "We're in an inconceivable position. As a mother, it's heartbreaking."
What's helping her heart more than anything is the fact that Timothy's GoFundMe campaign has now raised roughly $42,000 toward its goal of $252,000, which is what his expected 18-month stay at Calo would cost. 
That $42,000 is already more than what the family needs to pay in advance to admit Timothy for the first two months, and they started the admissions process on Monday, Dec. 21. 
The Clausens are beyond grateful for all they've received so far, and they're holding out hope for a Christmas miracle of more donations that will allow Timothy to remain at the facility for at least a year, and longer if needed.
"We're overwhelmed with the response we've gotten — we're almost at a three-month stay," she said. "But  we still really need to have enough (funds) for 12-18 months or there is no point in admitting him because following through with all the treatment is important for a kid with reactive attachment disorder."
Clausen wants others to know there's much more to her son than his disorders.
"He's super sweet and he's very empathetic," she said. "He loves animals. He loves anything outside. He likes to ride his bike and play sports. He's quite witty, and he's a whiz at chess and puzzles. He's a great young man, and he deserves help and that of professionals to figure this out. Together, we can help save his life."
To donate, visit "Giving Timothy A Chance #suicide #ptsd."