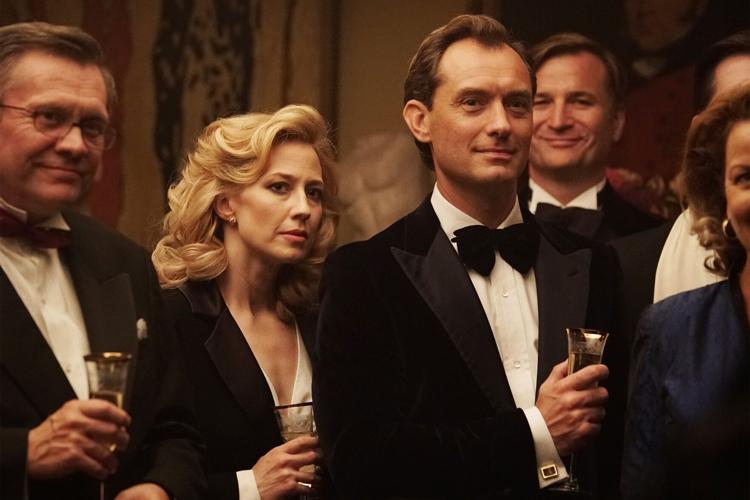 Lynn's Grade: B+
Genre: Drama
Rating: R for language throughout, some sexuality, nudity and teen partying
The Plot: Rory (Jude Law), an ambitious entrepreneur and former commodities broker, persuades his American wife, Allison (Carrie Coon), and their children to leave the comforts of suburban America and return to his native England during the 1980s. It's their fourth move in 10 years, she says. Sensing opportunity, Rory rejoins his former firm and leases a centuries-old country manor, with grounds for Allison's horses and plans to build a stable. But that promise of a lucrative new beginning starts to unravel. The couple have to face the unwelcome truths lying beneath the surface of their marriage.
Lynn's Take: Writer-director Sean Durkin's keen eye for the rhythm of everyday life and family dynamics make for astute observations in a mature adult drama, "The Nest."
Set in the mid-1980s, materialism is a big part of the story and depicted in the way Rory seeks to acquire trappings as he builds a hot-shot professional image. However, the country manor Rory leases is too grand and dilapidated for any semblance of coziness. Big, drafty rooms, with their nighttime shadows, give off eerie vibes in a thriller sort of way.
But it is the internal factors of a family unraveling that propel this story. At first, it looks like domestic bliss, but Rory's restlessness and cocky, vain airs give way to cracks in the relationships. We soon learn that he lies. Big and little lies. Those consequences begin piling up — at work and at home.
The children have problems assimilating to a different country, and their sadness, which can't help but surface, is integral to the bigger portrait of dysfunction. Benjamin (Charlie Shotwell) is their son; Samantha (Oona Roche) is Allison's daughter from another relationship.
Durkin, who wrote and directed the mysterious and riveting "Marcy Martha May Marlene," has carefully crafted a grown-up drama that will stay with you long after the credits roll.
The acting is a high point, with Jude Law and Carrie Coon at the top of their game. Law hasn't been this challenged in ages, and he fiercely digs in — and he is matched by the sublime Coon, a venerable stage actress who has made her mark in limited series "The Leftovers" and "Fargo," as well as films.
Anne Reid, as Rory's mother, and Michael Culkin as his boss, stand out in brief supporting roles.
This is a slow build of a film that will eventually pay off, and the rewards are plentiful.
"The Nest" is in theaters only beginning Sept. 18