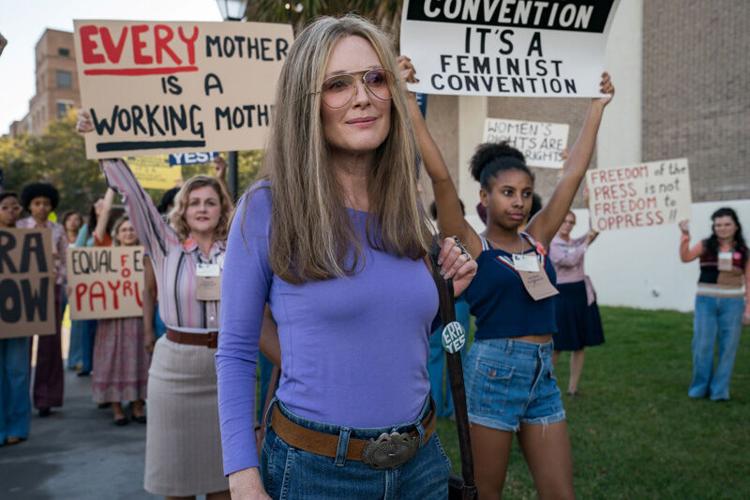 Lynn's Grade: B
Genre: Biopic
Rating: R for some language and brief lewd images
The Plot: This is the story of journalist and feminist Gloria Steinem, the icon known for her activism, the revolutionary women's movement, and writing that has impacted generations. Using four different actresses, we take in her journey from childhood to a fellowship in India, her reporting days, founding Ms. Magazine, the 1977 National Women's Conference and ending with the Women's March in January 2017 in Washington D.C.
Lynn's Take: As important as it to know Gloria Steinem and understand why she matters, "The Glorias" is lacking as a completely satisfying portrait, but its sincerity, good intentions and authentic performances are admirable.
Based on Steinem's 2015 memoir "My Life on the Road," this non-linear film suffers from a choppy narrative that makes it too long, at 2 hours, 27 minutes. The first half-hour is a mess, then settles down into something resembling a cohesive story of a trailblazing woman's career challenges and interesting life experiences.
The metaphors of cars, buses and trains is heavy, as at various moments, four Glorias show up talking to each other, as cinematography shifts from black-and-white fantasy sequences to the color of reality, as contemporary women's issues are depicted. The real Gloria also appears.
This non-traditional approach by director Julie Taymor, who co-wrote the screenplay with playwright Sarah Ruhl (Tony nominee for 2009 "In the Next Room, or The Vibrator Play,") uses four actresses to detail how a poor but smart girl rose to international prominence. Ryan Kiera Armstrong is the young Gloria, whose itinerant salesman father (Timothy Hutton) and clinically depressed mother (Enid Graham), shaped her; Lulu Wilson is the tap-dancing teenager who dreamed of a better life; Alicia Vikander is the Smith College girl who spends two years in India, encounters discrimination and harassment in the chauvinist workplace and becomes part of a burgeoning women's liberation movement in the 1960s and 1970s, where she finds her voice; and Julianne Moore is the assured activist adult still organizing and fighting for human rights.
All four excel at their parts, providing a revealing look at each stage. Oscar winners Vikander and Moore delve into the complexities of personal and professional goals in a genuine way that resonates. Their strengths as actresses illuminate the best storytelling in the film. Moore's uncanny resemblance gives her an appealing gravitas and she projects a calm demeanor while Vikander's strong-willed determination shows how she grew into her revolutionary persona — from the simple gesture of trying on eyeglasses to the withering look she shoots a misogynist co-worker.
But Taymor, a true visionary — the woman who created "The Lion King" stage musical with those stunning puppets, takes unnecessary flights of fancy, a la "The Wizard of Oz," that may work on stage but distract on film. An interview with a leering host turns into a ridiculous cyclone that adds nothing but length.
The complex nature of Steinem's life should be enough for the movie. The film hits its stride as the noteworthy women of the movement are given their due for their contributions: Lorraine Toussaint as civil rights attorney Flo Kennedy, Janelle Monae as activist and Ms. Magazine Co-founder Dorothy Pitman Hughes, Bette Midler as feisty Congresswoman Bella Abzug, Monica Sanchez as labor leader Dolores Huerta and Kimberly Guerrero as Wilma Mankiller, the first woman chief of Cherokee Nation.
It's those meetings with remarkable women that propels the journey, not men or romance, although love is a big part of the story. So is respect. However, the script jumps around the significant moments in her life, namely the undercover Playboy Bunny piece for Show magazine in 1963, the illegal abortion in England in 1957, her parents' divorce in 1944, first issue of Ms. Magazine in December 1971 — making it hard to figure out a timeline. Her marriage to David Bale in 2000, when she was 66, is briefly touched upon; he died in 2003.
Because of its subject matter and the strength of the performances, the film is compelling. Nevertheless, it could have been so much better, and trimming 30 minutes would have improved it immensely.