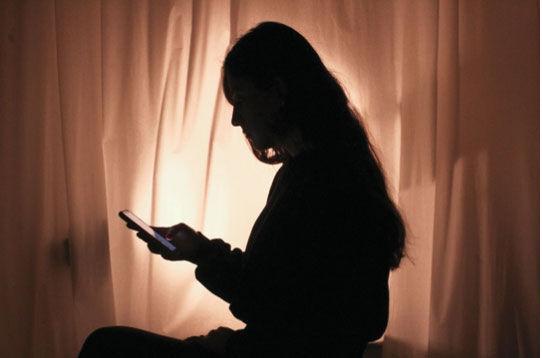 Kirkwood High School senior Edie Wheeler sits on her bed during the midst of the COVID-19 lockdown, scrolling through her phone. 
She sees videos of people exercising and doing two-week ab challenges while she sits and tries to relax during those long months. It comes as no surprise that she soon feels like she's being lazy and isn't doing enough. She begins to compare her body and her own productivity to those she sees on the internet, which leads to a downward spiral of  negativity. 
"I saw people on social media doing Chloe Ting challenges and 'Watch me try to lose weight during quarantine' videos, and so I started doing all these workouts," Wheeler said. "Everyone was losing weight and eating healthy, so ... I stopped eating." 
Sadly, Wheeler's story isn't uncommon. In recent studies, social media — and specifically the platform Instagram — has been proven to target teenage girls in more adverse ways than ever. While Instagram's popularity rates are skyrocketing, girls' self esteem is plummeting.
As Instagram continues to grow, so does the content being advertised to women. The  platform is full of people posting pictures in which they have altered their bodies and appearances, which has created a free-for-all of artificial content. As this toxicity persists, so does the number of girls with severe negative self image issues. 
Kirkwood High School senior Amanda Ralston said that seeing other people post content that is unrealistic and edited can make her feel self conscious about the way she looks. 
"What contributed a lot to my eating disorder was seeing all these people (posting) and comparing myself to them," Ralston said. "A lot of people post 'What I Eat In A Day,' and I think that's really easy to compare yourself to." 
Many girls say that Instagram has contributed — if not caused — their eating disorders. Facebook's studies state that 32% of girls say that when they feel bad about their bodies,  looking on Instagram makes it worse. As young women consume more and more of the content that makes them feel worse about their bodies, they become more depressed. As they continue to browse the platform, they end up in a cycle where they proceed to hate their bodies even more.
Instagram can be harmful to women of all ages — not just those in their teenage years. Kirkwood High School counselor Sarah Esslinger said she battles with the insecurities social media fosters even as an adult.
"On social media, there are all these unrealistic standards put on women for beauty," Esslinger said. "It's easy to get sucked into that and feel like you have to be a certain way." 
Facebook studies also found that Instagram exacerbates mental illnesses such as anxiety and depression, and 13.5% of girls say that it can increase suicidal thoughts. 
"I think it can cause depression in extreme cases," Kirkwood High senior Ralston said. "Girls are so wrapped up in it." 
Not only does social media affect the way girls view their bodies, but it can also make them feel unwanted and like they're being excluded. Being able to see who everyone is with at all times tends to make teenagers think that they're missing out on social gatherings and get-togethers. 
"You think you have a group of friends and then you see people hanging out and you weren't invited," Kirkwood High counselor Esslinger said. "It just becomes an unhealthy spiral sometimes." 
Wheeler has experienced that. The Kirkwood High School senior said seeing certain people at places she hasn't been invited makes her feel like she's missing out.
"I see posts and I wish I was at this event or I wish I was at this place," she  said. "It can just make me upset."  
Being Aware & Asking For Help
Social media plays a major role in most people's lives. The factor giving it power lies in the hands of the user. 
Esslinger said although she struggles with the negative effects of social media, she knows when to turn off her phone — and recommends that others do the same from time to time.
"It's healthy to detox completely from social media because it can be so overwhelming," she said.
Esslinger added that it's important for women and girls to be aware of who they're following on social media and the kind of content being posted on those pages.
"Thinking about the type of accounts you follow and who is on your feed is helpful," the counselor said. 
Julie Smith, a media literacy professor at Webster University, also encourages girls to be informed and aware when using social media. She wants to remind them that Instagram is thriving solely off of their time and engagement.
"I want girls to learn about algorithms and how the 'for you' section of any app exists only to keep us on there longer," Smith said. "I would constantly remind her that these platforms are making loads of money from her attention and that the people who run those platforms are unelected, unaccountable and have an unbelievable amount of power." 
Esslinger has a similar take, and wants girls to know that there are always resources for help. 
"I would definitely encourage anyone to talk to their school counselor. They can help any student with some of the feelings they're having," Esslinger said. "Just starting with, 'I feel like I'm on my phone a lot and it's having an impact on my mental health,' is a completely appropriate way to start a conversation."
And that's exactly what Wheeler did. Realizing what was causing her to feel so low about herself, she sought help by going to therapy. After facing these adversities, Wheeler recommends that every girl be honest with themselves and take accountability for how they're feeling.
"Beauty comes in all different shapes and sizes," she said. "Nobody has the ability to change your point of view but yourself, so learning to love the body you are in is important." 
Caroline Steidley is a junior at Kirkwood High School. She is also an opinions editor for the school's student newspaper, The Kirkwood Call.