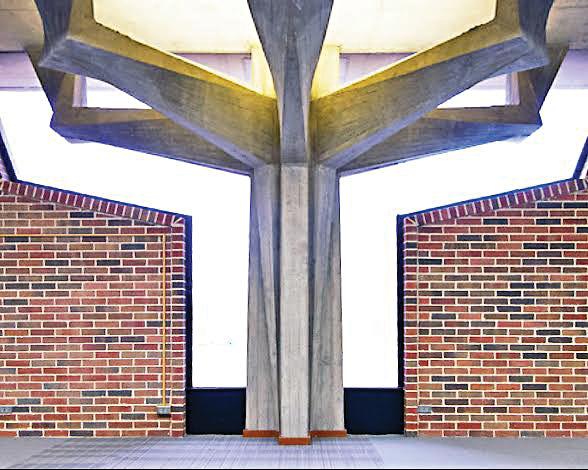 In the past 10 years, Webster Groves and Kirkwood have modernized and expanded their libraries. During the same time, Eden Theological Seminary and Webster University's Luhr Library located on East Lockwood was being emptied, sold, repurposed and renamed the Luhr Building.
But the Luhr Building's story begins with an accomplished and innovative architect: William Wenzler. Wenzler, who died in 2016, was a Milwaukee-based architect recognized for boundary-pushing designs. He established Wenzler Architecture in 1955 when he was only 25.
Just two years later, he designed the United States' first hyperbolic paraboloid thin-shelled concrete roof. For us laymen, that means fancy. The roof of St. Edmund's Church in Elm Grove, Wisconsin, cantilevered 45 feet beyond the altar. Its contractor, Berghammer Construction Company, says that "workmen on the building site were afraid the under-construction roof would collapse since its flexible shape meant it moved whenever someone walked on it."
By 1968, when Eden Seminary and Webster College hired Wenzler Architecture to build their joint library, Wenzler had been established as an industry leader in regard to thin-shelled concrete.
The most notable feature of the Luhr Building are its concrete columns. You can see their silhouettes at night when the building is lit from the inside. Webster University uses William Wenzler's own description of the building from its 1968 dedication program: Wenzler was "influenced by the concept of the fan vault," and "planned a sculptured tree form to spread the support of the floor beyond the column dimensions. This design maintains flexibility at the floor level, solves the structural problem, and creates a sculptural mass within the building consistent with the principals of the original Gothic."
Look closely at the columns and you can see the wood grain left by the forms used in the casting. Using only straight lines and flat planes, Wenzler created the feel of a branching tree. Like origami, his columns fold their way into organic form. The result: A modern building with rectilinear forms that stands in harmony with Eden Seminary's Collegiate Gothic structures. And one that still turns my head as I drive by.