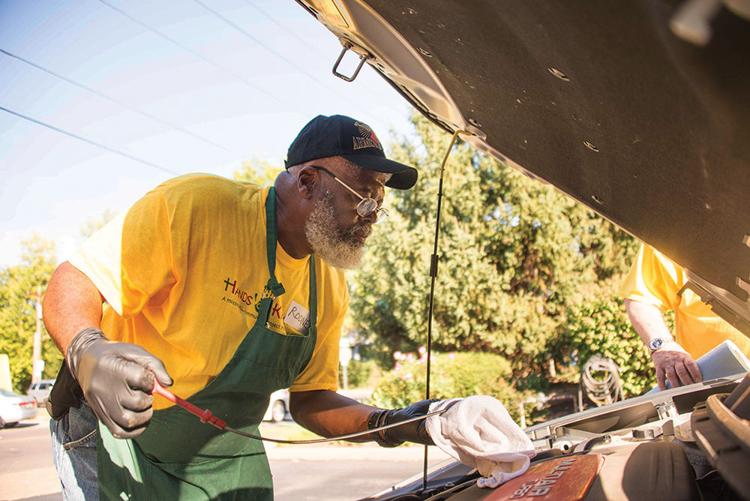 The 13th Hands on Kirkwood day of service will take place on Saturday, Oct. 5. The event is held annually on the first Saturday in October.
Hands on Kirkwood is a one-day mission blitz of the local community, where every citizen is encouraged and empowered to serve their fellow man.
Sign up to help neighbors — neighbors in need of a friend, neighbors in need of yard work, neighbors in need of home repairs, neighbors in need of a smile, neighbors in need of clothes or a blanket. The events and volunteer opportunities are open to everyone —not just Kirkwood residents.
Volunteers will serve Kirkwood residents, many of whom are widowed, elderly, disabled or otherwise unable to do things around their homes, with home repairs, yard work and more. They will also go throughout Kirkwood and collect bags from porches with donations for Kirk Care, Nurses for Newborns and Home Sweet Home.
Electronics Recycling
An electronic recycling drive will be held at the west parking lot of St. Louis Community College at Meramec, 11333 Big Bend Road in Kirkwood, from 9 a.m. to noon on Saturday. Recycling is mostly free but there are fees for larger items such as big-screen televisions.
Winterize Car Check
Volunteers will inspect cars and provide them with a checklist of items to follow up with their local mechanic from 9:30 to noon, in the east parking lot of Kirkwood Baptist Church, 211 N. Woodlawn Ave. In addition, windshield wiper fluid will be topped off and tires and batteries will be checked.
Free Winter Clothing Shop
Also at Kirkwood Baptist Church from 9:30 a.m. to noon, families in need can "shop" for free winter clothing and toys for the holidays. Get a line number as early as 8 a.m. Donations are available as they last.
For more information about Hands on Kirkwood, visit www.kirkwoodbaptist.org/community/hands-on-kirkwood.