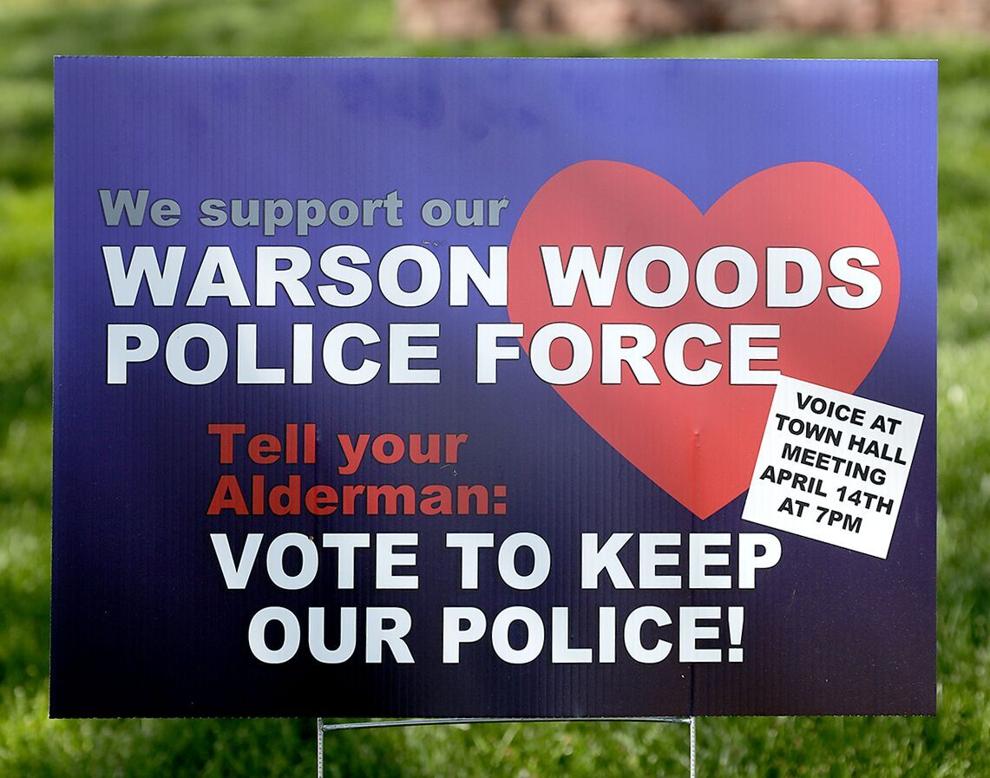 During a spirited town hall meeting on Wednesday that lasted more than three hours and was plagued with technical difficulties, dozens of Warson Woods residents told city officials they oppose the city's plan to merge its police services with that of Glendale.
Warson Woods and Glendale have partnered on fire/emergency medical services and dispatching services for over 50 years. The new proposal being considered would merge also merge Warson Woods' police services with Glendale's.
During a town hall meeting about the issue on Wednesday, April 14, many residents complained about what they called the city's lack of transparency on the issue.
More public comments will be heard at the Warson Woods Board of Aldermen's regular meeting on Tuesday, April 20. Also during Tuesday's meeting, Alderwoman Hannah Mayer said she'll ask the board to vote on whether to conduct a non-binding straw poll of residents — either on the August ballot or through a mailer sent by the city — as to if the city should proceed with the proposal to outsource its police services to Glendale.
While Mayer said many people had asked aldermen for their opinions on the issue, she said: "There are a lot of questions that need to be answered before we offer our opinions."
Wednesday's town hall meeting faced technical problems from the start. While about 50 people attended the meeting in person, many of the roughly 150 virtual attendees using the Zoom platform had problems accessing it because the city hadn't paid to allow more than 100 people to attend.
Of those who virtually attended, many complained about the poor sound quality. The meeting was paused just before 8 p.m. to let the city refresh the Zoom platform and upgrade its account to allow for more participants.
City officials said that the Zoom platform for the board meeting on Tuesday, April 20, will allow for as many residents who want to attend.
Tension At Town Hall
During the first hour of the town hall meeting, resident Dan Barnes was removed from the meeting after calling Warson Woods Mayor Larry Howe "a piece of s---."
Howe told Barnes and those at the meeting he had originally planned to meet with city police officers face-to- face on April 8 to tell them what the city was considering.
"But someone took it upon themselves to put information out earlier that created unnecessary problems for the officers," Howe said.
"Misinformation was pushed out saying we would simply be getting rid of the police department — I think that was atrocious and unfair," the mayor added. "He (Dan Barnes) has personally attacked me and another board member on Facebook saying all this was being done in secret, but that's not true."
Barnes insisted that the city should have put the issue out to a vote of residents first. Longtime Warson Woods resident Peter Rexford agreed.
"A straw vote would be a good idea, but this issue should have been on the April 6 ballot instead of suddenly appearing to us the day after that election," Rexford.
Resident Frank Kaveney insisted citizens should be able to vote on the issue: "Even if it's non-binding, you need to give people a vote."
Resident Mandy Kamykowski said she wondered why the board had previously only discussed the proposal in closed meetings and why no minutes were provided to residents.
City Attorney Paul Rost insisted no board votes were taken in closed session, but that the board sought legal advice on the issue.
Resident Peg McAuliffe said "this is way too big of a situation for just the board to vote on — there needs to be a vote of the people, so they can tell the board what they want."
"Most people here don't want a change — Warson Woods would never be the same without its own police force," she said.
Glendale Police Chief Jeff Beaton explained that the proposal would allow Glendale to hire the five existing Warson Woods police officers. He said both communities would see increased police coverage, as Glendale would institute minimum staffing requirements of at least two officers on duty at a time, with most shifts having at least three police officers.
The police department would operate under one set of policies and procedures, and all officers would work and train together as one operational unit, Beaton added.
Finances
Mayor Howe explained there would be economies in scale if Warson Woods would contract for police services with Glendale.
He said saving money on a police contract would allow Warson Woods to spend more money on deferred capital improvement projects for roads, sidewalks and parks such as badly-needed repairs to Warson Woods Drive. He added that without reducing police expenses, the city would have to find other ways to fund such work, such as increasing sales taxes.
"We need to be able to enhance property values and make our neighborhoods a better place to live," he said. "While our city is not cash strapped because we haven't done work on some roads, we can't tap into our rainy day funds. There are limited revenue generators in the city, and we can't force redevelopment of property."
He said the city, for instance, would benefit from another park with a playground but the city has no funding for such a project.
Longtime Warson Woods resident Rexford said the city has the ability to tap into more funds, such as revenues from a recently-approved internet sales tax.
John Fonke was one of the few residents who said he was open to hearing more about the plan.
"I see benefits to a partnership of 50 years with Glendale, and I don't see the downside of this the way some others do because our officers would just move over to being with Glendale," he said. "We would be having the same officers patrolling our streets."
Read the Times' previous story on this issue here. We will also have coverage of the April 20 Warson Woods Board of Aldermen meeting.