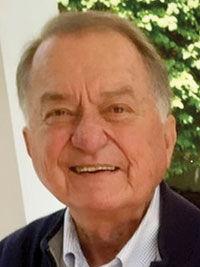 Lockos, Tallis George, 79, died at home in Kirkwood, Missouri, in the loving presence and care of his wife, Cheryl Gansner Lockos, on Nov. 11, 2022. He was the only son born on May 24, 1943, to George N. Lockos and Dorothy J. Kakta Lockos. Tal was raised by his beloved father, William Slavik (deceased), and mother, Dorothy J. Kakta Lockos Slavik, post his biological father's death while serving his country in WWII.  
Tal was born and raised in St. Louis. He attended Lindbergh High School, then graduated from Culver-Stockton University. After graduating, Tal returned to St. Louis, where he entered the business world and became successful in the industry of commercial insurance.  
Tal had a love for life and family. His greatest joy was in the company of his wife, enjoying adventures together. Tal and Cheryl experienced the excitement of traveling the world, biking on several continents and dancing with each other. 
The most fulfilling and loving years came with the birth of their three children, Nicole Lockos Clark, Tallis John Lockos, and Kyle Grant Lockos. The years spent together as a family camping, boating, skiing, working in the community gardens or traveling to the Smokey Mountains, Colorado, and Mt. Rushmore were moments in a lifetime of happiness and adventure with his family and friends.  
As years passed, Tal's fullest moments came with Cheryl in the presence of their grandchildren and great-grandchild. In his later years, you would always find Tal and Cheryl together. They enjoyed volunteering at the Fox theatre, taking walks through the Missouri Botanical Garden, art museum and history museum, sitting on porches and prioritizing time with their family. Tal and Cheryl found enjoyment opening their home to exchange students and others in various pursuits, needing a home base. Tal always had a pocket full of dog biscuits for the family dogs. 
Tal lived his life to the fullest, even while battling chronic illness, which eventually resulted in two liver transplants over the years. Tal found a way to find and seize the beauty of the moment, even when times were hard.  He learned the value of love, family, and community early in his life and spent his years giving to others.  In death, Tal continues to give all he has.  He wished his remains donated to Washington University Medical School to aid the pursuit of education and medicine. Tal and the Lockos family are especially grateful and forever thankful to the Washington University Medical Teams, to the donor families for the special gifts they provided giving Tal another 30 years of life.  Special thanks to Dr. Mark Scheperle for the decades of care and friendship.  Tal's perpetual wish was for others to live more easily than he had.  
Tal is currently survived by: his wife, Cheryl Kay Gansner Lockos; his mother, Dorothy Slavik; his sister, Peggy Slavik Thompson; his daughter, Nicole Lockos Clark; his son-in-law, Alexander Bayard Clark IV; his son, Tallis John Lockos; his daughter-in-law, Jenny Lockos; his son, Kyle Grant Lockos;  his daughter-in-law, Cipi Cynthianingsih Lockos; his grandchildren, Tallis Farakh Lockos, Alexandria Gualberto Lockos, Madelyn Nicole Clark, Ayu Zada Lockos, Alexander Bayard Clark V, Nicholas William Clark, Oliver Grant Clark,  Juan Pablo Lockos, Sophia Lockos, Olivia Gualberto and her mother Tina Gualberto, and Markita Fields Lockos; and great-grandson, Ciano Kyle Ivry Lockos.  Tal leaves this world a loving son, husband, dad, papa, great papa, brother, brother-in-law, uncle, cousin, nephew, and friend to many.
The family will have a Celebration of Life recognizing the beauty and happiness that Tal brought to this world in the Spring of 2023.  In lieu of flowers, Tal requested any recognition be made to the Crohn's and Colitis Foundation of Saint Louis Take Steps — Sir Craps a Lot, 1034 S. Brentwood Blvd #1510 St. Louis, MO, or Mid America Transplant Foundation 1110 Highlands Plaza Dr. East Suite #100 St. Louis, MO 63110.