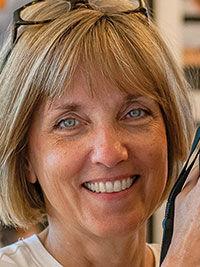 Lambert, Susan W. Susan was born in St. Louis on Jan. 9, 1948, the eldest of the four children of Rudolph and Rosemary Lambert. She grew up in Webster Groves, and after high school she went to the University of Missouri, where she earned a degree in education. 
Her artistic career started in childhood with a Brownie camera, and rose to a very high level of accomplishment. She held a master of arts in photography and media studies, and her creative work included commercial, large format architectural, and portrait photography as well as graphic design. 
Susan taught at many levels, from high school and college through adults and professional communities, and was the author of nine books, including multiple memoirs and collections of essays, among them a chronicle of the 18 months she spent exploring North America in an extreme RV. 
Susan will be remembered as a magnetic and immensely talented person. It seemed there was very little she could not do, and do well. The hallmark of her life was her special way of seeing the world, which she captured in an extraordinary way through the lens of her camera. The body of work she leaves behind conveys her sense of beauty and her delight in unexpected, quirky, and yet meaningful juxtapositions. It is the true embodiment of her curious, adventurous, fun-loving, strong, and loyal spirit. Some of it can be seen on her website: www.susanwlambert.com.
Susan is survived by her beloved children, Elizabeth Miller (Craig Laupheimer) of San Anselmo, California, and Graham Miller of Spring Hill, Florida; and by her cherished life partner and fellow photographer, Steve Uzzell of Lyons, Colorado. She is also survived by her sisters, Elizabeth (Lisa) Holekamp of Glendale, Missouri, Ann Good (Stephen) of Great Falls, Virginia, and Jane Stickney (Paul) of Spring, Texas; her niece, Abigail Holekamp of Chicago, Illinois; and her nephew, Michael Good (Asma Sarwary) of Burke, Virginia. Her surviving extended family includes cousins in the U.S., the U.K., and Australia; and her former husband and dear friend, Dr. Leslie Miller of Safety Harbor, Florida.
A celebration of Susan's life will take place sometime next summer in Michigan, a place of her heart. A contribution in her memory will be greatly appreciated to Pseads, an education and design institute supporting youth visions and voices: www.pseads.org; or to Golden Retriever Rescue of the Rockies: www.goldenrescue.com.