I love this story of kindness that comes from a pickleball court. Sometimes support comes from unlikely places, and sometimes all you have to do is ask ... 
When Shrewsbury resident Mike  G'Sell's daughter, Julie, asked him to join a HADDS in Motion team to raise funds for his granddaughter's extremely rare diagnosis, he of course said yes. He sent invitations to family members and a few friends. He then asked his fellow Webster Groves  pickleball players to consider contributing.
HADDS, which stands for Hypotonia, Ataxia and Delayed Development Syndrome, is a neurodevelopmental syndrome caused by a mutation in the EBF3 (Early B Cell Factor) gene on chromosome 10q26.3. It causes low muscle tone, balance and coordination difficulties, and delayed acquisition of speech and general developmental milestones. It was discovered in 2016 by doctors in Texas.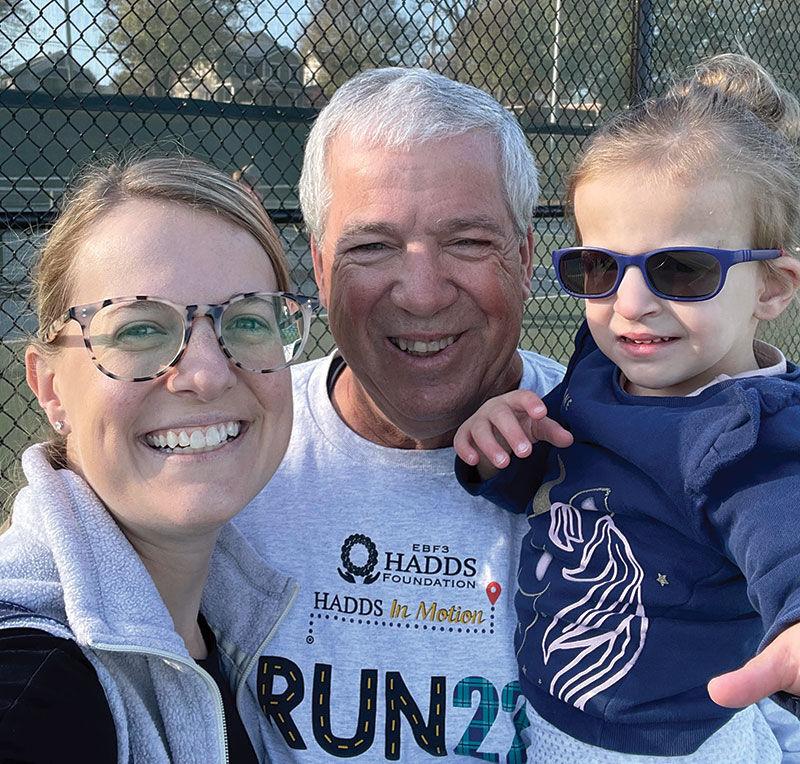 When G'Sell's granddaughter, Rosie,  was diagnosed with a 10q26 chromosome deletion that causes EBF3-related problems, not much was known about the condition, and doctors told her family not to expect too much about her future. As of 2019, it was estimated to afflict only 30-plus people in the United States.
Julie, a Glendale resident, and her Rosie traveled to Houston last summer to participate in research, visit with doctors who discovered the condition and meet with other EBF3 HADDS families.
"When you have a rare diagnosis, communities like this are a lifeline," she  said.
Julie and her dad, Mike, are also grateful for the support they've received in their communities here at home. They have been particularly touched by the support from Mike's fellow pickleball players. Collectively, the players donated $675 to Team Posey — Posey being a nickname for his granddaughter, Rosie.
"Man, did the Webster pickleball group answer my request," Mike said, humbled by the group's generosity.
His daughter echoed that sentiment.
"We are absolutely blown away by the support from the Webster pickleball group of our Rosie, and all the individuals living with this HADDS diagnosis," Julie said. "It brought tears to my eyes to think about all these people rallying behind our girl on her journey with this diagnosis. She is a really fun, funny, loving, smart, opinionated, strong-willed, sweet girl. She's come a long way and is exceeding all expectations."
To learn more about HADDS or make a donation, visit hadds.org.
Do you have a story of kindness? Drop me a line at jmowers@timesnewspapers.com or give me a buzz at 314-968-2699.