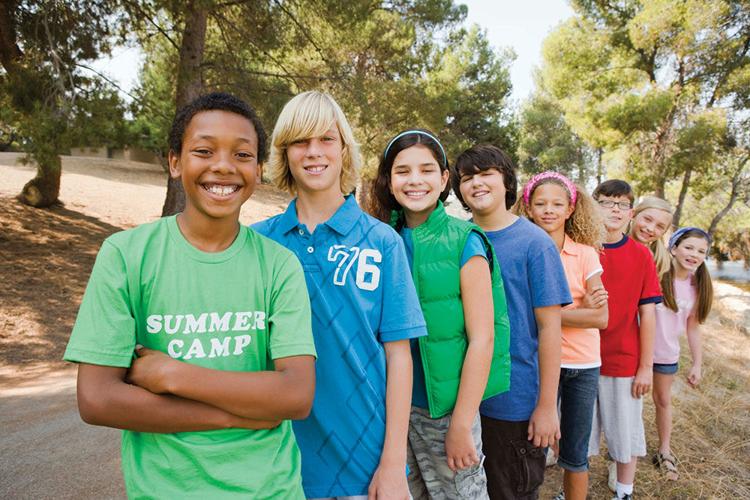 Preschools
Emmanuel Preschool (314-961-2393) provides ages 2-5 with joyful learning through music, art, yoga, creative movement and cooking. Experienced, caring teachers foster a creative environment. Now enrolling for fall.
Nationally accredited, Webster Child Care Center has been providing quality care and education for the past 45 years. From birth through six, low adult-child ratios.
Webster Groves Presbyterian Church Early Childhood Center (314-962-9210) serves ages 1 to 5. Staff philosophy enables each child to grow physically, emotionally, socially, cognitively, spiritually and to have fun.
Webster Hills Preschool (314-961-8722 x228, www.westerhillsumc.org) offers ages 6 months to 5 years activities to stimulate curiosity, encourage learning, foster creativity and stretch imagination.
Camps
Ackermann's Swim Program (www.ASPKirkwood.com) is dedicated to the growth and development of children in Kirkwood since 1934. Group swim lessons for 4-11 year olds in four heated pools with different water levels. Red Cross certified staff provides children a non-competitive, safe teaching environment in which to build confidence and self-esteem.
Imagine a summer camp where campers eat breakfast in the company of ring-tailed lemurs, zoom down a zip-line and kiss a camel before lunch, make pottery on the wheel in the afternoon and play a camp-wide game of Capture the Flag after dinner. Cub Creek Science Camp is that camp. With over 300 animals, a six-element ropes course and activities in arts and crafts, archery, photography, chemistry, and more, this is a truly unique summer camp. Facilities are air-conditioned, meals are served buffet style with alternative meal options available, and accreditation by the American Camp Association. Visit www.CubCreekScienceCamp.com.
The Summer Camp offerings at Chaminade College Preparatory School have been developed to give young men a chance to sample all that the school has to offer-academically, athletically and artistically. Summer is a wonderful time for young men and their families to take time to enjoy one another, their hobbies, activities and interests. To that end, Chaminade put together some fantastic opportunities for young people to challenge themselves, create, laugh and enjoy.Chaminade hopes to see everyone on the 55-acre campus this summer participating in camps like READ, Basketball Camp, Acting Camp, Organizational Boot Camp or one of the many others offered.
The Community Music School of Webster University offers summer music camps and programs for all ages including Kindermusik®, band, flute, string orchestra, composition and chamber music. New this summer is the MOCM Adult Pro-Am for musicians 21 and over. CMS also offers individual lessons for all ages. For more information visit www.webster.edu/cms or call 314-968-5939.
Community School offers camps for 3-year-olds to eighth graders, including arts and academics on the beautiful 18-acre campus. Over 80 expanded mini camps, with sessions from COCA, Bricks4Kidz and Little Medical School, plus STAGES for three musical theater camps. Play Camp for the youngest campers. FUNdamentals for the summer slump.
Concord Lanes, with nine acres, is summer camp fun. The camp offers bowling, mini-golf, batting cages and sand volleyball to keep kids active all day long. Find all this and more at Kids In Action Summer Camp. For information call 314-843-9200 or visit www.concordlanes.com.
Summer fun is at Cor Jesu. Grade school girls will get a taste of CJA while enjoying a variety of enrichment camps including science, cooking, music, knitting and more. Plus, they will have fun developing their sports skills by learning from high school players and coaches at CJA's sports camps.
Dance Center of Kirkwood offers several summer camps for ages 3 to grade 12. Call 314-821-6663 for more information on dance camps, classes and birthday parties.
Faith Academy of Montessori (314-961-1411, www.faithacademyofmontessori.org) is in a 100-year-old train station. The director and assistant director have guided this Montessori program since 1982. Camp Run-A-Muk is held during the summer months featuring two-week sessions, each focusing on a different topic. To help the children fully understand the topics a related field trip is planned and guest speakers visit each session. Camp also includes taking walks, visiting parks, exploring nature and a weekly swim at the Webster University pool. Lunch is picnic style when weather permits. Come for a summer of fun and learning.
Summer Day Camp provides a fun, safe experience for kids to learn new skills, build self-confidence, and make lasting friendships. The YMCA offers camps for all interests, including traditional outdoor, sports, and themed camps for every interest—like aquatics, cooking, art, theater, science, music and more. The Y runs camp weekly May 28-August 9 for ages 5-15. Types, schedules and prices vary by branch. Contact a local branch for details.
Gifted Resource Council's Summer Academies: Academy Americana; Ancient Academy; ECO Academy; Jr. Science Searchers; Math, Marvels & More; Space Academy; Advanced Space Academy. 314-962-5920 www.giftedresourcecouncil.org
Girl Scout Camp is a life-changing experience where every girl can be adventurous, independent, silly and confident all at the same time. Whether a girl is a first-time camper or an experienced outdoor enthusiast, she will find her perfect camping program with Girl Scouts. Scholarships are available. To learn more, visit www.girlscoutsem.org/campadventureguide.
Great Circle has summer camp options for children on the autism spectrum – "Keeping It Cool" skill building day camp, July 8-12, in Webster Groves, and Overnight Adventure Camp, July 29-Aug. 2, in Steelville, Mo. Recreational and enriching activities, highly trained staff, unforgettable experiences. Information 844-424-3577. Online registration available March 1.
Unmask a child's creativity this summer in the all-new Camp Invention® program, Supercharged™, where children build confidence, learn to collaborate and transform their wild imaginations into epic creations. Campers in grades K-6 will learn creative problem-solving skills while coding and programming futuristic robots, uncovering ancient fossils, designing high-tech superhero gadgets and exploring radio frequencies. Local educators will lead this action-packed program featuring exhilarating, hands-on STEM activities teaching children to question, explore, break through obstacles and embrace failure. Visit www.invent.org/camp or call 800-968-4332 to register. Use promo code INNOVATE25L to save $25 (expires 3/22) or PLAY15LISTING to save $15 (expires 5/10).
Kraus Farms offers Barnyard Camp, which entails farm critters, mother nature and organic gardening, and Equestrian Camp, which entails riding with either English or Western disciplines.
Krueger Pottery Supply kids pottery classes are a great way for kids to have fun and get creative. No experience is needed and the small classes ensure students get individual attention from trained instructors. Classes include clay, glazing and firing. All tools will be supplied for class.
The Lab School Camp (822-8282) is a half-day camp for ages 3-5. Sessions include water fun, art, dramatic play and special guests or walking field trips. Degreed staff.
Lindbergh Community Education offers lifelong learning and recreational opportunities to all community members. A broad range of programs is offered for youth and adults in areas of aquatics, driver education, enrichment, gymnastics and sports. The programs strive to develop an atmosphere that emphasizes learning, teamwork, sportsmanship, resiliency and enthusiasm.
Des Peres Parks & Recreation offers 26 different types of summer camps to keep children engaged all summer long. Visit www.desperesmo.org/503 for more information.
Make a child's summer magical with a one-of-a-kind summer camp experience. Campers participate in fun educational activities, explore The Magic House and more.
Summer adventure awaits at MICDS. Four camps—Pegasus, Language Immersion Camp, Rams Sports Camp and Eliot Summer Academy—offer a variety of activities for kids in grades K-12 from any school. Campers will explore unique learning opportunities, languages and cultural experiences, sports and hobbies to ensure that brains and bodies are active and campers are eager to return each day. All camps are located on the sprawling 100-acre MICDS campus and supervised by enthusiastic counselors and expert MICDS staff. Pursue new passions, explore new cultures, exercise athletic skills and stretch limits at MICDS summer camps.
Miriam's specialty camps are perfect for students entering grades K-12 who need a boost in FUNdamentals during the summer. Camps offer small teacher to student ratios and customized curriculum with a fun and caring staff. Campers can focus on academics such as reading and writing skills, build social skills, or choose from therapy camps that emphasize sensory, fine motor or emotional development. Morning, afternoon or full-day sessions plus after camp care is available. Learn more at www.miriamstl.org or call 314-961-1500.
MJ Performing Arts Academy is a dance and acro studio located in the heart of Webster Groves. The motto - Building Happy, Healthy, Fit, and Confident Dancers - drives their endeavors. Visit https://mjperformingartsacademy.com or call 314-968-3903 to set up a free trial class or for more information.
There are many camp possibilities at Notre Dame High School this summer. Check out the athletic and enrichment camp options at www.ndhs.net.
Looking for a one-of-a-kind summer program for the kids? Check out Camp KangaZoo at the Saint Louis Zoo, where campers learn all about Zoo animals. Campers have the opportunity to see and touch live animals, attend a Sea Lion Show, hop aboard the Zooline Railroad, tiptoe around the Zoo at night and sleep overnight at the Zoo. Camp KangaZoo t-shirt, group photo, snacks, Thursday pizza dinner and Friday morning breakfast included. Camp KangaZoo is tailored for children in first to sixth grade. Have younger or older children? The Zoo also has Camp Joey for the little ones and Teen Camp for teenagers.
STAGES Performing Arts Academy offers an exciting variety of Musical Theatre camps, workshops and productions for students of all abilities, ages 3 to 18. Act, dance and sing all summer long. Learn new skills and techniques. Move, sing, and play from shows like The Little Mermaid, The Lion King, Moana, Dear Evan Hansen and Hamilton, just to name a few. Go on Acting Adventures, Be a Broadway Star or Rock the Musical. It's all at STAGES Performing Arts Academy this summer. Register today at www.StagesStLouis.org or call 636-449-5775.
St. Louis Gym Centre (314-968-9494, www.stlouisgymcentre.com) offers gymnastic instruction for ages one to adult. Summer 5-day and half-day camps and classes available. Birthday parties, field trips, adult open workout and bootcamp, ninja classes.
Fill a child's summer days with camps at Ursuline Academy. Open to boys and girls ages 6-14, each camp is designed to create an entire week of full day fun. Ursuline is excited to share in a unique partnership with COCA, the Center for Creative Arts, to enhance summer offerings. Camps include pottery, photography, dance, soccer, field hockey, tennis, STEAM (Science Technology Engineering And Math) and much, much more. Visit www.ursulinestl.org for camp details and registration.
Camp Pegnita is an old-fashioned day camp that gives kids the feel of an away camp, right here in Kirkwood on six beautiful acres. Camp Pegnita has been providing a safe and enjoyable summer for kids ages 5 to 15 for more than 60 years. Activities include archery, arts and crafts, organized sports and games, campfires, cooking, gardening, hiking and nature activities. Campers receive daily swim lessons and free-swim in the on-site pool. A special event, like a pirate party carnival, a magic show or a camp-wide field day is scheduled every week. Register today at www.camppegnita.com.
Webster Groves Parks & Recreation camps (314-963-5600, www.webstergroves.org) provide quality and specialty indoor/outdoor experiences emphasizing nature, games, sports, crafts, performing arts and field trips.
The SPICE Chess Summer Camp at Webster University (314-246-8075) is a fun way to introduce chess to newcomers and deepen understanding of the game for intermediate or advanced players. Instructors are SPICE Chess Team members who teach based on Susan Polgar's world-class curriculum. Visit www.webster.edu/spice.
Summer Media Camps for students in high school or secondary-level programs. Introduction to game design and development where campers design their own game June 10 to 14. Learn to tell powerful stories by planning, shooting and editing a short feature film at Filmmaking Camp June 17 to 21. Learn the skills to be a recording engineer working with state-of-the-art equipment and produce a compact disc at Music Recording Camp June 24 to 28. Enter the Screenwriting Competition to win an iPad Mini and camp registration. Visit www.webster.edu/media camps for screenwriting competition details and to register for summer camps.
Long summer days and loud camper cheers. Moments that start with, "Hey remember the time when…" YMCA Camp Lakewood in Potosi, MO, offers the ultimate overnight summer camp experience for boys and girls ages 6-17. Enjoy days packed full of adventure activities, water sports, swimming and time spent enjoying the great outdoors all just ninety minutes outside of St. Louis. Camp Lakewood is where a kid can have fun, learn new skills and make new friends. Gateway Region YMCA branch members receive a discount off registration. Sessions begin June 2. Register today at www.camplakewood.org.
Yucandu Art Studio believes that when kids get great materials, they make great art. Yucandu is such a fun and inspiring place to be and the camp projects are so cool. Send children to a place where they will grow as budding artists, feel successful and bring home artwork. Yucandu campers say, "That was the best camp ever!"