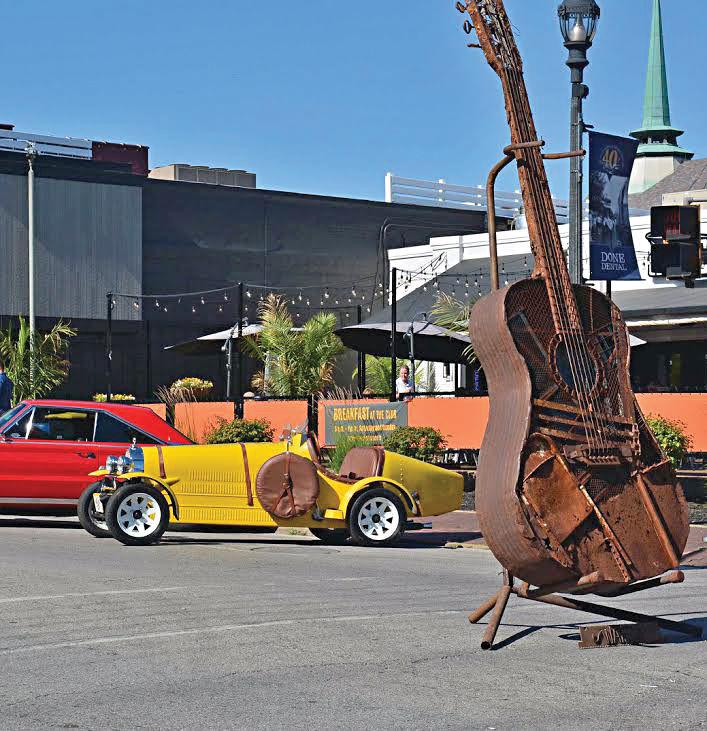 Summer days are decidedly here, and with them an explosion of flora, fauna and festivals. It seems like every day of the week, we can take our pick of outdoor and community events, and art affairs are no exception.
This weekend's events include the Webster Arts Fair (June 7-9) and Kirkwood's Route 66 Cars and Guitars Festival (June 8). Looking forward to the weekend, I'm reminded of what Doug Borwick said in his book about building communities: "It is from community that the arts developed and it is in serving communities that the arts will thrive . . . Communities do not exist to serve the arts; the arts exist to serve communities."
Both Webster Groves and Kirkwood have a history of organized art that grew out of the community. In her tome on the history of Webster Groves, Clarissa Start notes that the St. Louis Artist Guild, now located in Clayton, "traces its origin to [Webster's] St. Louis Sketch Club whose members gathered around a cast iron stove in the early 1880s."
Similarly, as historian June Wilkinson Dahl tells us in "A History of Kirkwood," Kirkwood stepped up its art game in 1951 when a certain Mr. Philip Gronemeyer organized the St. Louis County Art Association. He "promoted yearly outdoor art fairs" where all media were exhibited – "oils, watercolors, pastels, prints, and combinations, sculpture, puppetry, weaving, textile work, jewelry making, leather work and photography."
This month, two city-sponsored photo competitions carry these traditions into the present by celebrating the area's architectural heritage and storied appetite for festivals.
The "Historical Webster Groves Photo Contest" is a juried photo competition on display at the Webster Groves Public Library throughout the month of June. Entrants were limited to taking photos of selected Webster Groves landmarks.
The "Cars and Guitars Inspire Photography" competition is organized by The Kirkwood Arts Commission. This competition coincides with the popular festival, encouraging participants to see it as an occasion to take photographs. The deadline to enter is June 30. Interested? Visit the Arts Commission page on www.kirkwoodmo.org for details.
And don't forget, you're more than an audience. So, this weekend, three cheers for summer, community and art!