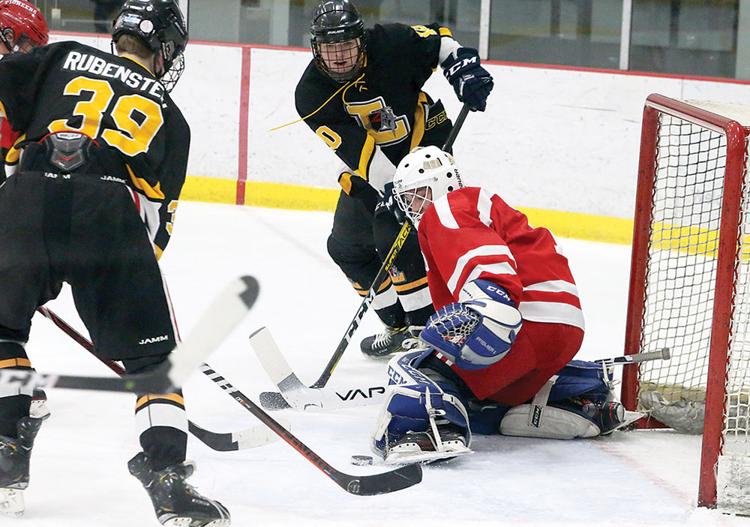 Kirkwood High School is prepared to make a deep run into the 2020 Mid-States Club Hockey Association playoffs next month.
Cousins Mitchell and Carson Day gave an example of why Kirkwood will be difficult to beat in the playoffs in a Municipal Conference battle against Lafayette on Jan. 6. Junior forward Carson Day's last-second heroics and senior goaltender Mitchell Day's play led Kirkwood to a 2-1 victory over tough-minded Lafayette at the Maryville University Hockey Center in Chesterfield.
In what appeared to be a second tie of the season with Lafayette ended with Carson scoring his first game-winning goal of the season with 2.8 seconds left in regulation. A battle in front of the net ended with Carson tapping the puck into the net to secure Kirkwood's fourth straight game without a loss (3-0-1) and improve its overall record to 8-5-3. 
Kirkwood is in sixth place with a 5-5-2 record in the eight-team league play. CBC's 11-1 conference mark is the best, with the only league loss coming to Kirkwood, 3-0, on Dec. 21 at the Kirkwood Ice Station Arena.
Carson leads Kirkwood in scoring with 12 points and is tied with six goals scored with David Vitt, who tallied Kirkwood's first goal of the game 18 seconds into the contest against Lafayette. 
"It's just a hard-fought game and I was able to be at the right spot at the right time," Carson said. "The puck just popped out and I was able to find the back of the net."
Mitchell watched the game-winning goal develop.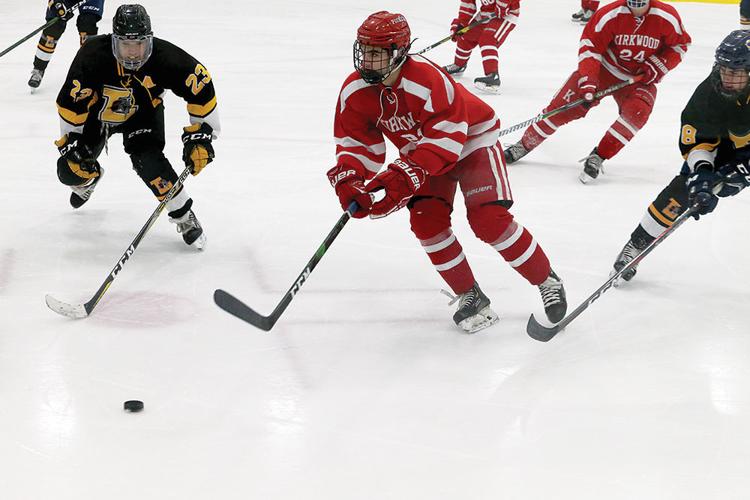 Kirkwood Coach Mark Fischer said he was happy with the dramatic finish, even believing the victory could be a stepping stone to a strong regular-season ending and a deep playoff run. 
"It would have been our fourth tie," Fischer said. "I commend the guys for battling to the very end — in the last couple of seconds, in this case."
Kirkwood was issued five penalties totaling 21 minutes, including one five-minute major and game-misconduct for head contact by junior forward Brock Meiborg. Lafayette had only one two-minute penalty. Mitchell stopped 17 of 18 shots, with Lafayette's lone goal coming on a power play. Because of his game-misconduct, Meiborg will be suspended for the next game against Oakville at 9:30 p.m. on Jan. 10 at South County Recreation Complex. 
"What doesn't help is the five penalties we took and killing any momentum you may have built throughout the course of a game. We need to do a better job of that," Fischer said.
Fischer said he is optimistic his younger players will learn what his five seniors bring to the game. He credits Mitchell with his play in goal. Mitchell, Carson, sophomore forward Logan Mueller, and freshman defenseman Charlie Munroe also play for the AAA Blues. 
"You watch him (Mitchell) before the games and he's really focused on the job, the task at hand," Fischer said. "He does that through and through. I'm a big believer in that vibe and that mentality starts from the crease out. And if you have a goalie who really composes himself like that, the rest of the team is going to feel good about themselves, knowing they have a backstop like that back there." 
Kirkwood's remaining five regular-season games include: Marquette, 9:15 p.m. on Jan. 11 at Kirkwood; Ladue, 8:15 p.m. on Jan. 16 at Queeny Park; St. Louis University High, 8:45 p.m. on Jan. 23 at Affton Ice Rink; and Vianney, 9:40 p.m. on Jan. 25 at Affton. 
"We lost 10 seniors last year, so we're a pretty young team," Carson said. "Coming into it, we were a little bit shaky. Everyone is adjusting well and we're doing pretty well. I hope we have a really good playoff run and everything goes well."