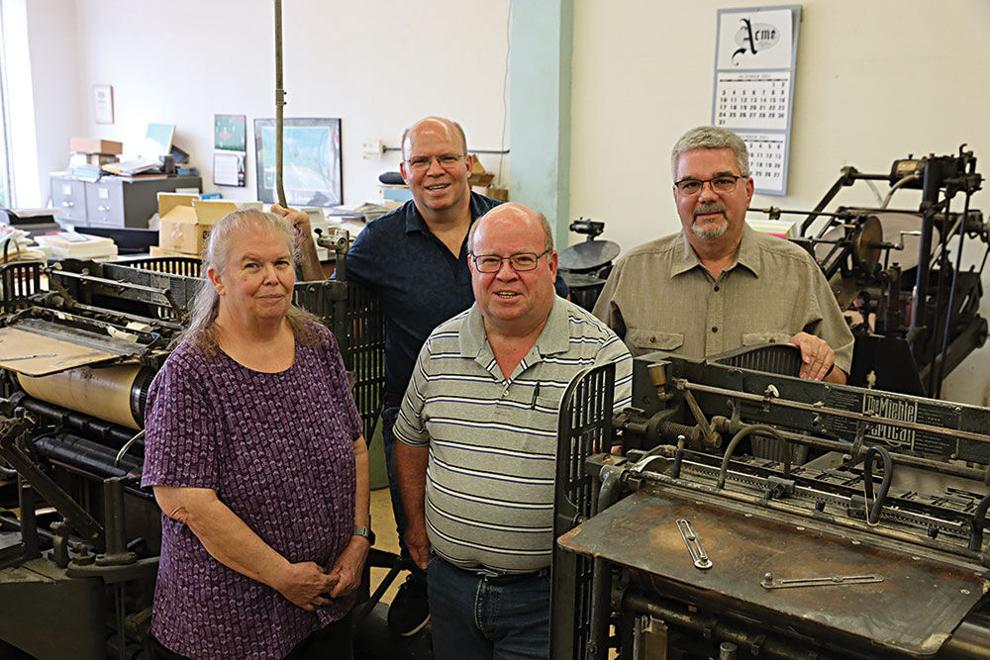 Acme Printers Lithographers, Inc., is closing the doors at 36 W. Lockwood Ave. after serving Webster Groves for a half century. The ink-stained wretches are retiring.
"It's time," said Joe Rath, while working at a laptop computer completing an order. "Our current print orders are being completed and we will bring operations to an end, maybe as soon as the end of October.
"It's been a good, long run – 104 years when you count the print company our father bought decades ago to be part of this operation," said Rath. "It is just time to say goodbye to the long hours and spend a little time relaxing and enjoying family."
Rath and family members Joe, Judy Rath, Harlyn Effan and Dan Rath recently took a break at the lunch table in the back of the shop to talk about the business, the city that they love, and the changes in the Old Webster Business District during their tenure.
"The business really started in my dad's house in Oakland," said Joe Rath. "Joseph Rath Sr. then moved the operation to downtown St. Louis. In October of 1973, he moved it all back here to this area in Webster Groves.
"We enjoyed being in Old Webster for the last 50 years and we've seen a lot of changes in that time," said Judy Rath. "There were a couple of beauty shops close to us, but I did not see any real changes in the ladies' looks from when they went in and out the doors.
"Down the street, we had Tony Saputo in the next block at the shoe repair shop; and Roy and Dorothy Gleason down at the record store," Judy Rath continued. "And then for lunch, we had The Artichoke and Two Nice Guys."
Dan Rath chimed in that he was partial to the old Velvet Freeze. He swore by their chili and hot dogs, which were favorites among many in Old Webster. He said some people in Old Webster survived on Velvet Freeze.
Acme printed a lot of business documents for neighborhood clients, as well as brochures and materials for the city, including the publicity for the annual Community Days Parade and Festival on July 4.
"We had a great vantage point for the parade here," said Joe Rath. "We had about 50 people in front of the store watching it. The parade has always been entertaining — from the floats, to the bands, to Baton Bob."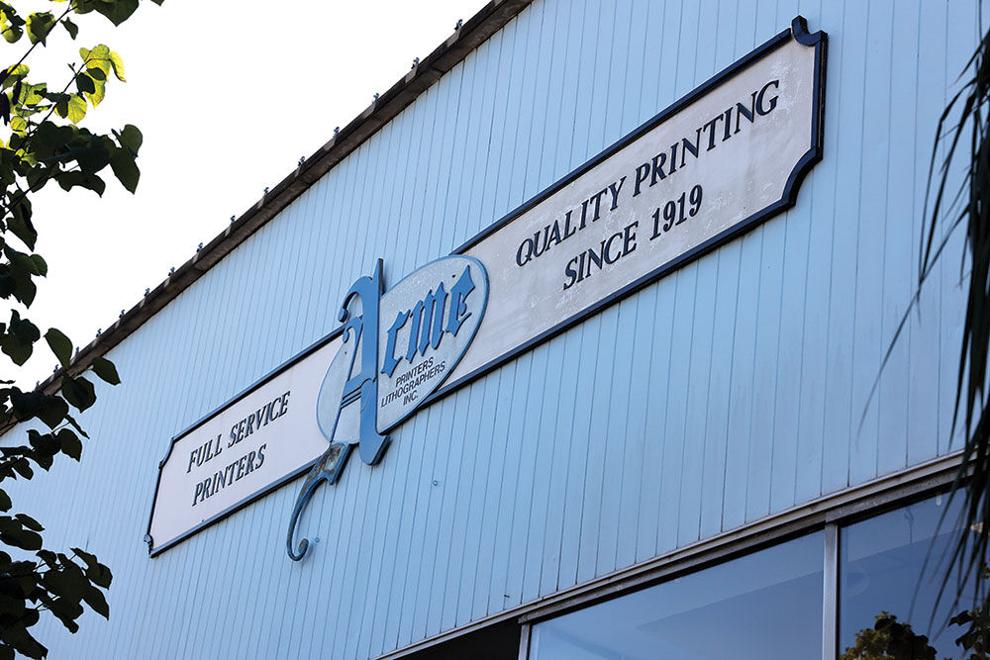 Community News Outlet
The Raths' mother, Margaret, was the unofficial editor for a bi-monthly newsletter that the print shop put out in the 1970s. Webster Groves depended on The Acme Press for its community news.
"We printed 5,000 or more in the beginning and we delivered them to all the stores in Old Webster, Old Orchard, Yorkshire and on Marshall Road," recalled Harlyn Effan, a Rath in-law. "It was a lot of work."
Effan said the little paper did not publish too much controversial news, sticking mostly to features on restaurants like Louis IX or a new business opening. Even so, the paper did get some critical letters arguing over historical facts.
"Mom was the editor and we put it together on Wednesdays," said Judy Rath. "She was in charge of content. She would bring a big pot of mostaccioli for us on The Acme Press day."
Dan Rath said the paper was published from 1974 to 1979, but the shop decided the little newspaper was not necessary when the weekly Webster-Kirkwood Times started publishing down the street at 122 W. Lockwood Ave.
According to Dan Rath, there was no unhappiness when the newspaper competitor came on the scene -— and no regrets over pulling the plug on The Acme Press paper.
"It was a relief to stop doing that paper," said Dan Rath. "We had plenty of other work here at the shop."
Technological Changes
 Laptop computers and compact laser printers put many print shops out of business in the 1980s and 1990s. The two rows of old presses that line the Acme shop look like great, hulking, metal dinosaurs.
Also, those machines can be dangerous to operate. It takes training, patience and vigilance to use them. They may end up in a print museum or with collectors over the coming months.
"That equipment is so heavy," said Dan Rath. "To this day, I still don't know how we got it all out of dad's basement in Oakland when we moved it."
Despite the new technology that threatened to make their business obsolete, the Raths carried on — and the orders for stationery, wedding announcements, brochures and documents just kept on coming.
"We've done wedding invitations for several generations in the same family, said Judy Rath. "I always say, 'Please don't tell me that,' when a resident comes in and tells us that.
"I think we've lasted because of resident loyalty, customer service and friendly smiles," said Judy Rath. "I also think the quality of the print, the separations, the ink used, the consistency of the work — has kept people coming in."
Joe Rath said there are still orders to fill, and he will continue doing some consulting. He's pleased there are still some long-time, familiar businesses in Old Webster like Straub's, Rolling Ridge and Lemcke.
"I think what has kept us together in a family business is that we all get to go home at the end of the day," he said.
"I still get a kick out of the folks who come in here and say, 'I am here to pick up a job for Webster.' Well, we've done a lot of work for a lot of different Websters," Dan Rath laughed. "So, which Webster? Webster University? Webster what?"