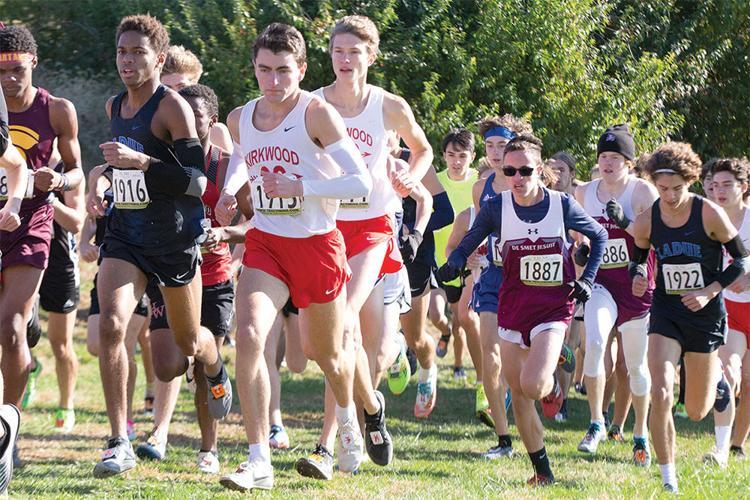 The Kirkwood High School and Webster Groves High School boys cross country coaches are looking forward to their teams running the final race of the season at a new venue that could produce fast times. Barring any inclement weather, that is.
After decades of being held in Jefferson City, the Missouri State High School Activities Association has moved the 2019 Missouri State Boys and Girls Cross Country Championships to the new Gans Creek Recreation Area in Columbia, the new home of the Missouri Tigers.
The 3.1-mile race (five kilometers) will be on a flat course. The Class 4 Boys State Championship will begin at 12:05 p.m. on Saturday, Nov. 9.
Kirkwood High School's longtime boys cross country coach Wayne Baldwin said he expects 10 to 12 runners to compete for the individual state title, including Kirkwood seniors A.J. Wallach and Martin Strong, along with Webster Groves senior Charlie Teeter.
"You want to go out fast and stay fast," Baldwin said. "It will be exciting to be there."
Webster Groves High School boys cross country coach Jon Petter, who was a member of the 1998 state champion Eureka Wildcats squad, had mixed emotions at first about the state championships moving to the new venue.
"I loved Jefferson City," Petter said.
But then he saw the Gans course at a meet there earlier this season.
"It's beautiful," he said. "It definitely will produce fast times. It will benefit the fans, athletes and coaches."
Kirkwood Pioneer Wallach, who has produced the fastest time this fall in a time of 15 minutes, 46.50 seconds at a meet on Oct. 5, won the Class 4 Sectional 1 race, edging runner-up Webster Groves Statesman Teeter in a time of 16:06.55 to 16:06.89 on Nov. 2 at Parkway Central.
Kirkwood placed second with 63 points, 17 more than champion St. Louis University High School. Webster Groves finished third in the eight-team competition with 94 points. The top four teams and top 30 runners minus state-qualifying teams advance to state.
Kirkwood Pioneer Strong finished seventh in 16:38.07, followed by sophomore Patrick Lee (15th, 16:55.20), senior Henry Ebert (23rd, 17:08.83), junior Will Arbanas (25th, 17:09.88), sophomore Noah Gjelvik (31st, 17:22), and sophomore Sebastian Baker (40th, 17:38.42).
"They ran really well," Baldwin said of his team. "They produced in a tough sectional. They all stepped up. They ran well as a team. They stayed together. We had a productive day to be a productive team. It paid off."
Webster Groves' other finishers were junior Brett Krueger (18th, 17:05.36), senior Jack Parker (20th, 17:07.73), senior Raymond Wetzel-Meehan (35th, 17:06.02), senior Patrick Lee (38th, 17:33.01), senior Evan Schneider (61st, 18:43.43), and sophomore Emerson Lack (63rd, 19:08.86).
Sophomore Carson Smith also has contributed this season. Sophomore Andrew Bacon was among the top five runners until an ankle injury ended his season late in the year. The Statesmen have qualified as a team for the 10th time in the last 11 years.
Webster Groves coach Petter said that in the past, his runners were happy to qualify. Now they want more.
"There's no reason we can't finish in the top 10," he said. "We have the talent and ability and athletes to run well at state."
Petter said Johns Hopkins-bound Teeter, a four-year state qualifier, will be a front runner with the other top runners. He placed 23rd last season as a junior. The top 25 earn medals. His other finishes were 130th as a freshman and 89th as a sophomore.
"He's fighting for the top five," Petter said. "If he runs his best, it will be top five for sure. He's running really, really strong right now."
Kirkwood coach Baldwin said Wallach is also running well. He added that Pioneer Strong, the 2018 Class 5 800-meter state track and field champion, is also a top athlete.
Baldwin said he refuses to make any predictions, at least publicly.
"We don't want to put out any bulletin board material," he said. "We're just going to go down there and run."