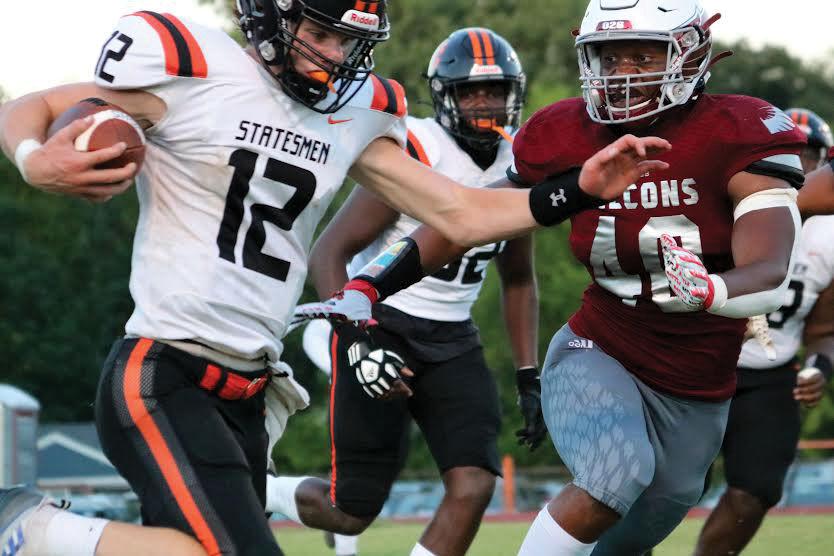 Following a tough season, the Webster Groves High School Statesmen remain hopeful that the team can take the prized Frisco Bell from the Kirkwood Pioneers in this year's Turkey Day game.
Webster endured another difficult season ending 1-8, while the Kirkwood High School football team ended with a 6-4 season. The past few seasons have been exceptionally challenging for the Statesmen, as the team has had a turnover in coaches. 
Matt Buha was hired in February 2020 after longtime head football coach Cliff Ice retired. Buha resigned suddenly without explanation just weeks before last year's Turkey Day game, at which point Munir Prince was named head coach. Three months later, Prince left to take a job coaching college football. Shortly thereafter, in the spring of 2022, Conner White was selected as the new 
coach. He was the team's defensive coordinator during the 2021 season.
The Statesmen were winless in 2021 and a 0-3 record in 2020 in a season shortened by the pandemic. While Webster's record has been disappointing, Coach White said he doesn't feel like the year has been lost.
"Right now we're putting down a good foundation moving forward," he said. "I think we're light years ahead of where we were (at this point last year), so I'm pretty excited to see what we did this year and how we can build off of that going into next year."
White said his players are really looking forward to competing in this year's Turkey Day game, which will be played at home. The game kicks off at noon on Webster's Moss Field behind Hixson Middle School. The date, of course, is Thanksgiving Day, Nov. 24.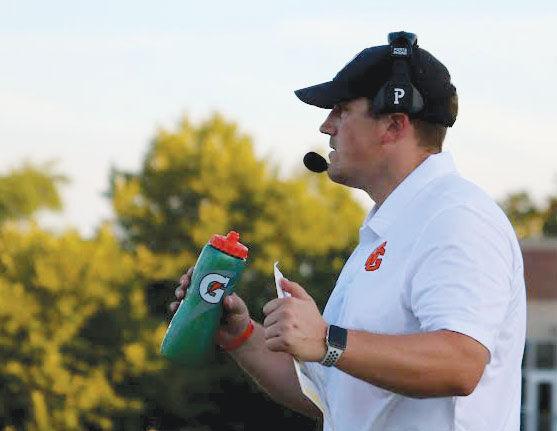 "It's kind of a double whammy this year for two reasons," White said. "One, obviously Turkey Day is a historic event — one of the longest living (football) traditions in the state — but this is also  going to be the last game that's played at Moss Field before it's demolished (to be renovated) this off season."
White said all of his players have been putting in their best work this season, and noted that senior Khamari Smith and sophomore Sean Patrick Keegan have really stepped up their games.
"Offensively, Khamari Smith has played two positions for us on the offensive line being an All Conference player at both of them, and then Sean Patrick Keegan has stepped up for us at linebacker," he said.
Smith and Keegan both said their games have grown this season.
"I think for me personally, I have grown at team building and working with other people who also want to accomplish the same things I want," Keegan said.
Smith said he also experienced personal growth this season.
"In some ways I would say that I've gotten faster, stronger and I became more of a leader," he said.
Coach White said the players have been through a rough and vigorous training process this season, and don't intend to let up.
"Next week, we'll practice doing scouting reports Monday, practice Tuesday through Thursday, and then we'll come back the week of Turkey Day and practice Monday, Tuesday, Wednesday, and then we'll be ready to play," he said.
Coaches and players alike say all the pre-Turkey Day traditions and hype help prepare them for the big game. Those traditions include dress up days at school, pep assemblies, and the chili cook off and bonfire the night before.
"All of the activities and traditions get me really excited to play in the biggest game of the year," Keegan said. "The chili fest and bonfire at Moss Field are my personal favorites."
Statesmen Jackson Torbit, a junior wide receiver and defensive back, echoed that sentiment.
"It's pretty fun during the whole week, and it gets me excited to play," Torbit said.
Coach White and the Statesmen are looking forward to playing the last game on the all-grass Moss Field at this year's Turkey Day game. 
"The game hasn't been as competitive as it has been before," White said. "I think once our vision of the program starts to come to fruition, I think it'll definitely be even more exciting because we plan on being extremely competitive, not only this year, but for a lot of years to come."
Dakota Motley is a senior at Webster Groves High School and is the business manager for the school's student newspaper, The Echo.