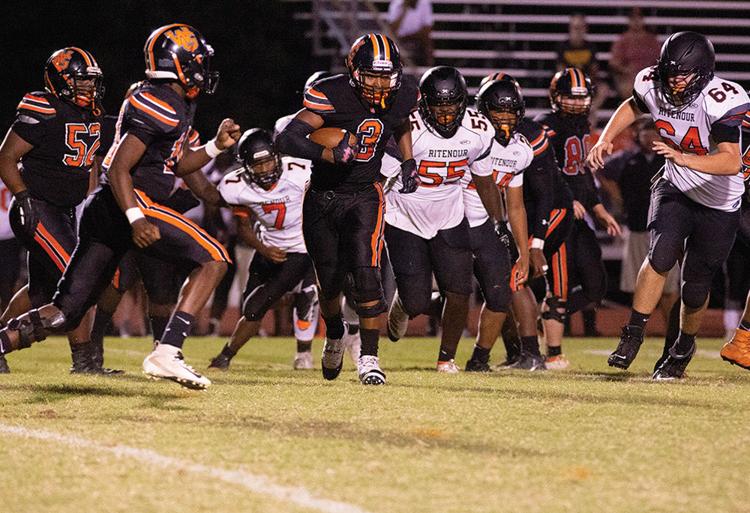 Seniors Maurion Clemons and Kameron Yancey recall days as eight-year-olds, running along the Webster Groves High School sidelines during the 2009 Class 5 Missouri State Championship football season.
A decade later Clemons and Yancey are among Webster Groves' key players as they try to restore the school's winning tradition. The Statesmen won their second straight game with a 48-7 mercy-rule victory over Ritenour at Moss Field on Sept. 27. The Statesmen snapped a 15-game losing streak with a 41-20 win over Pattonville on Sept. 20 at Moss Field.
The mercy rule ends games early when one team has an insurmountable lead over the other. Webster Groves' last mercy-rule win came over McCluer, 49-14, on Oct. 18, 2014. The starters were replaced after three quarters against Ritenour (1-3). In the win over Ritenour, Yancey, playing with a broken right hand suffered in the season opener, gained 156 yards on 10 carries and scored two touchdowns on runs of 45 and one yards.
Clemons, a linebacker, recorded 10 tackles while senior defensive end Noah Arinze contributed nine tackles and two quarterback sacks, Yancey had five tackles from his defensive back position and senior defensive back Jacobie Banks recorded two interceptions.
"It was great," Clemons said. "I hadn't had that feeling in about two years. It feels good to have one."
During the losing streak, Webster Groves Coach Cliff Ice said the players had to endure criticism from their classmates.
"I'm most proud of them staying there and persevering. and sticking with it," Ice said. "Now they're starting to enjoy the fun part of high school football."
Yancey talked about his classmates' digs.
"It was horrible. They put on the wall, '696 days since we had a win.' They put it on chalkboards. People put it on Snapchat," he said. "But obviously we're changing that. We're changing it right now."
Clemons agrees.
"It's been a l-o-n-g time," Clemons said. "It gives us hope. A lot of us have a heart on this team. When we come out here and dominate, we think about all the times people were downing us. We were 0 and 15. We used that as motivation, honestly."
Webster Groves (2-3) will be the favorite to win its third straight game when they play at Parkway Central (0-5) at 7 p.m. on Oct. 4.
At one time, Ice said he thought this group of seniors had state potential. But Ice said several of the key players moved out of state and participation dropped in recent years.
Ice had to retool the offensive line because of injuries to junior center Mike Landau and sophomore guard Joel Lazarow.
"We've got some weapons," Ice said. "We can run. We can throw it. We can attack a team. That's refreshing. It's nice to go out and attack what a team is giving you and be able to do that — play football and look like a football team."
Clemons and Yancey said they were happy to play well in front of many of the players from that 2009 team that was honored at halftime. Included was Clemons' older brother, Marquis, who played at Tennessee State University as a linebacker and now works as a state employee in Memphis.
Also, there was Jason Meehan, who was the go-to player at tight end and linebacker, went on to play defensive end at Northern Illinois University and today is an attorney in Milwaukee, WI.
Plus, who could forget the "Miracle at Moss" game-winning passing combination of quarterback Derrick Dilworth to wide receiver Demetrius Robinson on the final play to win the state quarterfinal against Chaminade. They returned to recreate that moment. Today, Dilworth is employed at the county jail in Clayton while Robinson works in the heating and cooling industry.
Yancey's father, Latrelle, was an assistant coach on the 2009 squad as well as a player for Ice. His uncles, Dwayne and Dwight Kirksey, were also on Ice's coaching staff in 2009.
The 2009 season included a perfect 13-0 record, the school's fourth state title and was in the middle of Webster Groves' 27-game winning streak.
"We were at the 6.9 (seconds left) Miracle at Moss game," Yancey said. "We were at every Turkey Day Game since 2009. We were playing on the sidelines every game. That's crazy. Time goes by so fast."
Clemons even impressed his older brother.
"It was special," Maurion said. "I wanted to prove something to them. I looked up to (Marquis) and that team and all those guys. I was on the sideline every single game."