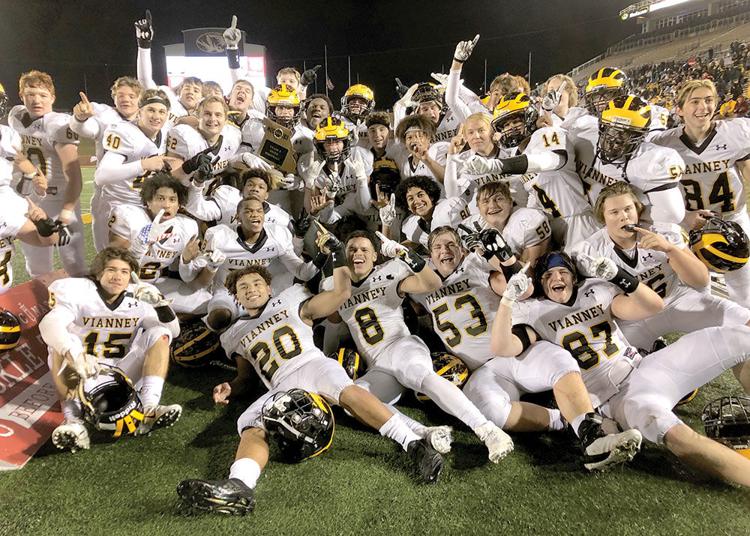 Paul Day, St. John Vianney High School's head football coach, was not concerned. Likewise for the players.
The Golden Griffins trailed Fort Osage 14-0 at halftime in the Class 5 Missouri State Championships on Dec. 1 at Faurot Field in Columbia.
But Day knew Vianney had a high-powered offense and a bend-but-don't-break, stingy defense. Despite trailing, Day was happy with the first 24 minutes. But he became happier after his Golden Griffins rallied to claim their second state crown in three seasons by a 28-14 score.
Vianney (11-3), winner of its last five games, won its first state crown in school history in 2016 by a 49-14 margin over Fort Zumwalt North. The Griffins' 11 victories this season is a school record. Vianney's championship win was the school's 350th, bringing the overall record to 350-254-5 since starting the program in 1960.
This senior class produced a 37-14 record and two state championships in four seasons.
"We didn't have any doubts at halftime," said Day, who has a 51-23 record in six seasons at the Kirkwood school. "By week nine (entering the playoffs), we put it all together. We peaked at the right time. We just wanted to play hard and get better each week and we did that. We played our best game of the year. We weren't going to be denied."
Notre Dame-bound Kyren Williams, in particular, was a force on both sides of the football. Offensively, primarily in the spread offense, the four-year starter would line up at running back, quarterback in the wildcat formation, or wide receiver. Vianney's goal was to get Williams the ball as much as possible.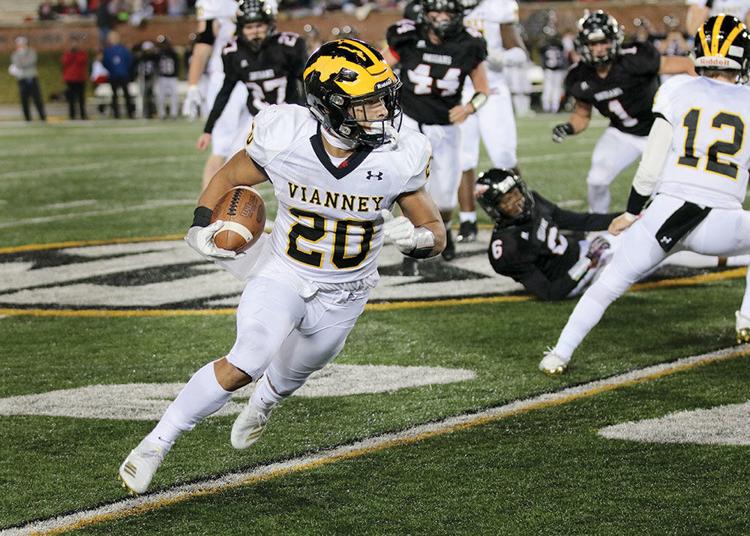 Against Fort Osage, Vianney totaled 484 yards (357 rushing, 127 passing). Williams was responsible for 354 of those yards. He gained a state-final record 289 yards on 26 attempts and scored one touchdown on a 71-yard run to even the score. He caught five passes for 65 yards. Defensively, he recorded five tackles and one of Vianney's seven quarterback sacks.
In his four years, Williams totaled a second-best 6,643 yards and scored a school-record 112 touchdowns and 14 two-point conversions. He finished with a second-best 3,947 yards on 468 carries and had a school-record in receptions with 204 and reception yards with 2,643 yards. He leaves as the all-time leader in interceptions with 13, including eight this season to tie the single-season mark.
"Notre Dame will have a tough decision (as to where to play him)," Day said. "We did our best to get him the ball. He's definitely talented. He has a great mixture of speed and strength. He has very good hands. He is fast and he has a great change of direction."
Vianney's other running back, senior Percy Mitchell, provided tough, inside rushes to complement Williams. In his final game, Mitchell had 90 yards on 22 rushes and scored three touchdowns of 12, two and 10 yards and one two-point conversion. He finished the season with 1,849 rushing yards on 264 attempts and scored 22 touchdowns.
"We were a one-two punch," Mitchell said. "We tried to come up with a nickname, but we couldn't settle on one."
Mitchell said they considered using "Thunder and Lightning" as the moniker, with Mitchell being thunder and Williams being lightning.
"Percy really provided tough yards," Day said. "He is tough, strong, quick. He ran really hard and is a good blocker."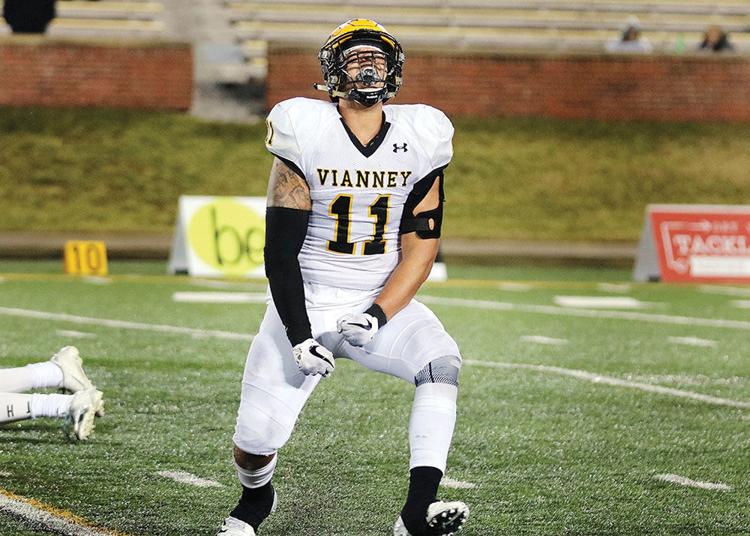 Though Vianney didn't rely on the passing game much against Fort Osage, junior quarterback Griffin John proved to be a valuable asset. In his first year as the starter, John completed 145 of 251 passes for 1,909 yards, 21 touchdowns and seven interceptions. Senior wide receiver Fahreed Cheeks, another four-year starter, caught 40 of those passes for 809 yards and eight touchdowns.
Coach Day said the hard-nosed defense was key throughout the season, especially in the playoffs. Fort Osage was held to 214 total yards (100 rushing, 114 passing), 140 fewer yards than Williams' output. Day said the entire defensive unit made the difference.
Senior defensive end Nate Thurman, a four-year starter, was a mainstay throughout his career as was junior safety Devin Ward, senior linebacker Nick Kriska, senior linebacker Lane Allison, defensive back Cheeks and Williams.
"We played well defensively for the whole game," Day said. "We were just as good in the second half as we were in the first. Our defense got better as the season went on."