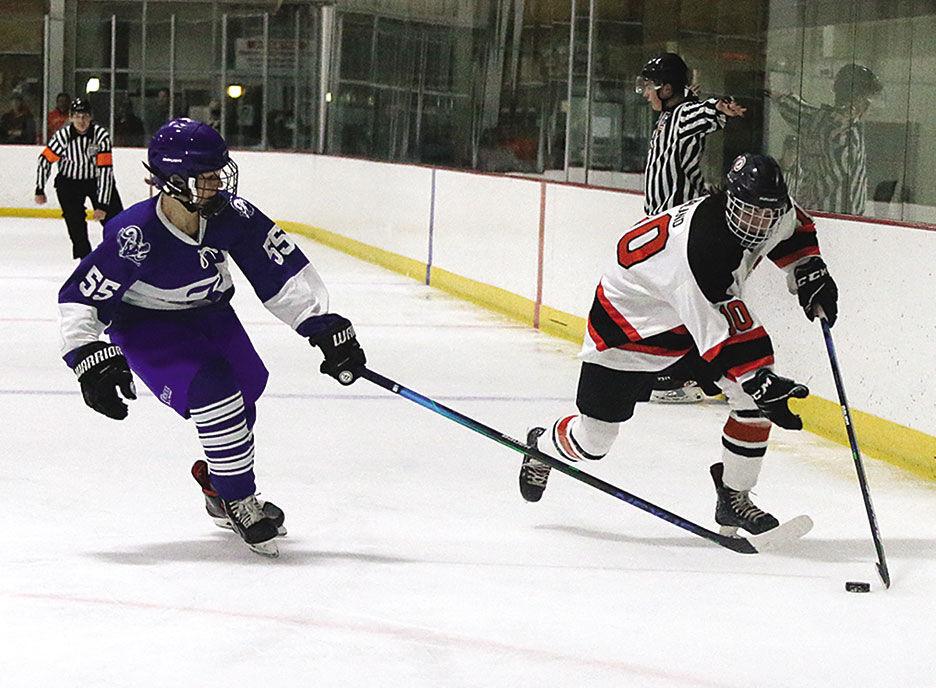 Update Dec. 21, 2021: The Skatesmen lost their Dec. 18 game against Priory. Their next game, also against Priory, will be held at the Maryville Rink at 9:30 p.m. on Dec. 27.
Webster Groves' Skatesmen club hockey team is on a roll with an 8-1 record, playing some of its best hockey in 20-plus years.
"I think that the last time we had a start this good was the 1998-1999 season. And that season the only game that was lost was in the state finals," first-year head coach Tim Keenan said.
The Skatesmen began the year with a perfect 8-0 run before suffering its first loss against Ladue on Friday, Dec. 10.
"I don't think they're taking anything for granted. They realize how we've gotten to where we are now. Last year, we ended the year 5-10-1 ... so you could tell we were kind of right on the cusp," Keenan said.
"There's a real sense of accountability to themselves and their teammates, the way they approach practices and games treat each other as teammates and friends. It's all really good," he added.
Keenan, forward and team captain Sam Allen, and forward Edrie Gowan all attribute the success of this year's team to an emphasis on team bonding off
the ice.
"I think there's been maybe one game we didn't have a (team) dinner, and if we don't have a place to do dinner we all kind of meet up at the rink before games and bring our own food so we can get that bonding right before the game so we can connect better on the ice," Gowan said.
On the ice, Gowan attributes the success of the Skatesmen to years of experience playing together at the youth level and the impact of having older siblings who also played. She also said it comes down to a shift in approach, lifting each other up to do better when mistakes happen, which makes the bond among the team that much stronger.
"We've just been with each other so long and we have seen the struggles because we all have older siblings. We've seen the no-win seasons and we're all just super motivated," Gowan continued.
Despite the setback against Ladue last week, both Keenan and his players are proud of the team's effort thus far, and believe the Skatesmen will advance to the playoffs at the end of the 20-game regular season.
"Obviously, we're pretty disappointed, ending that winning streak. We had a lot going, but the overall mentality in the locker was, 'Hey, let's get back at this, let's work hard, let's beat them next time," team captain Allen said. "We all really have that mentality and it's not like losing one game is going to just erase that from our memories. We have the winning mentality," he added.
He also highlighted the effort and leadership of defensemen and alternate captain Kyle Mager. Allen believes if the team can lock down defensively and keep goaltender Braden Mackie from needing to control too many rebounds and stick to a simplicity-based game plan, the Skatesmen can beat any team they play.
Allen feels that if the team can do these things and stay consistent, they could ultimately hoist a championship. Still, the recent success mainly comes back to Keenan shifting the mindset of the Skatesmen.
"We'd come to the games, practices thinking, 'We might lose, we might win, but we really don't care,'" Allen said. "Now, it's different. Now, these team dinners, and just the overall mentality is that we go into these games wanting
to win."
Coach Keenan said beyond team dinners, attitude change comes back to little changes like enforcing a dress code on game days, giving T-shirts and Ding Dongs to the crowd during the games, plus the implementation of a goal horn and light show.
"I know lots of these things sound like silly or inconsequential things, but I think we all really believe that little stuff like that can contribute to shaping the subconscious of the team," Keenan said.
Keenan and much of the coaching staff are former Skatesmen. He said the recent success means a lot to everyone involved, thanking Webster Groves High School, parents and alumni for playing a role in that success.
The Skatesmen will next play at on home Saturday, Dec. 18, at 8:45 p.m. against Priory.