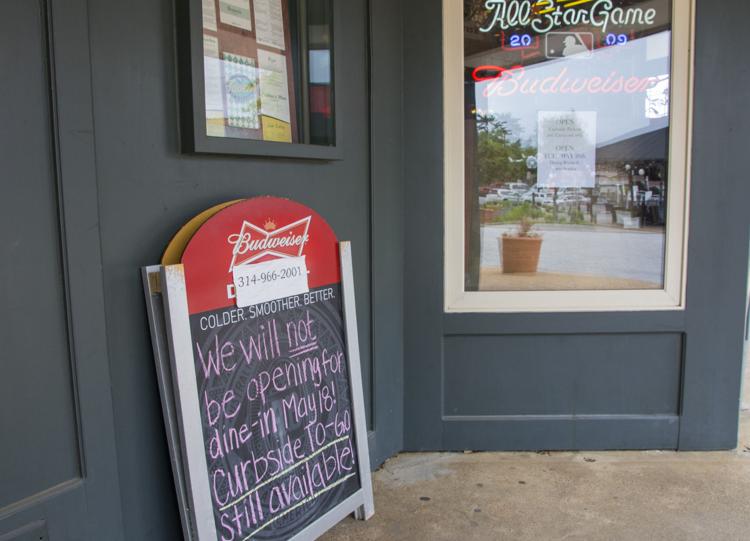 Note: This is an ongoing story and will be updated as new information becomes available. Businesses that would like to be included in the list below may email information to info@timesnewspapers.com to be featured.
With stay-at-home orders lifted Monday, May 18, businesses across St. Louis county are reopening — many with changes or limited hours.
The St. Louis County Department of Public Health released its guidelines for reopening for individuals and businesses. Full guidelines can be found here.
Individual requirements for what's being called "Phase I" of reopening include wearing a face mask in public places, limiting social gatherings to fewer than 10 people and consistent hand washing and surface sanitization at home. Citizens are still encouraged to remain home as much as possible.
All county parks are now open, but safety measures are still in place. Citizens are encouraged to wear face masks and asked to maintain a distance of six feet away from other park patrons. Park restrooms, indoor facilities, sports courts, shelters, exercise stations, playgrounds, skate parks and the Creve Coeur Park Soccer Complex are closed.
For businesses, employees are required to wear face masks and practice social distancing, including standing six feet apart from each other and from customers whenever possible. All businesses are required to follow CDC procedures for sanitizing workspaces and educate employees and customers in proper practices.
For restaurants, banquet rooms and bars that serve primarily alcohol will remain closed. Dining areas are required to have limited seating — only up to 25% capacity — with tables at least six feet apart. Booths are required to be partitioned by plexiglass or metal. No more than 10 people in a single party will be permitted to dine together.
Outdoor dining is recommended and restaurants are recommended to take orders in advance to cut down on customer wait times. Condiments are no longer permitted on tables and single-use menus will be disposed of after use by each customer. Restaurants are also required to take names and phone numbers from customers in order to trace the spread of the virus if necessary.
Below is a list of area restaurants and businesses that have reopened as of May 18 or resumed some operation. This list is not exhaustive and will be updated as more information becomes available. Businesses may email info@timesnewspapers.com with reopening information to be included in this list.
C. J. Muggs, 101 W. Lockwood Ave. — Open for limited seating. Carryout, curbside service and delivery are still available.
Custard Station, 140 W. Argonne Drive — Reopening Wednesday, March 20 from 1 - 9 p.m. Tuesday - Sunday.
The Frisco Barroom, 8110 Big Bend Boulevard — Offering carryout Tuesday - Sunday, 11 a.m. - 8 p.m. Market and deli items are available for preorder with 48-hour notice online.
Green Goose Consignment Gallery, 1267 S. Laclede Station Rd. — Open as of Tuesday, May 19, Tuesday - Friday, 10 a.m. - 6 p.m.; Saturday 10 a.m. - 6 p.m.; Sunday 11 a.m. - 5 p.m. Closed Mondays.
Llywelyn's Pub, 17 W. Moody Ave. — Open starting May 20, Wednesday - Sunday, 4 p.m. - close. Carryout still available at llywelynspub.com
Mike Duffy's Pub & Grill, 124 W. Jefferson Ave. — Offering curbside pickup.
Nathaniel Reid Bakery, 11243 Manchester Road — Offering contactless curbside pickup Tuesday - Saturday from 11 a.m. - 5 p.m. or until supplies last.
PJ's Tavern, 123 W. Jefferson Ave. — Carryout offered, with curbside pickup available until Memorial Day. Limited dining room seating available Tuesday, May 26.
Rolling Ridge Nursery, 60 N. Gore Ave. — Now open regular hours, Monday - Friday 9 a.m. - 6 p.m., Saturday 9 a.m. - 5 p.m., Sunday 10 a.m. - 4 p.m. Social distancing measures and 30-person limit in place.
San Jose Mexican Restaurant, 35 N. Gore Ave. — Open for takeout 11 a.m. - 9:30 p.m. Sunday - Thursday, 11 a.m. - 10:30 p.m. Friday and Saturday. The outdoor patio is open for public seating but no table service will be provided.
Sunset 44, 118 W. Adams Ave. — Open for curbside and dine-in service nightly from 4 - 8 p.m. Orders and reservations will be taken by phone after noon each day.