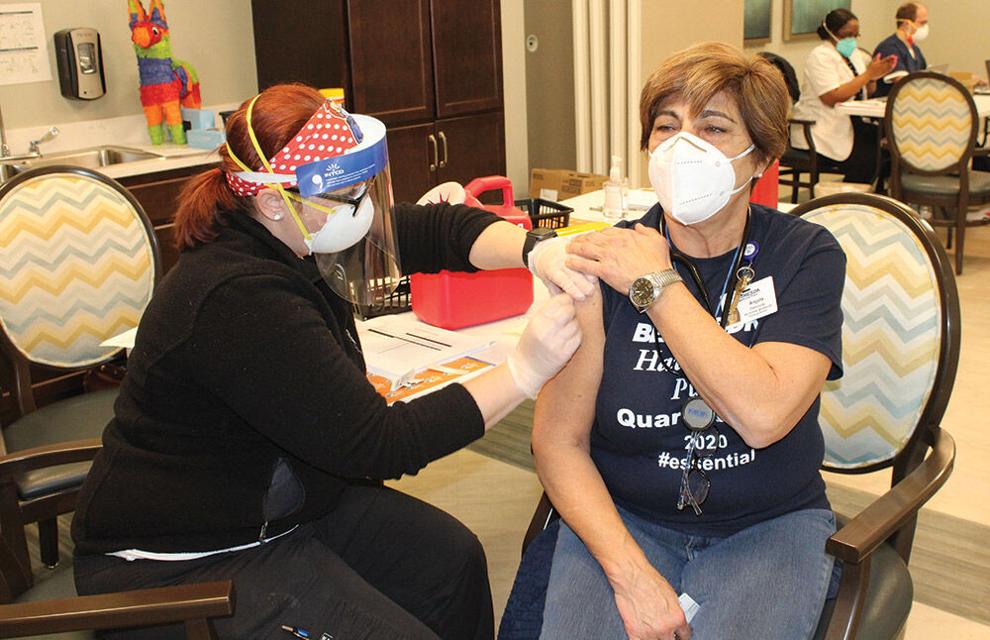 There was excitement in the air on Monday, Jan. 18, at the Bethesda Gardens retirement community in Kirkwood as residents and employees rolled up their sleeves to get the first dose of the COVID-19 vaccine.
Residents chatted among themselves as they passed each other in the halls: "I just got mine. Did you get yours?"
Monday was the first of three COVID-19 vaccine clinics hosted at Bethesda Gardens. Orchestrated by CVS Health, all residents and staff were given the opportunity to receive the vaccine free of charge.
"It's been smooth sailing — a great day," said Kristyn Koehler, general manager of Bethesda Gardens. "The residents are absolutely eager and willing to get their vaccines."
Jane Wilhelms, a six-year Bethesda Gardens resident, is one of the many residents who signed up to get the vaccine.
"It was no problem. Everything was organized very well, and we were in and out," she said. "It didn't hurt. It was like a flu shot."
Between this week and next week, all six Bethesda independent living communities in the St. Louis area are scheduled to host their first of three vaccine clinics. Those who took advantage of the opportunity will receive a second dose in the coming weeks.
Missouri was authorized to begin distributing COVID-19 vaccines to individuals in the 1A priority category on Jan. 8. Category 1A includes emergency health workers, health care workers who are in direct contact with patients and long-term care facility residents and staff members.
As of Tuesday, Jan. 19, the St. Louis CountyDepartment of Public Health had administered 1,165 doses of the vaccine, with most going to health care workers. Later in the day Tuesday, the St. Louis County Department of Health received an additional 3,900 doses.
According to the Centers for Disease Control and Prevention, the federal government does not require vaccinations for individuals. While certain workplaces may mandate their employees receive the vaccine, Bethesda will not, said Jeff Waldman, vice president and director of marketing.
"I know there are plenty of people who are wary and waiting to see what's going to happen," he said. "That's going to be the same with each different community."
Angela Denicola, nurse manager at Bethesda Hawthorne Place in Oakland, is doing her best to mitigate those concerns. She got the vaccine on Tuesday, Jan. 19.
"I wanted to be an example to a lot of people who are very nervous about it for one reason or another," she said. "I wanted to make sure I was very visible in my willingness to get it. It's the best thing to do. We can get over this a lot faster if we all work together."
Willie Hatcher, housekeeping supervisor at Hawthorne, echoed those sentiments. In addition to his team's intense cleaning and sanitizing process, he believes getting the vaccine will help the residents he cares for stay healthy.
"That is the number one thing — to keep our residents safe and hope one day to get visitors back," he said. "We're ready to kick butt and get COVID out of here."
Despite any rumored concerns, Bethesda Gardens resident Wilhelms was happy to get her vaccine at the first chance she had, and was encouraged by her doctor and grandchildren to do so.
"I just wanted to make sure I got it so we can work toward getting back to normal," she said.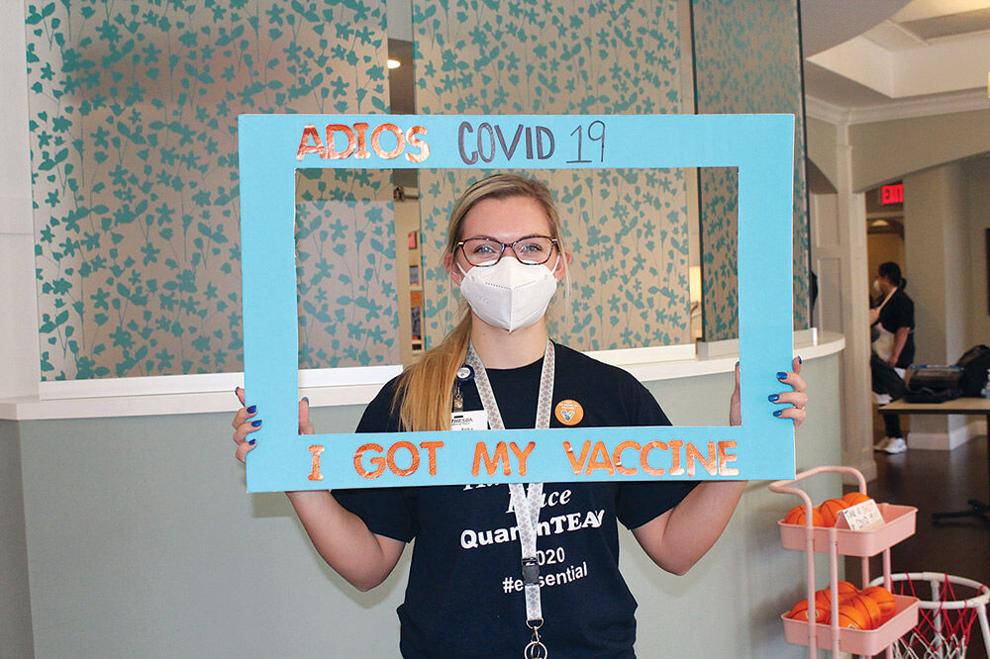 The Honor System
Although St. Louis County received an additional 3,900 doses of the vaccine on Tuesday, unfortunately, the demand far outweighs the available supply. More than 200,000 people have preregistered to be notified when it's their turn for the vaccine, according to St. Louis County Executive Sam Page. Competition is fierce, with some people lying on their applications to jump the queue.
"We encourage people to be honest when preregistering, and to think about those you may be bumping from the line," Page said. "We've had some instances where those who say they are health care workers are not. We've had people bring family members or others along who are not eligible for the vaccine. We've had high school students show up for appointments who misrepresented who they were."
Page said while this is not a huge problem yet, it will only elevate tensions, slow down lines and distract health care workers as the process continues.
"We need everyone in this honor system to be honorable," he said.
Page added that the county is working on obtaining more vaccines and opening larger distribution sites as more people become eligible.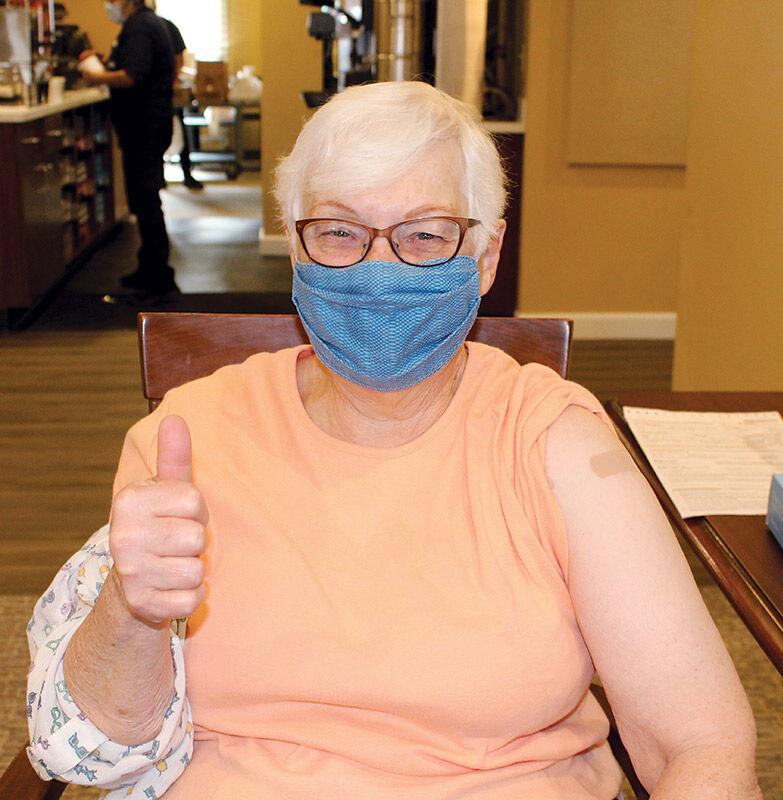 Working in Phases
The St. Louis County Department of Public Health announced last week that it would begin contacting those who have applied for 1B-
Tier 1 vaccines, which includes public health staff, law enforcement, emergency services and public works employees. The county will continue vaccinating those in the 1A category as well.
Beginning Monday, Jan. 18, those in category 1B-Tier 2 became eligible for vaccination. This category covers all adults age 65 and older, as well as anyone with serious health conditions including cancer, heart disease and other ailments. It also includes those who are pregnant, have weakened immune systems due to organ transplants, and those with intellectual disabilities such as Down Syndrome.
See all Missouri phases at covidvaccine.mo.gov.
While some individuals will have access to vaccines through their place of employment, St. Louis County encourages the public to apply by going to ow.ly/zJGN50D1yu7 or by emailing dphcovidvaccine@stlouisco.com.
Some area hospital networks, including BJC HealthCare, Mercy, SSM Health and St. Luke's, are also taking applications for the COVID-19 vaccine. Visit individual hospital websites for details.
The St. Louis County Department of Public Health asks that citizens do not make multiple appointments for the vaccine across different providers, as this ties up available doses for those in need.
See more photos from the vaccine rollout in our gallery here.