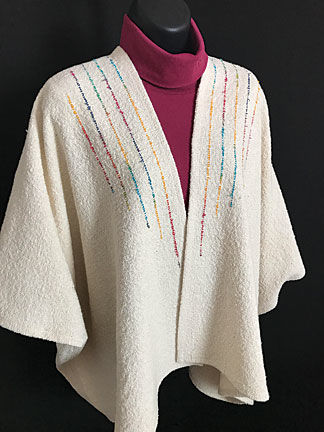 Edmund Cartwright invented the power loom in 1780, and by 1880 there were over 250,000 steam-powered looms across Great Britain pumping out gloves, pants, jackets. The power loom transformed the British textile industry from a cottage industry into a fast paced global industry dependent on expensive machinery and factory workers. The craftspeople who used to spin wool and weave fabric became employees whose individual skills were no longer valued. More inventions would follow, and we all live with the results, for better or worse. Today's clothes and textiles are easy to buy, ready to wear, and disposable.
Jane Olson Glidden, of the Weavers' Guild of Saint Louis, reflects on what garments used to be before the industrial revolution. A weaver would select the fibers, dye and spin the wool, set up the loom, and weave by hand. This takes time, but the resulting garment is worth it, she says. A garment made by an experienced weaver will last for many years.
Glidden, who studied weaving in Finland, weaves exclusively with cotton and doesn't create "patterns." Instead, she plays with textures, color, and lines, and describes her own style as "classic" and "simple." And she can talk your ear off about the provenance of certain weave structures and patterns, a fascinating insight into the fabrics we touch every day.
Glidden has fond childhood memories of watching her mother and grandmother crochet. She recalls how their hands would maneuver so effortlessly and skillfully. It was watching those hands that first inspired Glidden to learn how to make things. Although handwoven clothes are not likely to replace the mass-produced clothing industry any time soon, the skills are still passed down from one generation to the next in small schools and guilds.
The 36th Annual Weavers' Guild Sale is returning to Webster Groves on Oct. 19 and 20. The sale takes place at the First Congregational Church of Webster Groves, 10 W. Lockwood Ave., and gives a once-a-year opportunity to find handcrafted fiber art that ranges from traditional weaving products like placemats, kitchen towels, baskets and rag rugs to newer forms such as nuno-felted garments and fiber sculpture.