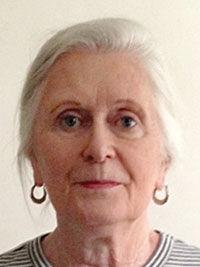 Rullkoetter, Sharon (Simpson), died Monday, October 11 after a brief illness. Sharon was a life-long Webster Groves resident before her 2020 move to The Woodlands, Texas. 
Sharon grew up in Webster and graduated from Webster Groves High School. She earned her RN degree at Deaconess Hospital in St. Louis. 
She married Gerald Rullkoetter in November, 1962, after a fraternity brother set them up on a blind date. Gerry was in the U.S. Army, and they moved to Heidelberg, Germany for two years, where Sharon worked in a local hospital as a labor and delivery nurse. They returned to the U.S. in August, 1964, shortly before the birth of their daughter Laura in September. Daughter Lisa was born in 1966.
Sharon was a homemaker in Webster Groves until her youngest child, Paul, was in kindergarten in 1974. She worked at Lutheran Senior Services in Webster Groves starting as an evening shift nurse. She migrated to care plan manager, then became the director of nursing at Lutheran Convalescent Home. She then became the Administrator at Laclede Commons before opening a new campus for LSS at Meramec Bluffs — she turned a former scenic Union Electric retreat property into what was then three levels of care. Her coworkers lovingly referred to the process as "having triplets."
Following her retirement, Sharon was an active volunteer for Oasis and was a reading buddy at Bristol Elementary. She spent many hours working one-on-one with students whom teachers identified as needing extra support, and Sharon formed special bonds with all she worked with. She also volunteered with Nurses for Newborns, a St. Louis group dedicated to getting pre- and post-natal care for infants in the St. Louis area. She enjoyed very much the camaraderie of her co-workers. 
As many Webster residents are, Sharon was especially fond of the Community Days Parade, and hosted many an after-parade party at her house, which was an easy walk from the route. Her birthday was July 6, and the post-parade parties often doubled as birthday events featuring red, white and blue foods and decorations.
Sharon is survived by her husband Gerry; daughters Laura Landsbaum (Jim Geary), Lisa Walters (Steve) and son Paul (Amy); and grandchildren Claire and Eleanor Landsbaum and Nicholas and Brendan Walters. Future plans will include an interment at Jefferson Barracks in the spring. Remembrances in Sharon's name to Nurses for Newborns are welcome.