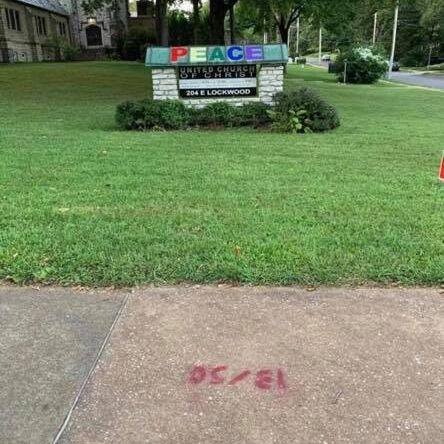 Multiple locations in Webster Groves reported hate-speech graffiti spray-painted around their properties late last week.
The numbers "13/50" — allegedly a white supremacist symbol suggesting that Black Americans represent 13% of the population and 50% of crimes committed — appeared in front of several churches known for supporting the Black Lives Matter movement. The numbers were also painted at the foot of the North Webster monument in Barbre Park and in front of an office building on North Gore.
Peace United Church of Christ, located at 204 E. Lockwood Ave., was one of the locations targeted by vandals. Though the church is currently not offering in-person services, it hosts weekly vigils in solidarity with the Black Lives Matter movement outside every Friday at 6 p.m. The effort began following the police killing of George Floyd in Minnesota earlier this summer. Last Friday, Sept. 4, was the 15th week that Peace United Church of Christ held vigil.
Pastor Wendy Bruner believes her church was targeted because of these vigils, despite how peaceful they are. Though the city of Webster Groves immediately removed the graffiti from the sidewalks near the church, Bruner said it serves as a reminder that there are issues in Webster that cannot be erased.
"There are people who are against Black Lives Matter. One of the positives coming out of this is the city can't ignore it now," said Bruner. "Nobody (in the congregation) is happy about it, but I think everybody understands. It's just given everyone more resolve. We usually have 40 to 50 (people) at the vigils. This Friday we had 70. We need to be out here."
Several community members have also reported receiving letters from anonymous neighbors suggesting their Black Lives Matter signs are lowering their property values. The letters appear to be part of a national campaign to remove the signs, as multiple news sources across the country have reported identical letters.
An official statement from the Webster Groves City Council and Mayor Gerry Welch said that police are investigating the graffiti incident.
"There is no place for racism in our community," reads the statement. "We affirm our commitment to making Webster Groves a more welcoming community to all, where equity, diversity and inclusion are lived values."
Welch and the council have joined leaders from the Webster Groves School District, Webster University and the North Webster Neighborhood Coalition for a series of summer meetings to discuss racial equity in Webster Groves. The statement added that an equity audit of city government is likely forthcoming.