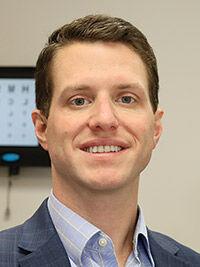 Although Dr. Andrew Biondo, O.D., has been practicing in the St. Louis area since 2010, in 2015, he opened his own practice in his hometown of Kirkwood.
Kirkwood Eye Associates offers the full scope of eye care, including contact lenses, glasses, the LASIK procedure and cataract, glaucoma and macular degeneration care. The practice specializes in dry eye disease and scleral contact lens fittings. 
"Eye care is a rapidly evolving specialty with new challenges that are met with new treatment options," Biondo said. "Myopia, or near-sightedness, has increased 66 percent in the past three decades and continues to rise. People who are myopic have a higher risk of developing conditions such as glaucoma and retinal detachments." 
The office now offers orthokeratology, which stops the progression of myopia and allows the formerly nearsighted to see all day without glasses or contact lenses.
Biondo finds satisfaction in helping his patients maximize and protect their vision. 
"It's extremely rewarding to watch patients light up when they are able to appreciate details in the world around them like never before," he said. 
Rachel M. has been a patient of Dr. Biondo's since 2016. "I feel like Dr. Biondo always takes the time to listen and understand my personal concerns. He then creates a unique course of action specifically for me," she said. "The entire staff always treats me as an individual, not just any other patient. It's always a truly professional experience at Kirkwood Eye." 

200 S. Kirkwood Road Ste. 100
Kirkwood • 314-394-3045