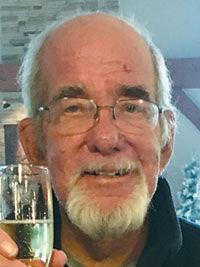 Allison, Scott. Renowned rowing coach Scott W. Allison (known to some as Bill), of Glendale, Missouri, father of three, grandfather of five, died peacefully with his family at his side on Oct. 14 at the age of 82.
Known throughout the Midwest for his leadership in the St. Louis Rowing Club and the St. Louis University rowing program, Scott mentored thousands of rowers, from kids to masters, in his many decades as a rower and coach. His pursuit of rowing's elusive "swing" and his love for being on the water were infectious and boundless. 
Scott dedicated countless hours of coaching, repairing boats and driving to races so others could row. Scott's love of rowing began at MIT, where he received a BS in chemical engineering in 1962 and master's in engineering in 1964, and was a member of the Chi Phi fraternity. 
During this time, he married Kathryn Campbell, with whom he moved to Yorkshire, England, in 1964 to work with ICI Fibres LTD. Upon their return to the U.S. two years later, they started a family and he began a three-decade career with Monsanto, working on industrial fibers and chemical packaging. His career took the family to North Carolina, Ohio, and Alabama before settling in St. Louis in 1976, where he would remain for the rest of his life.
Early retirement in the 1990s opened the door to his second career of coaching rowing. Scott was a lifelong learner, an advocate for scientific inquiry and problem solving, and a selfless single father during his kids' high school years. He inspired, supported, and delighted in his kids' academic achievements, commitment to public service, and global wanderings, traveling to the Dominican Republic, El Salvador, Japan, India, Indonesia, Spain, Mexico, Thailand, and China, as well as the San Francisco Bay Area and Washington D.C. to visit his kids and grandkids. 
In his retirement, he undertook great solo adventures, including hitching a ride on a container ship from Belgium to China, driving to Seward, Alaska, to spend a summer coaching rowers, and numerous fly-fishing excursions. Like his mother Gert, who drove coast-to-coast in the 1930s, Scott loved to see the country by car, making countless road trips across the U.S. 
Befitting his love of natural beauty, Scott's last road trip took him and all his family across the Great Plains to the Sangre de Cristo mountains of New Mexico. 
Survivors include his children, Dr. Elizabeth Allison (Eric Biber), Rob Allison (Paloma Gomez), and Chris Allison (Beth Rollins); his grandchildren, Max, Henry, Tomas, Emilia Grace, and Elena; his brother, Rick Allison (Kathleen Allison) of Branford, Connecticut; other relatives and many dear friends. He was preceded in death by his parents, Scott Allison and Gertrude Bratt Allison of Syracuse, New York.
In lieu of flowers, a donation to the St. Louis Science Center or St. Louis Public Radio would honor Scott's dedication to science, curiosity, and inquiry, and support institutions that Scott was passionate about.