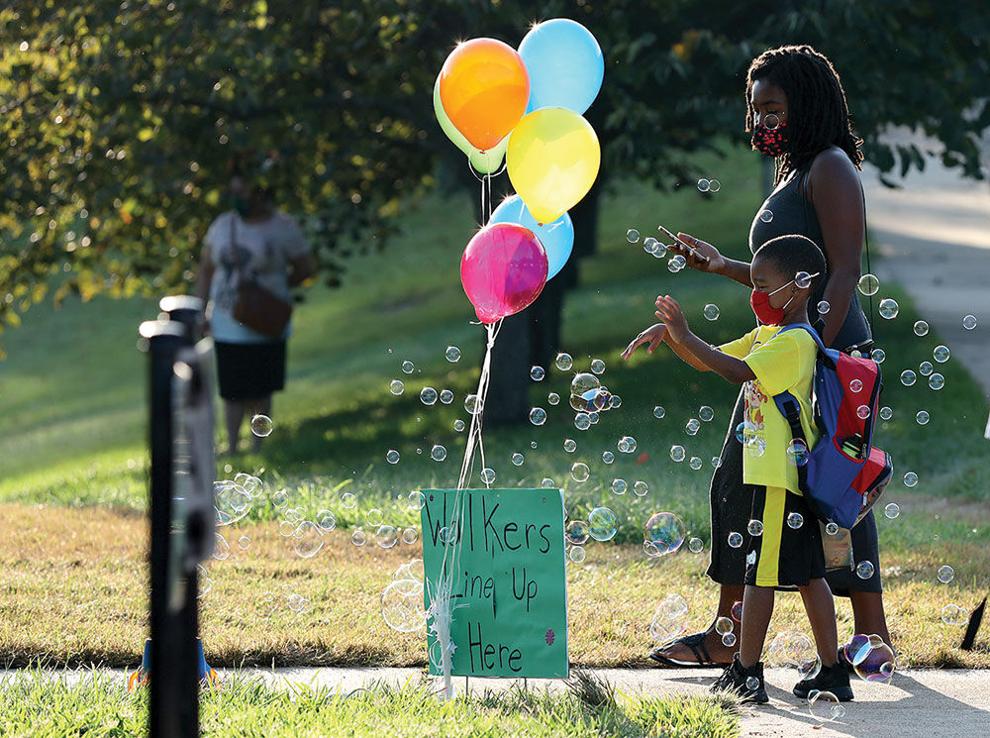 While it might not be 100% back to normal, the 2021-22 academic year is already feeling more like pre-pandemic times. Students in the Webster Groves and Kirkwood school districts returned to in-person classes on the first day of school earlier this week.
Though several COVID precautions remain in place and masks are required for students, faculty and staff in both districts, many are simply grateful to be able to interact with their peers outside of cyberspace.
Iris Wallace is a fifth grader at Clark Elementary School in the Webster Groves School District. Like most of her peers, she started the 2020 school year online, moving to in-person, but heavily segmented, classes in October. Students were required to use plastic dividers during class and at lunchtime, and couldn't meet with students in other classrooms.
"I did not like online school. It wasn't fun for me. I didn't get to interact with people and all of my classes were super different," Iris said. "I'm excited for this year because I get to see more of my friends, and we have more of a normal lunch and recess."
Kirkwood High School sophomore Anye Stark-Hull felt online learning made it harder for her to concentrate on classwork. She's glad to be back in person, meeting new people and catching up with old friends.
"I'm looking forward to the friendship dance, if we have one. I'm also a cheerleader, so I'm excited to go to games this year and for the pep rally,"
Stark-Hull said. "I'm excited to grow new bonds and strengthen some other ones as well."
Iris agrees. She's already got big plans for the year, including being a part of the Gifted Fine Arts program, which she began last year virtually and will continue in person this year. She's also hoping the fifth grade trip to Hidden Valley Ski Resort continues as planned.
"We don't know for sure if we're going to do it or not, but if we do, I'm really excited," she said.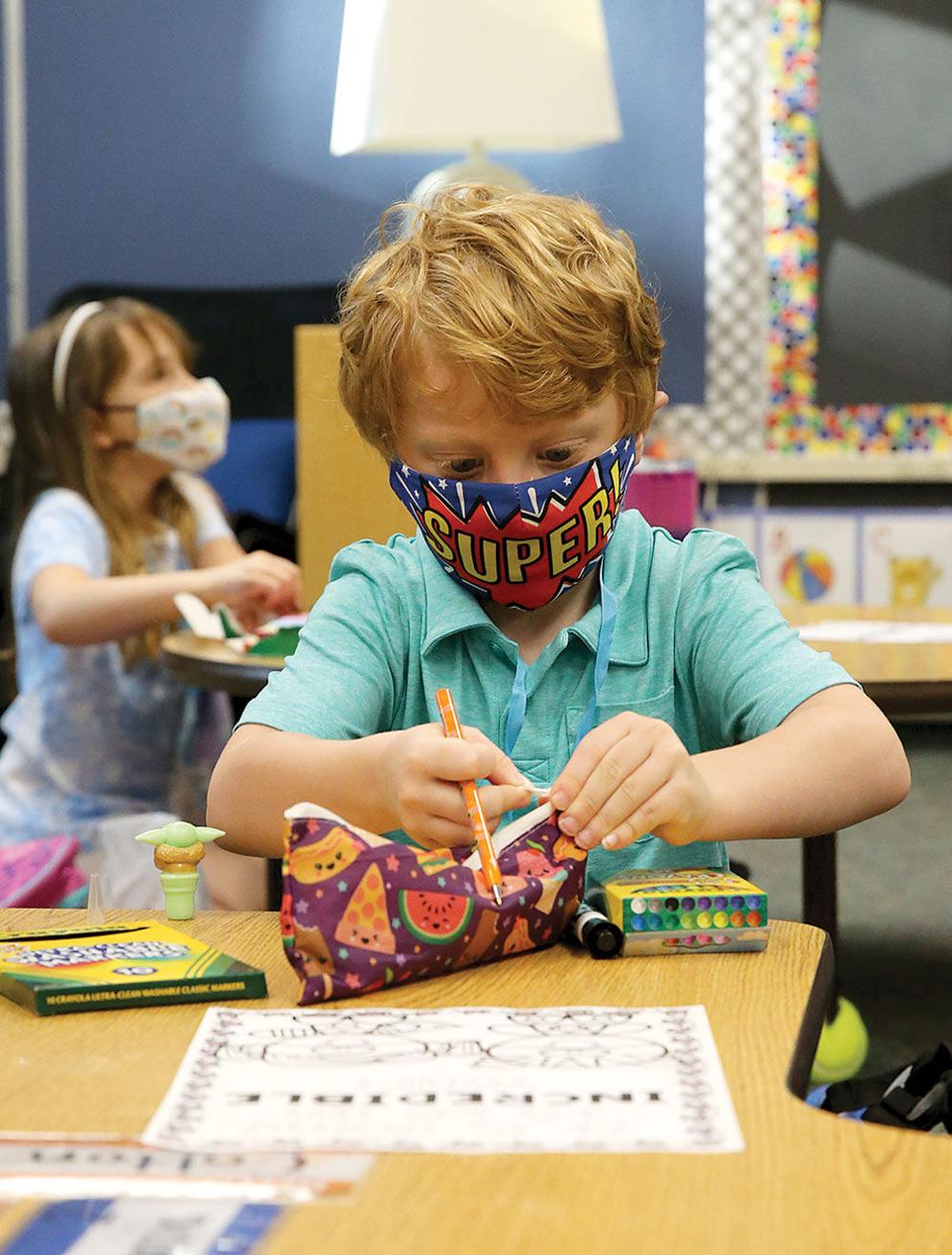 "It's Going To Be A Great Year"
Both the Webster Groves and Kirkwood districts haven't entirely counted out field trips, but have committed to take their cues from the St. Louis County Department of Public Health, the CDC and other health experts when making decisions. The districts have also committed to continuing strong sanitation practices, as well as transparency when it comes to infections. Both districts have COVID dashboards on their websites where parents can view frequently-updated data about COVID statistics in schools.
Though masks are still mandatory in classrooms, some preventative measures from the previous year have eased, according to Kathryn Howard, who teaches kindergarten at Givens Elementary School in Webster Groves.
"Last year, everything had to be contained. This is a little bit easier. We're still keeping them at a safe distance from each other, lots of hand washing, no sharing food," Howard said on the first day of school on Monday, Aug. 23. "But they're giving us a little bit of flexibility, so when they go to recess they can play with other students from other kindergarten classes. Last year, they could only play with their own class, which really limited relationship building."
In her 29 years with the Webster Groves School District, Howard has seen lots of first days of school. This year, her classroom looks slightly different than normal, with X-shaped tables to maximize distance. Regardless, Howard is thrilled to be starting the year in person at Givens, which opened this year as a new neighborhood school.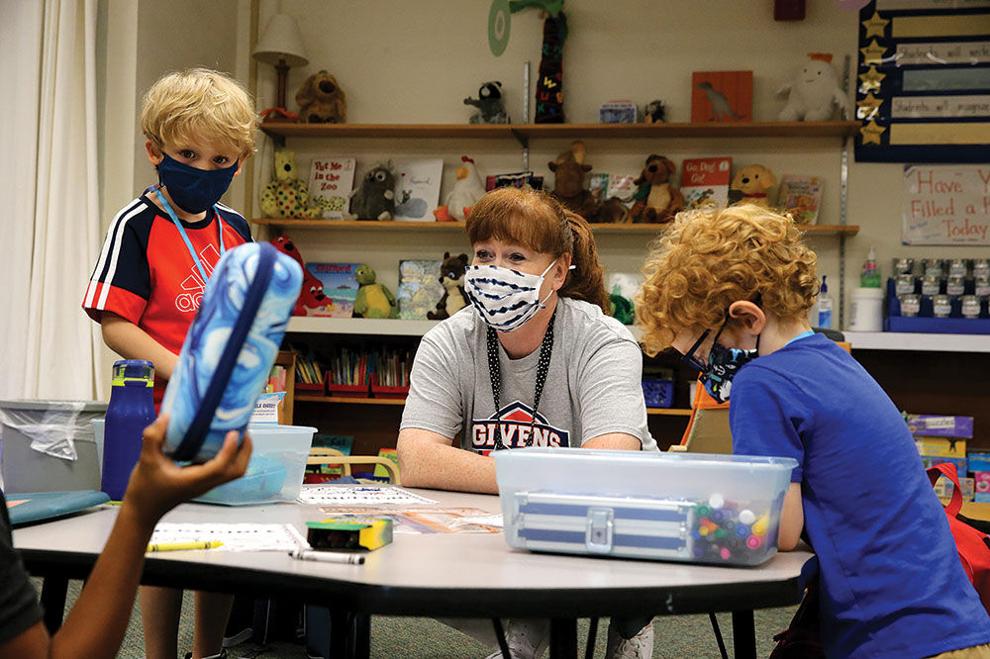 "I'm really excited about the Givens philosophy and the newness of everything. I think it's going to be a great year," she said.
In light of last year's restrictions, the first day of school in Kirkwood this year on Tuesday, Aug. 24, felt strange for Kirkwood High School drama teacher Kelly Schnider. 
"My first class was very large, and admittedly, at first it felt a little overwhelming being in front of that large a group after so long," Schnider said. "But I quickly got my groove back, and it felt pretty normal again. This week, students will still be a little tired from not being used to school, but I think next week will feel like things are rolling along again."
Schnider is already acclimatizing to the new environment at school. With distance requirements eased and physical barriers eliminated, there's more room for students to strut their stuff on the stage during drama classes.
While there's nothing better than seeing students laughing and engaging in person, Schnider said the last year hasn't been all bad.
"Because we had to create so many resources for students to access at home, I still have videos, links and online instruction available. These things will be great resources for students if they missed the in-person lesson, need to refer to it again on their own time or need additional practice," she said.