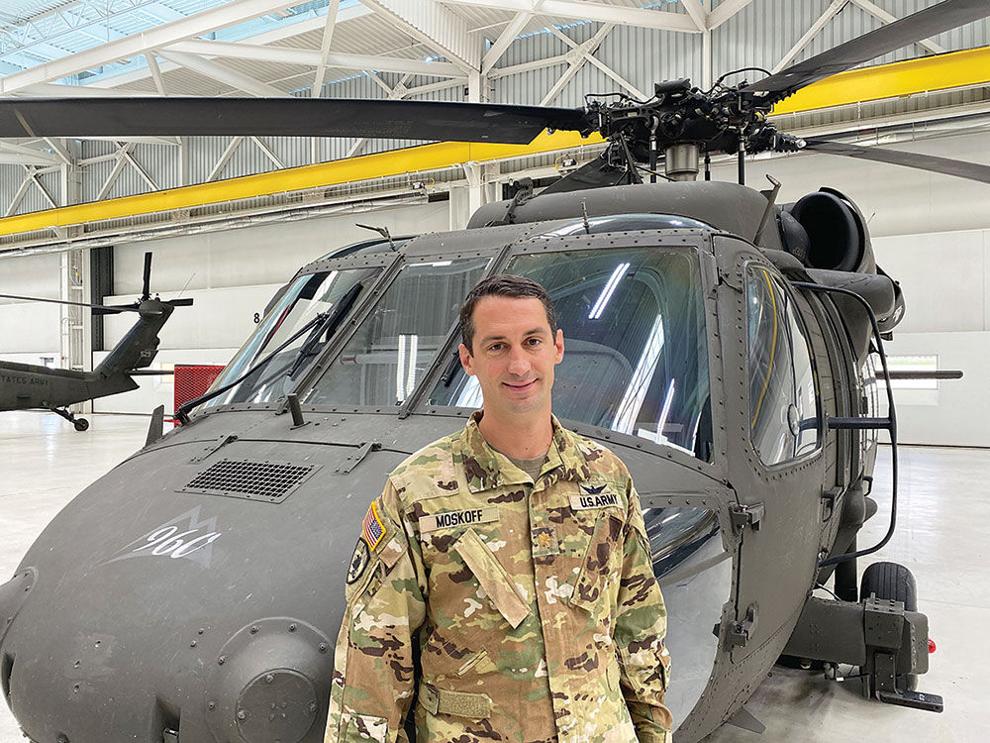 A Kirkwood native now living in Colorado was recently commended for a daring helicopter rescue on the Crestone Needle, a high summit of the Crestones in the Sangre de Cristo Range of the Rocky Mountains.
Maj. Christopher Moskoff, who graduated from Kirkwood High School in 1999, was recently awarded "Rescue of the Year" for 2020 by military organization The Dustoff Association. Moskoff is part of the Colorado Hoist Rescue Team, which is composed of National Guard aircrew and civilians from the Alpine Rescue Team.
"We have a really cutting-edge rescue program," said Moskoff, who piloted the helicopter during the rescue in September 2020. "We're the second in the U.S. to employ what we call dynamic hoist."
Dynamic hoisting is an alternative to the traditional static hoist, wherein a helicopter hovers in one position during an air rescue. In a dynamic hoist, the helicopter remains in motion, saving power and limiting proximity to the mountainside.
The Hoist Rescue Team performs about 25 mountain rescues in Colorado per year, typically in conditions where ground rescues would be difficult. Moskoff said his rescues range from avalanche victims to those who get lost during casual hikes. Recently, he even helped save a woman who was crushed by a llama.
In the rescue that won him the award, a climber had fallen about 30 feet and sustained a leg injury near the top of the 14,200-foot Crestone Needle. That may not seem as scary as being squashed by a pack animal, but according to Moskoff, at that altitude, things can get very bad, very fast.
"His injury wasn't a whole lot worse than a twisted ankle, but a twisted ankle can quickly become an emergency," Moskoff said. "The problem was he was near the peak, so getting down would be nearly 1,000 feet of technical climbing followed by a six-hour hike. 
"The mountains are unforgiving," he added. "People just aren't always as prepared as they should be."
Preparation is practically Moskoff's full-time job. When he's not helping the National Guard perform rescues or respond to natural disasters, he serves as operations officer at the Army Aviation Support Facility in Aurora, Colorado, which is part of Buckley Space Force Base — formerly Buckley Air Force Base.
Moskoff lives with his wife and the couple's four young boys. While he doesn't know if his sons are destined to become pilots or join the military, he's sure to impart onto them the importance of serving their fellow men and helping  others.
"Saving lives is extremely rewarding," he said. "It's really cool to know you helped out someone and made a difference in someone's life."