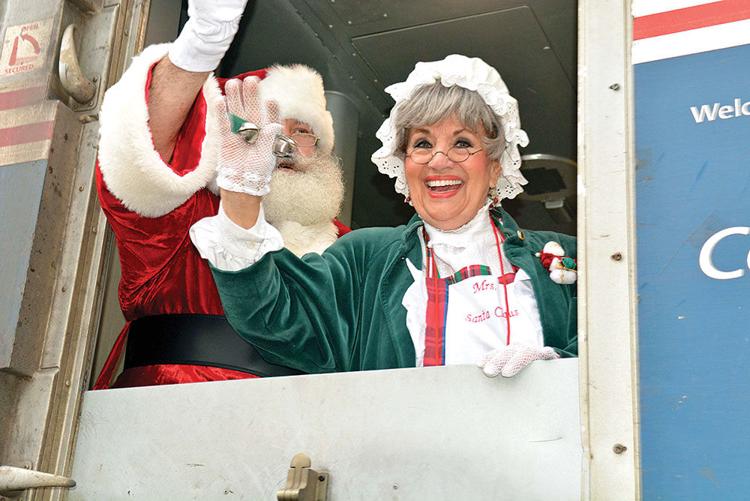 The celebration will begin at 9:30 a.m. with the arrival of Santa Claus and Mrs. Claus at Kirkwood Train Station. After Santa's grand entrance, he will pose for photos outside the train station. Activities will continue with holiday shopping, free entertainment for children and adults, refreshments and more.
Adults can shop for holiday gifts offered by Downtown Kirkwood's unique specialty stores—many of which will feature free refreshments and special offers.
The Kirkwood Train Station, 110 E. Argonne, is the headquarters for children's activities. Santa will greet his admirers and letters to Santa will be accepted from 10 a.m. to 2 p.m. Mrs. Claus will tell holiday stories beginning at 10 a.m. The Lucille Rapp Tumblers and Dancers and The Statesmen Singers will also perform during the event. Also from the train station, catch the Holiday Trolley for a free ride around historic Downtown Kirkwood from 10:30 a.m. to 2:30 p.m.
During the Downtown Kirkwood Holiday Walk, Youth in Action, a nonprofit community service organization, will be collecting cash donations and merchandise for Nurses for Newborns at the train station. Cookies from McArthur's Bakery and hot chocolate will be available.
At Kirkwood Farmers' Market, the Gingerbread Shoppe and Christmas Tree Lot will offer samples of holiday candies, baked goods and more from 11 a.m. to 3 p.m. and offer a preview of their natural decorations and Christmas trees.
For more information, visit www.downtownkirkwood.com.
Holiday Walk Activities
• 9:30 a.m. – Santa Claus arrives at Kirkwood Train Station.
• 10 a.m. – Photos with Santa, holiday shopping begins, stories with Mrs. Claus, free refreshments, Downtown Kirkwood stores open.
•10:30 a.m. – Free trolley rides until 2:30 p.m.
•11 a.m. – The Statesmen Singers
•2 p.m. – Lucille Rapp Dancers
•3 p.m. – Activities at the train station end.
•5 p.m. – Downtown Kirkwood CONNECTOR e-Cab service begins.