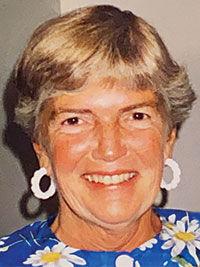 Ravensberg, Sally Peterson, 94, passed away peacefully at her home of 56 years in Webster Groves on Jan. 27, 2023. Sally was born to John Dwight and Mary (nee Frisinger) Peterson in Indianapolis, Indiana, on June 28, 1928. 
Sally, a proud Hoosier, attended Indiana University. Like her mother and sister, Sally pledged Delta Gamma and became a lifelong member and philanthropist for the sorority. While at IU, Sally met the love of her life, Bob Ravensberg. After working as an elementary school teacher for a year, the two married on June 23, 1951, at the Tabernacle Presbyterian Church in Indianapolis. They were married for 56 years. 
In 1958, Bob, Sally and their two sons, Bob and Bill, moved from Detroit, Michigan, to University City, Missouri. Here, Sally worked as a nursery school teacher and director at First Presbyterian Church of St. Louis. In 1966, Sally and her family moved to Webster Groves, where she continued serving her community and working with children. 
She poured her time and energy into the Delta Gamma Foundation for Children with Visual Impairments. Sally volunteered many hours vision screening preschool children and helping with the Delta Gamma Christmas Tree Lot. Sally continued sharing her gift of working with children by serving on the Preschool Board at Webster Groves Presbyterian Church, where she and Bob were both devoted members.
When Sally and Bob first moved to St. Louis, they "did not know one soul." And, as Sally said, "my friends say now I know more people in St. Louis than they do and they were born here!" Sally and Bob cultivated many friendships because they loved meeting new people, which they did through the University Club, Missouri Athletic Club, and Dance Club. 
Sally was known by her loved ones for her 4th of July parties with Straub's chicken salad, ice cream bars, and lots of swimming in the kidney-shaped pool. She enjoyed her time with friends —playing bridge, planning luncheons, and watching performances at Stages or the Repertory Theater. Sally loved to shop, but especially with her family. Sally and Bob loved traveling all over the world with lifelong friends. They always had a special place in their heart for Sanibel Island. Here, the couple brought their family together each spring — always the highlight of Sally's year.
Sally was a sports enthusiast. She was proud of her athletic husband and all of his accomplishments and, most of all, loved watching her sons play. Whether it was hockey, baseball, or football, Sally was all in. She and Bob always made an effort to attend their grandchildren's sports, as well. She loved collegiate (IU, of course) and professional sports —impressing others with her knowledge of the players and their stats. A true sports fan through and through!
Sally was loved by many near and far and will be greatly missed. Her memories will live on in our hearts and we can find peace in knowing that she is reunited with those who have gone before her, especially her favorite Hoosier, Bob "Papaw."
She was the beloved wife of the late Robert A. "Bob" Ravensberg; loving mother of Bob (Marty nee Cannon) and Bill (Phyllis nee Hanlon) Ravensberg; cherished grandmother "Gamaw" of Becky (Michael) Porter, Bobby (Ashley), David (Erin), Billy (Julie), Tommy, Katy, Danny (Cassie) and Nina Ravensberg; adored great-grandmother of Sam, Abby, Emerson, Andrew, Anna, Bobby, Jackson, Gavin, William, Barrett, Sloane, Patrick, Meredith, Susie; dear sister of Patricia (Danny) Danielson and John (Nancy) Peterson; and adored aunt, cousin and friend to many.
The visitation will be from 1 to 5 p.m. on Saturday, Feb. 4, at Bopp Chapel, 10610, Manchester Road, Kirkwood, MO 63122. If desired, contributions are preferred to Delta Gamma Center for Children with Visual Impairments, 1750 S. Big Bend Blvd., Richmond Heights, MO 63117. Contact info@dgckids.org or visit the website, dgckids.org/support. Arrangements by Bopp Chapel.