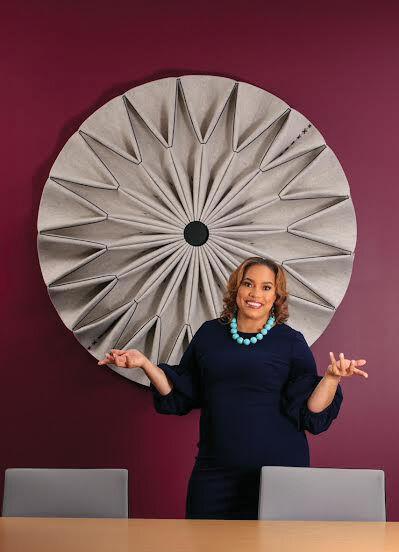 Holistic self sufficiency is the mission of a local charitable organization that bolsters busy women trying to navigate economic opportunity paths.
"Rung for Women exists to support women. We want women to keep focusing on themselves, focusing on their family, and moving up the rungs on the ladder," Rung For Women President Leslie Gill said.
The St. Louis native and philanthropic leader launched recruitment for the nonprofit in 2020, with the first programs starting in March 2021 via a six-month, cohort-based program called Member Experience 101, or "ME 10." Activities are designed for women 21 years or older who earn $50,000 or less per year. 
Gill shared that she understands firsthand why it's vital to be self sufficient. Her prior roles in working for Annie Malone Children & Family Services to secure shelter, clothing or food for others prepared her to focus on priorities. 
Gill said Rung For Women meets and coaches women "wherever they are" in personal pursuits from the group's St. Louis headquarters at 2717 Sidney Street. 
Rung For Women coaches remain accountability partners as members navigate individualized paths through the Rung program, which could take an additional six to 18 months. Rung's program is provided at no cost to members, with overall funding received from both public and private sources. Rung was recently named the beneficiary of more than 12 local events and projects.
Personal development assistance is provided from Rung For Women in the areas of counseling, health care, nutrition education, gardening workshops, fitness classes, mindfulness and financial education. The organization also offers childcare and healthy grab-and-go meals onsite.
Danyelle Little, director of marketing and communications for Rung, said the organization currently has 197 members and 56 alumni.
Webster Groves resident Tricia Coyle was one of roughly 100 participants accepted into Rung's third cohort, which started in March 2022.
"When I first went to a welcoming session to hear an overview of the program, I was hooked. When I got accepted, I actually cried," Coyle said. "It's a fabulous non-profit that empowers women. They really want you to succeed. It's been an amazing experience so far.
"I've met so many wonderful, diverse women and have new friendships. We just all connect," she added.
With sustained independence as the goal, Rung supporters can volunteer to assist with events, become mentors to members or donate financially. Some volunteers conduct workshops for members, review resumes or lead what Rung refers to as career circles. Others join members in hands-on activities. 
In Coyle's case, she recently began a 30-day Rung personal training program, which includes weekly yoga, maintaining a garden bed, a creative wellness day once a week, cooking classes from the group's chef, and personal fitness in the group's exercise room, in addition to group and individual coaching sessions. 
Coyle said she's interested in Rung's Geospatial Analyst Training Program, which is an initiative with Maryville University. In partnership with several geospatial employers, the new training program offers the knowledge and skills that employers seek for entry-level geospatial jobs. Upon completion of the course, employer partners are slated to interview women for open positions.
North St. Louis will be the new home of the National Geospatial-Intelligence Agency Western headquarters, scheduled to open in 2025, and expected to create more than 3,000 jobs.
Gill emphasized that the gender pay gap is real and keeps women from earning what they deserve, and Rung seeks to change that. Overall, women working full time in the United States make 83% of what men do, she asserted.  
"Our organization exists to identify and employ solutions to the systemic economic, social and health barriers preventing women from creating wealth," Gill said. "At the center of our celebrations is a rally cry,  'Girls Just Wanna Get Paid.' It's our way of contributing to shifting narratives around money and power in a way that puts people, especially women, and even more so, women of color, at the center.
"The gap is wider for women of color and for mothers," she added. "This causes a wealth gap over a woman's lifetime that can dilute and diminish quality of life."
With women comprising about two-thirds of workers in low-wage jobs — those paid as low as $7.50 an hour — Gill said women make up slightly less than half of the workforce as a whole.
"Women of color are particularly overrepresented in these jobs," she said. "We believe women deserve more — more money, more possibility, more power."
For more information or to join a waiting list for participants, visit RungForWomen.org.