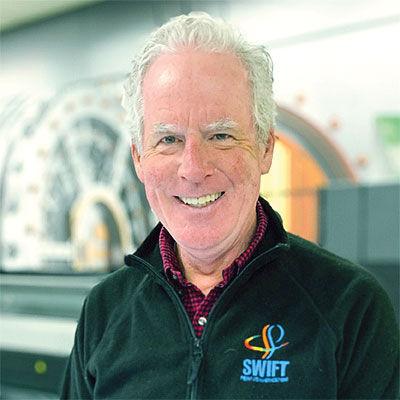 At 64 years young, Joe Dolan thirsts for daily ways to learn and experience new elements of life.
Squeezing the most out of every 24-hour cycle was prompted, in part, by the two heart attacks (1995 and 2004), heart rhythm disorders and three operations endured by this Webster Groves resident.
"Broadening your mind and opening up your world is a beautiful thing. You get strength, endurance, confidence and stability from the willingness to jump into something new," Dolan declared.
Dolan admitted it took him a long while to recognize physical activity was one of the best ways to "keep Doctor Darkness away" — his term for depression, stress, addictions and major health problems.
But once he decided to transfer to others his enthusiasm and joy for living, he's all-in with sharing ever-abundant passion and inspirational energy.
This marathon runner turned bicyclist now channels his knowledge of navigating his own health challenges into assisting others by being a patient advocate. Starting last October, he said he took a Zoom-based, eight-week course from the Patient-Centered Outcomes Research Institute, a D.C.-based nonprofit.
"When I was sick, I wanted someone in a support role to help me get through it. Fear sets in when you hear medical terms, and you can just become frozen," Dolan admitted.
Now, as a way to serve others, he helps patients navigate information about medical trials, studies, grants, programs and medications through PCORI-facilitated Zoom video conferences. 
"These are people with the same sort of health problems I had. I act as a resource for practical ways of living with it and through it," he added.
After his own atrial fibrillation health scares, Dolan even became a spokesperson for an oral blood thinner medicine developed by Bristol-Myers Squibb Company. He's done a commercial, video presentation, photo shoots, brochures, learning guides for physician offices and public speaking on behalf of the product.
"I wanted others with heart conditions to know it's OK to want to lead an active life; you don't have to be sedentary," he said. "Personally, I didn't know how sick I was until I got better."
As a brand ambassador, Dolan said he even addressed a group of 1,500 pharmaceutical professionals in Las Vegas.
He also recorded a "Stop The Clot" story for The National Blood Clot Alliance to highlight life-saving information about blood clot signs and symptoms.
This winter, Dolan's drive to set ambitious goals started at 4 a.m. three or four days a week. He said he awoke and by 5 a.m. picked up a fellow bicyclist for drills inside their trainer's garage in Fenton. Now, given warmer temperatures, they ride outdoors during evenings.
As of Sept. 17, the 50-member biking team on which Dolan competes had raised $1.6 million for multiple sclerosis research over the past 15 years.
"In May, I raced up Lookout Mountain in Chattanooga, and I just raced in Defiance near Sugar Creek Winery. I participate in just about every cycling fund raising event in town," he said.
By surrounding oneself with positive people who provide more energy for similar goals, Dolan said anyone can perform well. 
"My early morning routine makes the rest of the day seem to balance out," said the 30-year print industry account manager.
In a recent podcast entitled "Never Stop Learning And Growing," Dolan told the host — fellow Webster Groves resident and book author of "After Life" Carlo Pietro Sanfilippo — that his energy comes from having to dangle a carrot over himself. 
"I'm a lazy person by nature. If you set your goals, and tell the world on social media you're going to do it, then you're shamed into doing it," he revealed. "Just keep moving and building upward; that keeps me level." 
He said running distances has always been therapeutic for him because that's when he could work on and solve his problems by paying attention to the whispering thoughts and voice unfolding in his head.
"Running saved my life. Saved me from me. Saved my marriage. Saved everything. Running is like meditation," he proclaimed.
If 60 is the new 50, then Dolan is still using the unbridled energy felt throughout his childhood to leverage bits of optimism. He said he keeps an ongoing "intentions list" of people to whom he sends good karma and positive thoughts.
Additionally, he and his wife, Susan, enjoy practicing a game they call "active listening."
"You can learn what people are all about, and what they're genuinely interested in, by really listening," he said.
During December, Dolan plans to celebrate his 65th birthday and his 25th marathon, which will be held in Memphis, to benefit St. Jude Children's Research Hospital. To prepare, he bought a new pair of running shoes, and on Oct. 1 started his six-days-a-week training regimen.
Dolan encourages all seniors to remain curious about life, focused on positive intentions and truly listening to the stories that others and the universe are trying to relay.
"If you think you can, you can. By pushing yourself to your limits, it seems like everything else in your life will work out," he said.