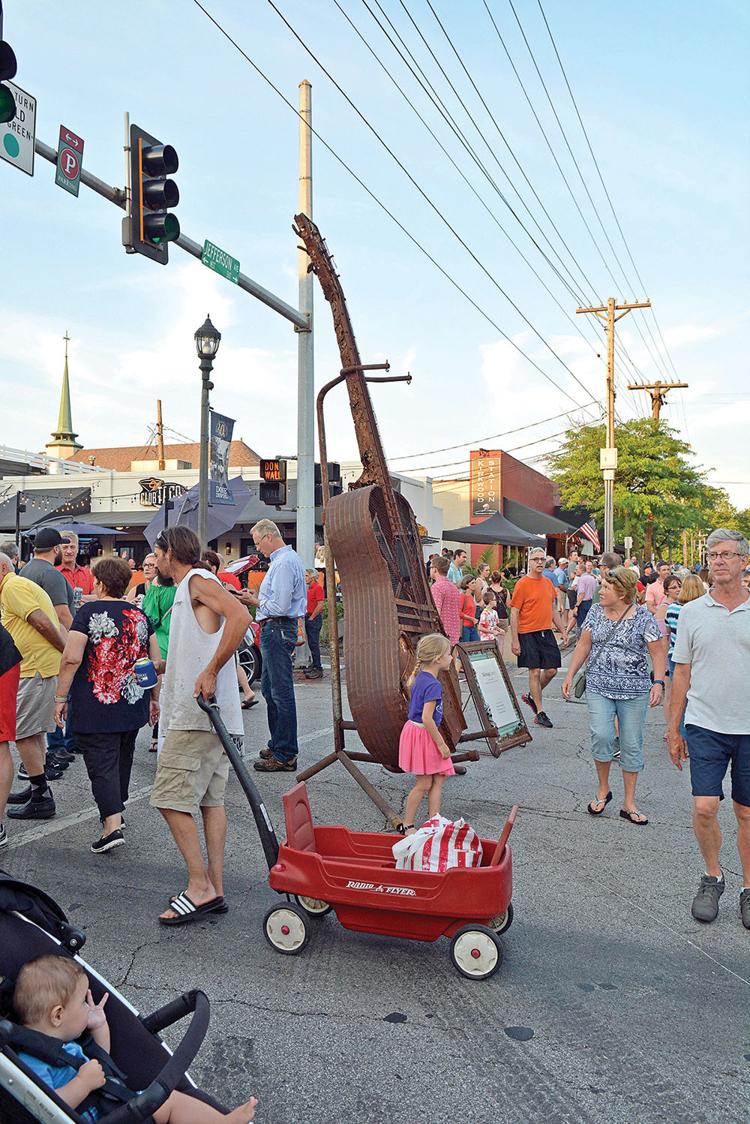 Kirkwood will host its third annual Route 66 Cars and Guitars Festival on Saturday, June 8, 5 to 11 p.m., in downtown Kirkwood. The festival's "Cars and Guitars" theme speaks to the transportation and music history of the region. Live music and vintage vehicles will anchor this outdoor event.
The city of Kirkwood, the Downtown Kirkwood Special Business District, and the Kirkwood-Des Peres Area Chamber of Commerce are coordinating the event. Kirkwood Electric is the festival's presenting sponsor.
Festivities include:
• Live music from six bands on two outdoor stages (staggered start times – see schedule this page);
• A vintage car show;
• A beer wagon, hosted by local service clubs, serving beer and wine;
• Vendor booths;
• Food and drink from downtown merchants and from area service clubs;
• Festival specials at participating downtown shops and boutiques.
New This Year: "Carbs and Guitars," a pancake breakfast on the morning of the festival, will be held at Kirkwood Fire House #1 on Argonne Drive in downtown Kirkwood. "Carbs & Guitars" will run from 8:30 to 11:30 a.m., and is being coordinated by Kirkwood Rotary and the Kirkwood Firefighters' Outreach.
Tickets will be available in advance and at the door. Proceeds will benefit Rotary Club and Firefighters' Outreach charitable programs. During the breakfast, Kirkwood fire trucks will be on hand for public viewing.
Most of Downtown Kirkwood's stores and restaurants will be open during the event. Festival activities will be located on North Kirkwood Road and on the two blocks of Jefferson that intersect Kirkwood Road.
These two blocks of Jefferson, between North Clay and North Taylor avenues, as well as Kirkwood Road between Argonne Drive and Adams Avenue, will be closed to vehicular traffic starting at 2 a.m. on June 8. These areas will be open to pedestrians.
Updates and announcements about the festival will be posted on the city's website at www.Kirkwoodmo.org/CarsandGuitars and on the festival's Facebook page at: www.Facebook.com/KirkwoodMORoute66Festival.
Musical Entertainment Schedule
East Jefferson Stage
• 5 p.m. Naked Rock Fight
• 6:45 p.m. Acoustik Element
• 9 p.m. Retro Boogie
West Jefferson Stage
• 5 p.m. That 80s Band
• 7:15 p.m.Wildfire
• 9:30 p.m. Super Jam