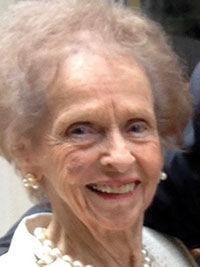 Grebe, Rose of Kirkwood, Missouri, passed away peacefully on Saturday, June 19, 2021, from complications of surgery.
She was preceded in death by her beloved husband Hale; her parents; a sister; and her son-in-law, Richard Stahlhuth.
Rose is survived by her son Larry (Donna); a daughter, Deborah Stahlhuth Holmes (Peter); three granddaughters, Sarah (Bryan) Dubay, Lauren (Greg) Aycock and KC (Turner) Holthaus; five great-grandchildren, Molly Dubay, Charlotte and Collins Aycock, and Paige and Carter Holthaus; and a niece, Patricia Laws.
Rose and Hale called Kirkwood home for over 50 years. They enjoyed many  adventures together,  including dancing and playing bridge and golf with their friends. At the end of the day, her greatest joy was being surrounded by her family. 
A celebration of life will be held on Sept. 17, 2021.
Memorial donations may be made to the Kirkwood United Methodist Church or a charity of your choice.