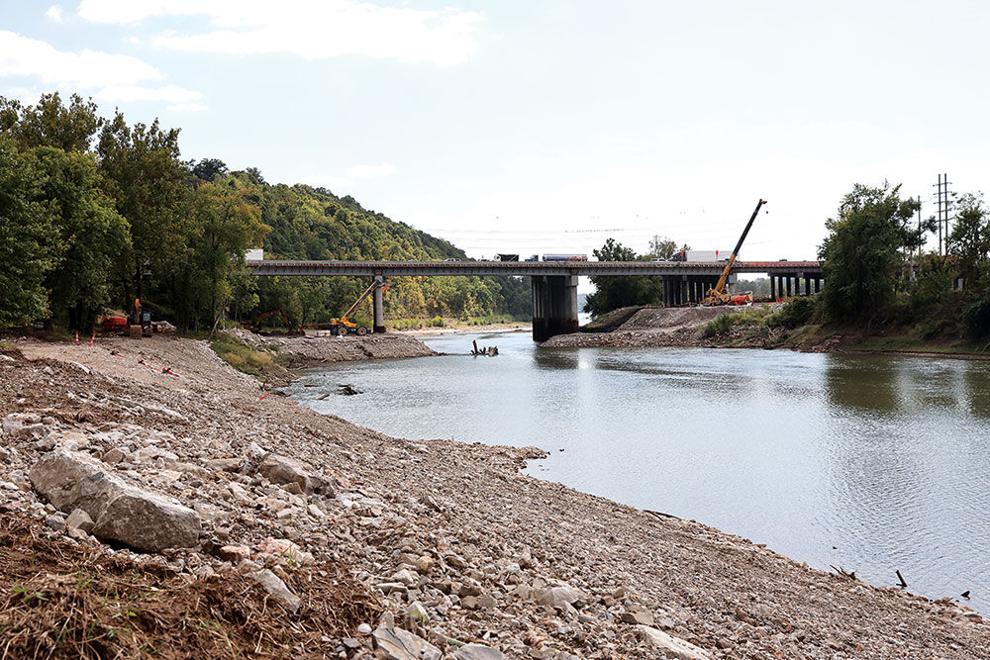 A raging force has been stealing pieces of Kirkwood for more than a decade. Kirkwood officials are confident that measures taken the last several weeks will put an end to the thievery.
Over the past decade, the Meramec River has taken large chunks of the muddy banks along the city's Emmenegger Park. In the flood of 2015, it took the park's picnic pavilion and sank it downstream.
A solution to years of property loss to an unruly river was put together when heavy moving equipment needed access to the river for construction of a new Interstate 44 bridge across the Meramec River.
"The parks and recreation department had to give permission to the bridge contractors to come through Emmenegger Park to get to where the new bridge pilings would be placed," explained Kyle Henke, director of Kirkwood Parks and Recreation.
Contractors got the OK to bring materials and equipment to the river via Emmenegger. KCI Corporation became aware of Kirkwood's need to shore up and strengthen its park river embankment just north of the I-44 bridge.
"We came to a mutual agreement to help each other out," said Henke. "KCI realized it could help us by moving leftover riprap rock from building the bridge supports to our shoreline on the Meramec."
In September, heavy moving equipment pushed and smoothed out rocks and riprap along the east bank of the Meramec River. When the job was complete, the aesthetics were more pleasing than much of the Meramec shoreline littered with jagged concrete and debris.
"It turned out to be great for us," said Henke. "We got tons of riprap that would have cost us $800,000 to a million dollars. This is a cost that we might never have been able to cover for a project like this.
"We did incur some much smaller engineering and study costs to get it done," added Henke. "Also, we worked for months to get permissions and paperwork in place. In fact, the contractors were ready to leave and we worried we would miss the window of opportunity."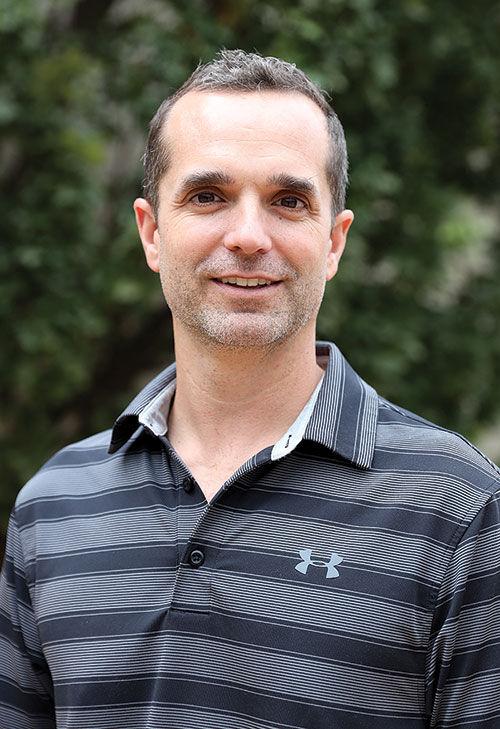 Stabilization Questions
The Meramec River has grown increasingly destructive as it has roared past its infamous "big bend" and washed out pieces of Kirkwood, Fenton and Sunset Hills. A number of factors are blamed for the roiling waters.
More frequent and heavier rain storms due to climate change have been cited. Also, the high levee built around Valley Park has taken blame, as has development upriver with impervious concrete in river floodplain.
"The river has definitely been taking some bites out of us," said Henke. "We've lost a section of the park that is probably close to 850 feet long and 70 feet wide. This work should address that situation.
"We hired an engineering firm to study if the material to be used would move in the event of swift moving waters hitting us," he added. "Of course, there will be some movement, but it looks pretty stable."
Nevertheless, the park pavilion replacing the one lost to the river is now on higher ground. Henke noted the popularity and increased use of the city's Emmenegger Park since the pandemic.
Downriver from Kirkwood, Minnie Ha-Ha Park in Sunset Hills has seen an uptick in activity, too. It also has suffered damage from the Meramec, according to Sunset Hills Parks and Recreation Director Gerald Brown.
"We've lost shoreline and we've put some breakers in the river near our boat ramp to stop the erosion," said Brown. "We completely understand what Kirkwood is doing because we've lost ground, too."
Boon For Bicyclists?
Now that bridge building equipment is exiting the area, residents wonder how close the I-44 bridge project is to completion. Also, bicyclists wonder when the accompanying bike route across the bridge will open.
The total bridge and highway project has months to go, but the bicycle pathway could be open as early as next summer. The west side of the bridge off-ramp is in Fenton. The east side off-ramp is in Sunset Hills and Kirkwood.
"We have signed a contract with MoDOT to have the landing ramps put out for bid in November and construction could start later in January," explained Brown. "The bike ramp off the I-44 bridge into Sunset Hills and Kirkwood would connect with Stoney Wood Drive."
Stoney Wood Drive would have a three-foot-wide shoulder marked and reserved for bicyclists. Bicyclists could access the entrance to Emmenegger Park. Stoney Wood connects with Cragwold Road to allow access to the entrance of Powder Valley Nature Center.  
Bikers are asking whether a more stable shoreline in Emmenegger Park might improve the chances for new trail to come through the park that would  link to the Kirkwood Greentree Park trailhead and Meramec Greenway Trail through Valley Park.
"That would be years away, if it happens at all," said Henke. "There are property acquisitions and studies that would be required.
"For now, I think it's great that Kirkwood bicyclists will be able to access the Fenton and Sunset Hills trails in the near future," added Henke. "They will be able to do this from Geyer Road by coming down Cragwold and Stoney Wood Drive and crossing over the I-44 bridge."