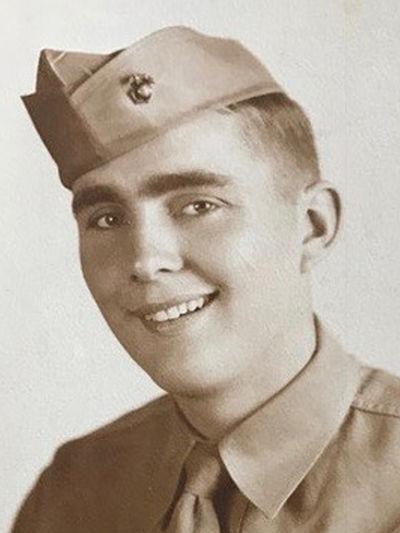 Richards, Jr., Robert Griffith, of Webster Groves, MO, passed away on September 4, 2019. "Bob" was born July 18, 1924 in Utica, New York to the late Robert Griffith and Edith Jones Richards, Welsh immigrants.
After graduating from Utica Free Academy in 1942, Bob joined the U.S. Navy the following year to defend his country during World War II. He served with the Fourth Marine Division as a hospital corpsman in the battles of Saipan, Tinian, and Iwo Jima. Upon discharge from active service, he enrolled in Syracuse University and graduated in 1949 with a Bachelor's degree in chemical engineering. In 1958, he completed his Master's degree in chemical engineering from New York University.
For almost 40 years, Bob worked for American Cyanamid Co. as a chemical engineer on various development projects in Stanford, CT, Pensacola, FL, and Hannibal, Missouri. After his 1989 retirement, he returned to Florida and, in 2015, he moved to Webster Groves, Missouri.
Bob's beloved wife of 63 years, Maryadams, died in 2018. He is survived by his five children, Lee (Bill) Saunders, Patricia (Don) Raulerson, Robert (Kathy) Richards, William (Denise) Richards, Paul (Mary Lynne) Richards, 13 grandchildren, and 1 great grandson. He is also survived by his sister, Edith (Rod) Rosebrook and sister-in-law Elizabeth B. Mogensen. He was preceded in death by 3 brothers and 2 sisters.
A memorial service is being held at Emmanuel Episcopal Church, Webster Groves, MO at 10:30 am, Friday, September 13th. Internment will be at Jefferson Barracks National Cemetery.
In lieu of flowers, donations can be made to the Alzheimer's Association or the ALS Association.