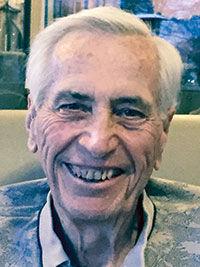 Gorman, Robert F. (Bob), was Baptized into the hope of Christ's Resurrection on Sunday, Jan. 15, 2023.
He was the beloved husband of Ann S. Gorman (nee Dobrowalski) for 62 years; loving father of Gregory (Donna) Gorman, Kevin (Deborah) Gorman, Lynne (Michael) Owens and Mary Kay (Rudy) Stecich; cherished grandfather of Calvin Gorman, Casey (Jon) Kelly, Melinda Gorman, Bradley (Maria) Gorman, Christopher (Michelle) Gorman, Amanda (Kyle) Schnettgoecke, Alexandra (Kevin) Sprague, Abigail Owens, Andrea (Douglas) Lampe, Nikki (Jon) Jay, Sheila (Jon) Grayem, and Shannon (Joseph) Lucido; beloved great-grandfather of 20 great-grandchildren; dear brother of the late Reverend Jack Gorman, the late Lawrence Gorman, Joseph (Kesha) Gorman, and Michael (Dorothy) Gorman; loving uncle, father-in-law, cousin and friend to many. 
Mr. Gorman served in the U.S. Air Force during the Korean War, after which he graduated from St. Louis University. He started his career at Slovan Savings and Loan, helping to grow that modest, one location business into United Postal Savings, serving as its long time president and chairman of the board. Bob retired after helping guide UPS through acquisition by Mercantile Bank and enjoyed spending his time with family, friends, playing golf at Norwood Hills CC and enjoying winters in Naples, Florida, with his wife, Ann.
Services: Interment at Resurrection Cemetery will be private. Memorial Mass on Saturday, Feb. 4, at 11 a.m. at St. Clement of Rome Catholic Church 1510 Bopp Road, 63131. In lieu of flowers, the family would appreciate donations to de Greeff Hospice House, 10024 Kennerly Road, 63128; the Passionist Nuns, 15700 Clayton Road, 63011; or a charity of one's choice.