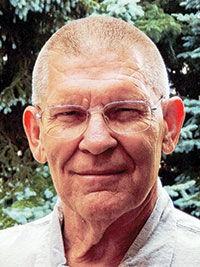 Shively, M.D. Robert A. ("Bob"), passed away on April 8, 2023. He was the beloved husband of Paula Romano Shively and the late Sharon Gabel Shively; dear father of Matt (Paula) Shively, John (Tavia) Shively, Stephanie (Kevin) Schnepp, Sarah Shively and Christina (Kevin) Buchek; loving grandfather of Spencer Shively, Hayden, Annessa and Nevan Shively, Dylan and Luke Schnepp, Casimir Magruder, Slieve and Estelle Buchek; brother of Gail Moore and Dee DeBaar, and the late Kathryn De John and Charles Shively; and son to the late Charles and Kathryn Shively.
Bob was born in South Bend, Indiana, in 1943 and graduated from Vandalia High School in Illinois in 1961. He played football and wrestled at Millikin University and the University of Illinois. He graduated from the University of Illinois in 1965, and the University of Illinois School of Medicine in Chicago in 1969.  
Bob was humble and always looked for ways to serve, beginning with a tour in the Army in Bamberg, Germany and Brussels, Belgium from 1971 to 1974. In 1974, he settled in St. Louis and became the first fellowship-trained orthopedic sports medicine surgeon in St. Louis, starting the Washington University Sports Medicine Center.  Later, he established a program to provide medical coverage for area high schools and cared for numerous high school and college athletes. 
He capped off his career as the orthopedic surgeon for the Rams and Cardinals.  Some of Bob's best moments were standing in a training room taking care of athletes, from a millionaire quarterback to a second-string JV defensive tackle. At the age of 64, he volunteered to return to active duty in the Army for a tour of duty providing medical care in Iraq. Over his career he helped thousands of patients live better lives. 
The most important thing to Bob was always family — from his parents and siblings, to his first wife Sharon and their three children, to his second wife Paula and the two new daughters she brought to him, as well as his nine grandchildren. Caring for, supporting and loving his family, in his own way, was always his top priority.  He always had time for a play, a dance recital or an athletic event, sometimes 10 or more in a weekend, or just spending time with his grandchildren, even in his later years when it was far from easy. 
As it is said about many of the greatest surgeons, his bedside manner wasn't always warm and fuzzy, but no one could deny that, above all else, Bob loved his family and believed in helping others. His perspective on life is captured by one of his favorite quotes:
"For when the One Great Scorer comes 
To mark against your name,
He writes — not that you won or lost—
But HOW you played the Game."
"Alumnus Football"
-Grantland Rice
Visitation will be Friday, May 12, from 4 to 8 p.m. at Bopp Funeral Home, 10610 Manchester Road. A funeral will be held on May 13 at 2:30 p.m. at St. Paul's Lutheran Church, Des Peres, 12345 Manchester Road, preceded by a short visitation starting at 1:30 p.m. Memorial contributions in lieu of flowers can be made to the Lutheran Association for Special Education at www.lutheranspecialed.org, 3558 S. Jefferson Ave., St. Louis, MO 63118. Arrangements by Bopp Chapel.