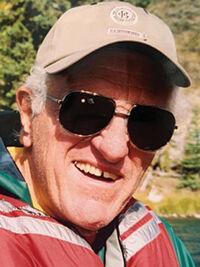 Kautzman, Richard Joseph "Papa," born May 9, 1929, died Easter Sunday, April 17, 2022.
As a devout Catholic, dying on the day of the resurrection gives his family a sense of peace and comfort.
He was married to his wife, Jean, for 67 years and now joins her once again to enjoy heavenly travels just as they did on their many trips to nearly every country when on the earth. The only place Jean  refused to go was Antarctica, so he went with an adventure group, on his own, at age 85.
His career began in the printing business in Long Beach, California. He met Jean there when she was doing her internship as an occupational therapist at the VA hospital. They moved back to St. Louis and Dick began his second very successful career as a sales manager for Dema engineer and Standard machine. 
Papa is survived by his daughters, Paula and Linda; his grandchildren, Derek, Molly and Marie; and his great-grandchildren, Arya, Treniss, Bayla and Olivia.
The family wishes to give a special thank you to the wonderful, caring staff at Aberdeen Heights and St. Lukes Hospice: Stephanie, Kat, Keri, Brittany, Cristin, Diane  and Angie. 
Papa instilled a sense of travel and adventure in his family and will be greatly missed. 
In lieu of flowers, please make a charitable donation to anyone or anything that makes you happy. And go somewhere with someone you love and enjoy! Arrangements by Bopp Chapel.