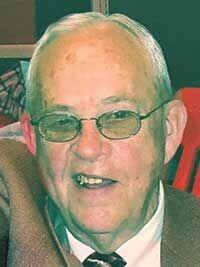 Overfelt, Richard Dee, passed away peacefully at home on Jan. 6, 2022. He is preceded in death by his parents, Thelma and Chester; and his beloved wife of 70 years, Myra, married on May 29, 1949. 
Richard was born on July 18, 1929, in Duncan's Bridge, Missouri. As a boy, he enjoyed growing up with his friends and relatives in a small country town during the depression. He was a U.S. Army Korean War veteran. 
Richard began a near eight-decade career in education in a one-room schoolhouse, was a beloved principal at Highcroft Elementary in Parkway, and ended his career supporting educators through Truman State University's Professional Development program. His impact on students and educators is immeasurable. 
He also, along with his family, ran a Christmas Tree Farm outside of Clarence, Missouri. The family spent many weekends, holidays, and summers there together working to grow and sell Christmas trees.
His family includes Ricki Schwartz and her husband Rick Schwartz; Kevin and his late wife Julie Overfelt; Scott and his wife Jane Overfelt; and eight grandchildren — Katie and her husband Chris Growe, Jerry and his wife Jennifer Schwartz, Travis and his wife Karelynn Overfelt, Shannon and her husband Jared Hickman, Hannah and her husband Brad Mitchell, Andrew and his wife Megan Overfelt, Daniel Overfelt and his fiance Jordan Blaser, and Megan Overfelt. Myra and Richard also have six great-grandchildren — Harper Growe, Bennett Schwartz, Hudson Growe, Julianne Hickman, Charlie Overfelt, and Jason Hickman. 
Richard's family will honor his memory in a private Celebration of Life. In lieu of flowers, the family asks for contributions to Phillips Cemetery c/o Marlin Woods, 11255 Highway J, Jacksonville, MO 65260.