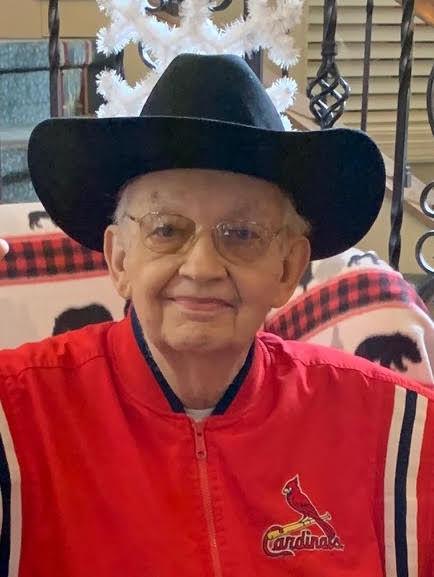 Champion, Richard L., of Webster Groves, Missouri, entered into rest on June 30, 2020, at the age of 84 years. He is preceded in death by his wife, Imogene; and his parents, Elmer Champion and Ada Anderson. He is survived by sons  Russell (Cheryl) and Robert (Kathryn); grandchildren Austin, Laura and Alyson; niece Shelly (John) Dwyer; and many other relatives and friends.
Rich was the life of the party. He loved the St. Louis Cardinals and the St. Louis Blues. He enjoyed traveling throughout North America and Europe with his wife. He was a very organized, social and caring person. He liked to grow flowers and garden, and he never went anywhere without his Stetson hat. He is fondly remembered and will be dearly missed by all who knew and loved him.
Visitation will be held on Wednesday, July 8, 4 to 7 p.m., at Chapel Hill Mortuary, 10301 Big Bend Road in Kirkwood, Missouri. Mass will be held on Thursday, July 9, at 11 a.m., at Holy Redeemer Parish, 17 Joy Avenue in Webster Groves, Missouri. Interment following Mass services will be at Oak Hill Cemetery. Memorials may be made to the American Heart/Stroke Association, 3816 Paysphere Circle, Chicago, IL 60674-0001. Family and friends can review and share stories, photos and condolences online at http://www.stlfuneral.com/.