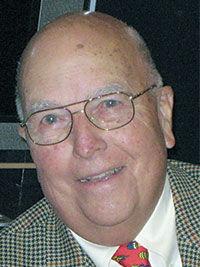 Schmelzle, Richard A. "Dick" passed away at age 93 on Thursday, July 29, 2021. He was the beloved husband of  the late Flora Lee Schmelzle (nee Smith); loving father of Michael (Peggy) Schmelzle, Meg (the late Tom) Maher, Marty (Ann) Schmelzle, and the late Mark "Rooney" Schmelzle; cherished grandfather of Robert Schmelzle, Tuffet Schmelzle and Emily (Dan) O'Connor, Sarah Aldana and Carolyn Burke, Katie Blakley, Amanda Schmelzle and Ellie Schmelzle; great-grandfather of Danny and Maggie O'Connor, Zach and Chloe Burke, Tommy and Ben Aldana; Carson and Heidi Blakley; dear brother of Mary Louise (Walter) Wittenberg; and dear uncle, cousin and friend to many. 
Dick's focus in life was his family. He loved sitting back and watching his family laugh, smile and grow. He loved to play tennis and golf with the love of his life. For whatever life proposed, Dick's response was always the same, "It's all good."
Visitation is Wednesday, Aug. 11, from 10 a.m. until memorial service at 10:30 a.m. at First Presbyterian Church of Kirkwood, 100 E. Adams, Kirkwood, MO 63122. The service will be live-streamed at www.kirkwoodpres.org. In lieu of flowers, memorial contribution may be made to First Presbyterian Church of Kirkwood. Arrangements by Bopp Chapel.