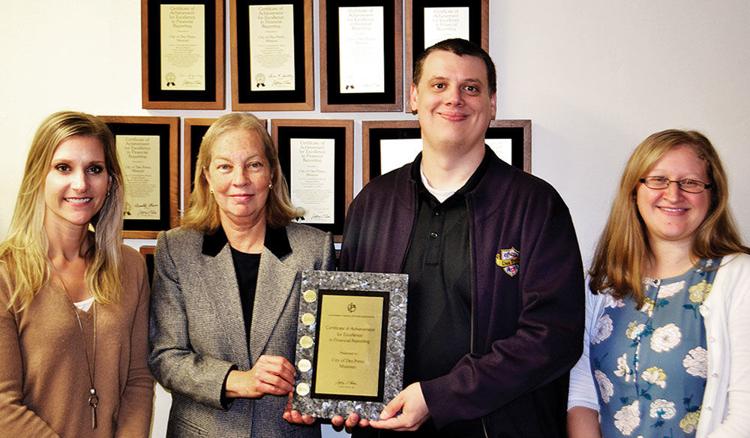 The city of Des Peres' 2019 budget projects revenues at $21,335,280, 4.2 percent higher than budgeted in 2018.
"However, actual revenues for 2018 are projected to increase by 4.0 percent over the initial budget due largely to a turnaround in sales tax revenues which will increase for the first time in 2018 since 2015," City Administrator Doug Harms said at the Nov. 26 Des Peres Board of Aldermen meeting.
"Budgeted 2019 revenues represent an increase of only 0.2 percent over 2018 projected revenues, which are 4.2 percent higher than anticipated in the original 2018 budget," he said.
Proposed expenses for 2019 total $22,616,500, a 4.6 percent increase over 2018.
"Most of this increase is due to a one-time capital project in Des Peres Park," said City Finance Director Tracy Hansen.
"We wanted to make sure we kept our budget goals in mind," she said. "Those of high quality services, long term fiscal sustainability and retaining low local tax rates and fees.
"Specifically the zero property tax rate for the 25th year, and we did not want to increase lodge membership fees," she added.
Other budget highlights include:
• Continuation of free curbside trash and recycling to 3,150 homes at a cost savings of $248 per home per year.
• A 3 percent cost-of-living increase for employees.
• A 5 percent increase in medical premiums.
• A 10 percent increase for Worker's Compensation premiums.
• A 5 percent increase for liability insurance.
Major capital projects scheduled for 2019 include:
• $881,700 for replacement of vehicles and equipment for all departments.
• $1.26 million for replacement of tennis courts in Des Peres Park.
• $425,000 for installation of pickle ball courts in Des Peres Park, plus additional parking.
• $596,420 for concrete street slab replacement in Berkeley Manor Subdivision.
• $561,035 for asphalt street improvements on Briarbrook Trail, Tallie Drive and Gray Drive.
• $109,200 for reconstruction of Vinetta Drive.
"The 2019 budget is the result of numerous hours of staff time and board review over the last three months and represents continuation of the tradition in Des Peres of funding high quality services in a cost-effective manner and with a relatively low local tax burden on residents and our business community," said Des Peres Mayor Mark Becker.
Financial Reporting Award
The Certificate of Achievement for Excellence in Financial Reporting has been awarded to the city of Des Peres and Director of Finance Tracy Hansen for the city's most recent Comprehensive Annual Financial Report.
This most recent award is for the 2017 Comprehensive Annual Financial Report which was submitted to the Government Finance Officers Association for review and evaluation in June 2018.
This is the 23rd consecutive year that Des Peres and Department of Finance have received this recognition.
Hansen has been finance director since 2010.