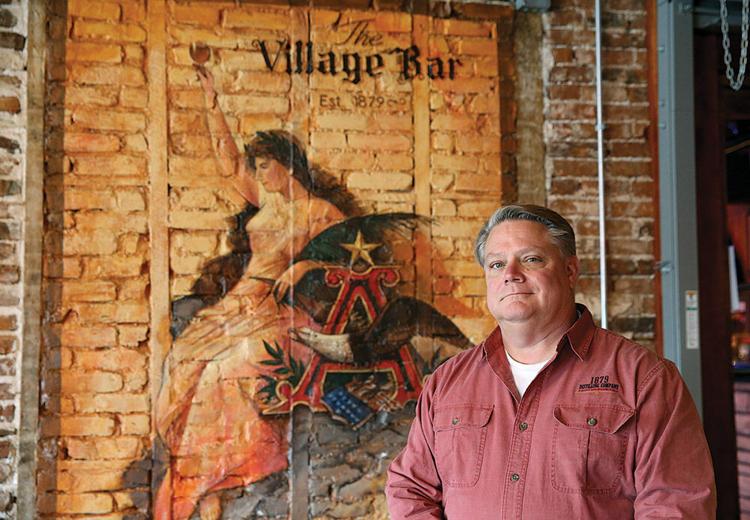 Since its beginning earlier this year, the COVID-19 pandemic has wreaked havoc across the American shopping scene, with none so harshly affected as the food and beverage industry. 
Dozens of St. Louis restaurants — like Jason's Deli in Kirkwood, Filomena's Kitchen in Glendale and The Dubliner in Maplewood — have closed their doors for good due to complications of the coronavirus.
Restaurants have suffered from heavy restrictions handed down from the St. Louis County Executive's office including capacity limitations, strict sanitation requirements and two separate bans on indoor dining. One was set in March and lifted in May, and another that began earlier this month remains active. Although some restaurants have successfully pivoted to curbside and delivery sales, others are struggling to make up for lost customers.
Stanley Browne of Robust Wine Bar in Webster Groves said that his summer service went well despite the first ban on indoor dining. His success was due to his outdoor patios, as well as the timing of government stimulus checks and unemployment benefits. But with cold weather setting in and finances drying up, the current ban is more troublesome.
Browne said his biggest concern is for his employees —  85% of  them had to be laid off. He's trying his best to retain his small staff for the time being.
"It's right before the holidays. They've still got rent and groceries and everything to pay for. Things are looking bad," he said. 
In addition to curbside and delivery service, Browne fast-tracked a dream of stocking bone broths, cold-pressed juices and high PH water to earn extra cash. Customers can also purchase wines, cheeses, chocolates and other gifts, including a special deal on gift cards — buy a $100 gift card and receive a bonus $25 card for a health care worker.
Other restaurants are also having to make tough decisions when it comes to employees, said John Barr, owner of The Frisco Barroom in Webster Groves.
"We once had 85 employees, we now have 20," said Barr. "We made our patio a little cozier, and have found that customers will sit outside on a 40-degree night if you have a heated patio. I don't think they would have done that last year."
He said The Frisco Barroom has taken a huge hit during the pandemic due to its large size and high overhead. Though the restaurant normally "makes its money off of butts in seats," Barr has started offering delivery and extending service hours to make up for lost income. 
Barr has also had to get creative with his fledgling coffee shop, The Annex Coffee and Foods. With customers unable to sit and enjoy their coffee indoors, Annex has focused on its grocery and deli features, along with a gift basket area just in time for the holidays.
"It's still just a baby, but it has come a long way quickly," he said. "Now that we have had to shut down indoor dining at The Frisco, we have been able to transfer our management to The Annex to keep the team alive until indoor dining can return."
Established restaurants are also struggling, according to Mark Disper of The Village Bar, one of St. Louis' oldest continuously-operated eateries. Without in-house dining, Disper is relying on carryout and curbside service to pull his restaurant through.
"We're abiding by St. Louis County rules," he said. "We want to do what's right for the community, but we want to have a viable business. It doesn't only affect us. Other restaurants are affected. There's no lunch because people in the area aren't at their businesses. It affects sales tax for the community. It affects everyone."
Disper said that while The Village Bar is following all CDC guidelines, he believes indoor dining should instead be held to the same standards as grocery or hardware stores and allowed to remain open with limited capacity.
"Carryout only has really eroded our volume," he said. "We thank our customers for their patronage. We're proud of giving great service and great meals. We're always going to be here to provide great meals to go."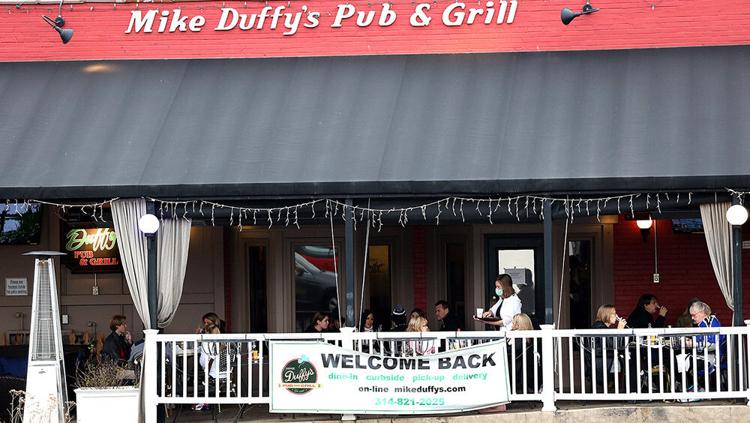 A Looming Lawsuit
Disper's desire to open his dining room is echoed by many St. Louis restaurants. Owners of nearly 40 area eateries filed a lawsuit against St. Louis County Executive Sam Page on Wednesday, Nov. 18, calling his ban on indoor dining an overreach of his power.
"The health department reports to the county council, not to Sam Page. The council hasn't ordered this," said Mike Duffy, owner of several Mike Duffy's Pub & Grill locations, including one in Kirkwood. "There are 46,000 people employed in St. Louis County in the restaurant business and there's 2,112 restaurants in St. Louis County. Half shut down, the other half are trying to get by on pickup and delivery only. It's just devastating."
Duffy said 2020 has been his worst year in "I can't remember how long." Though Duffy said he's doing everything required by the county to keep people safe — including fogging the restaurants once per week — he said he joined the lawsuit because he believes Page is unfairly targeting restaurants.
"They're taking away people's rights," Duffy said. "If I'm a restaurant customer and I think it's unsafe, I just don't go in there. That's freedom. But when you have someone who says 'you can't do this,' that's a dictator. The rules and regulations are ridiculous. I'm all about keeping everybody safe. My family works with me in the business. For somebody to say I'd expose my family to something unsafe is insane."
Matthew Ahearn of 612 Kitchen and Cocktails in Kirkwood also joined the lawsuit with business partner Devin Graham. At an earlier limit of 25% capacity for indoor dining, Ahearn said business was rough, but he was able to keep employees paid. The recent ban, however, has slowed service again.
"Part of our reason for joining the lawsuit is that we think it's unfair for Dr. Page to shut the entire county down when the city (of St. Louis) and St. Charles and all those other places can still serve indoors," said Ahearn. "All these people from the county will go out there to enjoy drinks and food, while restaurants in St. Louis County that have been following protocols, checking temperatures at the door and taking every possible precaution are getting wrongfully punished for trying to continue to employ our employees."
The lawsuit, which asserts that Page does not have the power to issue a ban on indoor dining, faced a setback when Associate Circuit Judge John R. Raster recently denied the movement a temporary injunction. The judgment does not dismiss the lawsuit, but rather keeps the shutdown order in effect while the case proceeds.
"The attorneys are working to have that decision made as soon as possible on an emergency basis," Missouri Restaurant Association CEO Bob Bonney wrote in a response to the setback. "We are confident that once those issues are heard, the restaurants will succeed in showing that the stay-at-home order, and all other rules and regulations issued unilaterally by the medical director, are not enforceable until the county council approves them."