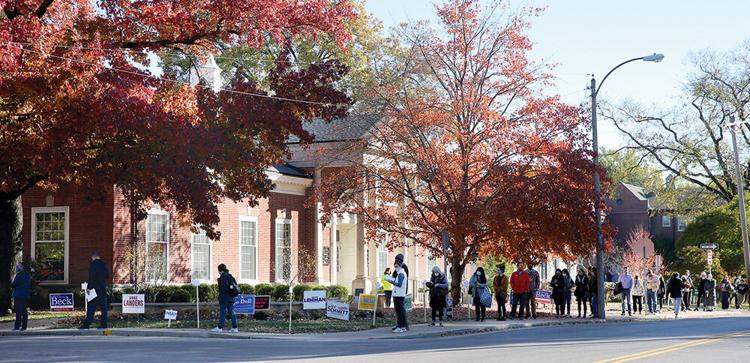 Missouri gave its 10 electoral votes to President Donald J. Trump on Tuesday. Republicans also had a good night on Nov. 3 elsewhere around the state. The GOP swept all statewide offices and gave Gov. Mike Parson a full four-year term.
In the presidential contest, state voters delivered 1,711,848 votes for Trump-Pence (57%) and  1,242,851 votes for Biden-Harris (41%). Third-party candidates collectively garnered a little more than 50,000 votes in the state. 
As the Times went to press on Wednesday, Biden was winning the popular vote by about 3 million votes. The electoral results were still too close to call, with Biden at 253 and Trump at 213, both short of the 270 needed to win. As of Friday morning (Nov. 6), the electoral votes stood at 264 for Biden and 214 for Trump. The victory will come down to who wins the few remaining battleground states — Georgia, Pennsylvania, Nevada and Arizona.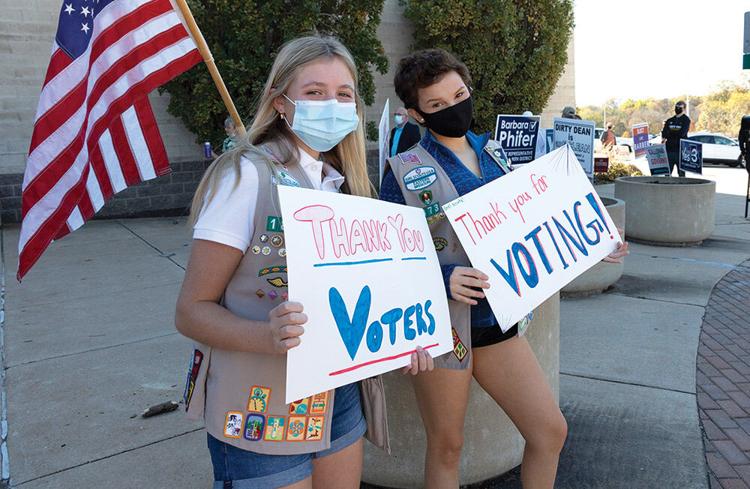 Local U.S. Rep Results
Incumbent U.S. Rep. Ann Wagner bested Democratic challenger state Sen. Jill Schupp in a race in which more than $20 million of political ad money was spent. Wagner keeps the 2nd Congressional District in GOP hands for another two-year term.
Ballwin's Wagner defeated Schupp in the district that takes in portions of St. Louis, St. Charles and Jefferson counties. She took 52% of the vote in the district, versus 45%  for Schupp. Wagner's district takes in most of the Webster-Kirkwood Times area. 
Democrat Cori Bush easily beat Republican Anthony Rogers for the 1st Congressional District seat formerly held by Democrat Lacy Clay. Bush becomes the first Black woman from Missouri ever elected to U.S. Congress.
The district, which takes in all of St. Louis and portions of St. Louis County, ranks as the most Democratic district in the state. Bush rolled up 79% of the vote tally versus the GOP's Rogers and Libertarian Alex Furman. Bush was declared the winner shortly after the polls closed at 7 p.m.
Governor/Statewide Races   
Republican Gov. Mike Parson handily defeated State Auditor Nicole Galloway with 57% of the vote to 41% to win a full term as Missouri's chief executive. The vote  tally closely replicated the presidential contest voting. Voters in St. Louis County broke with the state by handing Galloway 59% of the vote.
Parson led a Republican sweep of statewide offices as Lt. Gov. Mike Kehoe, Attorney General Eric Schmitt, Secretary of State Jay Ashcroft and Treasurer Scott Fitzpatrick all kept their posts. Voters nixed an amendment to put term limits on those positions.
In his victory speech, Parson repeated his campaign theme that the election was all about law and order and preventing the implementation of socialist measures by Democrats.  
"This election was about preserving freedom, capitalism and the rule of law," Parson stressed. "There is more work to be done, and that work starts tomorrow, as the next term for governor."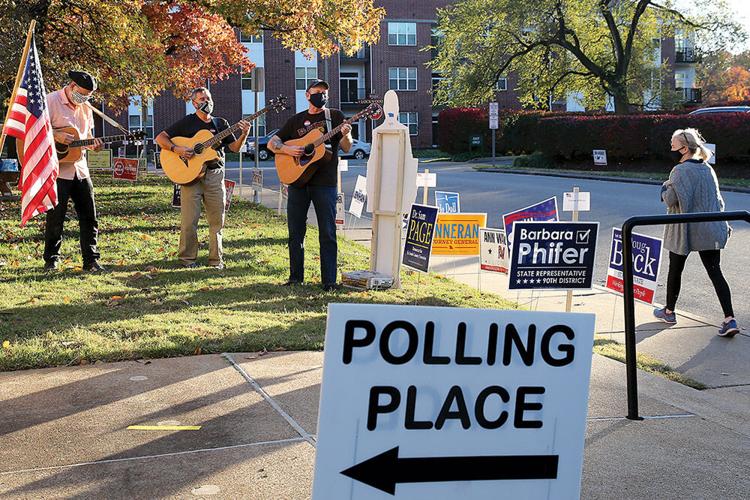 Local State Democrats
Local Democrats did share some better news when it came to the state legislature. However, the overall makeup of the Missouri legislature in Jefferson City  will remain lopsided in favor of Republican officeholders.
Missouri Rep. Sarah Unsicker, D-Shrewsbury, ran unopposed and will retain her District 91 statehouse seat.
In the 90th District House race, Kirkwood Democrat Barbara Phifer easily won the contest against another Kirkwood resident, Republican Anne Landers.
Doug Beck, an Affton Democrat, won the 1st District Senate seat in a race against David Lenihan, a Republican from Oakville. Beck replaces Democrat Scott Sifton, who was termed out of the seat.
Republicans fared better in state legislative seats on the west side of the Webster-Kirkwood Times reading area. 
In the race for the 89th District seat in the Missouri House, incumbent Republican Dean Plocher easily beat Democratic newcomer Luke Barber.  
Incumbent Republican Andrew Koenig of Ballwin held onto his District 15 seat in the Missouri Senate after a challenge from Kirkwood Democrat Deb Lavender. Lavender gave up her seat as the  90th District House representative to take a run at incumbent Koenig.
County Executive Post 
St. Louis County Executive Sam Page was the odds-on favorite to beat the  Republican's candidate Paul Berry III, the Green Party's Betsey Mitchell and Libertarian Theo Brown. He did just that on Nov. 3 with 58% of the vote.
Page assumed the county's top spot less than two years ago after former county executive Steve Stenger was forced to resign in disgrace. Page took over a county government scarred by Stenger administration scandals.
Page was appointed as interim county executive in a bipartisan vote of the county council. This past August, Page bested Democratic primary challengers Mark Mantovani, County Assessor Jake Zimmerman and political newcomer Jamie Tolliver.
A medical doctor, Page argued in his campaign that he was in a unique position to help get St. Louis County through the COVID-19 pandemic crisis with infections spiking recently. 
Amendment 3 Wins
Amendment 3 squeaked by for a win on Nov. 3, much to the chagrin of Democrats who contend it will allow Republicans to control redistricting and guarantee predominantly one-party rule in the state due to gerrymandering.
Opponents of Amendment 3 called it "Dirty Missouri" and described it as an attempt by the state legislature to undo the voters' will in 2018 with their placing it on the ballot on Nov. 3.
Supporters of Amendment 3, passed by a 2% margin, argue that transferring responsibility for drawing state legislative districts to a governor-appointed bi-partisan commission is  better than what voters passed in 2018.