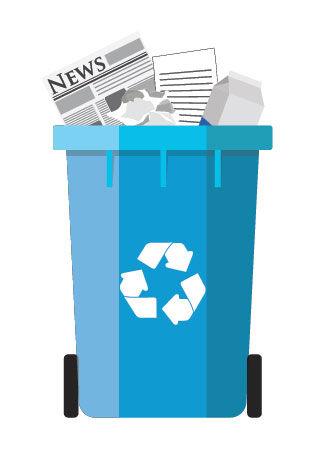 Kirkwood has found a company to process recycled materials collected from city residents, meaning curbside collections will continue.
"The city of Kirkwood … will continue curbside collection of residents' single-stream (everything put into one receptacle) recycling materials," Chief Administrative Officer Russell Hawes reported at the Kirkwood City Council's Nov. 1 meeting. "Republic Services will accept and process Kirkwood's recycling effective Thursday, Nov. 1.
"They will process the materials locally at their plant on Bayless Avenue in South County," he continued. "There will be no change in collections or costs to residents."
Republic Services has substantial local operations, including large recycling centers in Hazelwood, as well as on Bayless Avenue. At these plants, it separates collected materials into multiple streams, and is thus able to use domestic disposal resources, rather than wholesaling recycled materials to buyers in China, as did Kirkwood's previous processor, Resource Management of Earth City.
This switch to Republic will come at a substantial cost, however. Kirkwood will pay Republic $115 a ton to process its recyclables, according to the city's public services department. With more than 4,200 tons of recyclables collected each year, the new contract could wind costing the city a half million dollars annually.
Until very recently, Kirkwood had garnered a profit from the processing of its recyclables – nearly $130,000 in fiscal 2017-18.
That profit ended in August, when Resource Management announced it would stop paying for materials that came from single-stream collections. Instead cities that used a single-stream collection method, such as Kirkwood, now would be charged a processing fee of $35 a ton.
As of Nov. 1, Resource Management said it would shut down all processing of single-stream recyclables at any price. The reason: Its Chinese market-makers had announced they would accept no more mixed recyclables due, they said, to frequent cross-contamination among materials that had shared the same container.
The city council ordered a search for alternative processors, preferably local. Price quotes were very high, but the council decided in mid-September to continue curbside recycling, regardless.
The city reports it has a $1.1 million surplus in its recycling fund, which could keep the current collection system going for two years. Also, a cost-sharing agreement was worked out with Republic whereby it would rebate 80 percent of its sales it makes from Kirkwood's recycled materials. This could reduce the effective cost of processing at least some recyclables, said Bill Bensing, director of public services.
Officials acknowledge that these financial pressures eventually could force Kirkwood to change its recycling methods, segregating materials prior to collection. The city of O'Fallon recently made such a decision, according to news reports.
Hawes announced that Kirkwood had applied for a grant from the St. Louis County Dept. of Public Health to conduct a study of strategies and methods to reduce contamination in recycled materials. The city will then run a public education campaign to spread whatever knowledge is gained from the study, he said.
"We may end up having to do that at some point," Mayor Tim Griffin said. "But what we wanted to do – and were able to do – is continue things as we are while all these things in the background are changing.
"We're thrilled to be able to do that," he added.