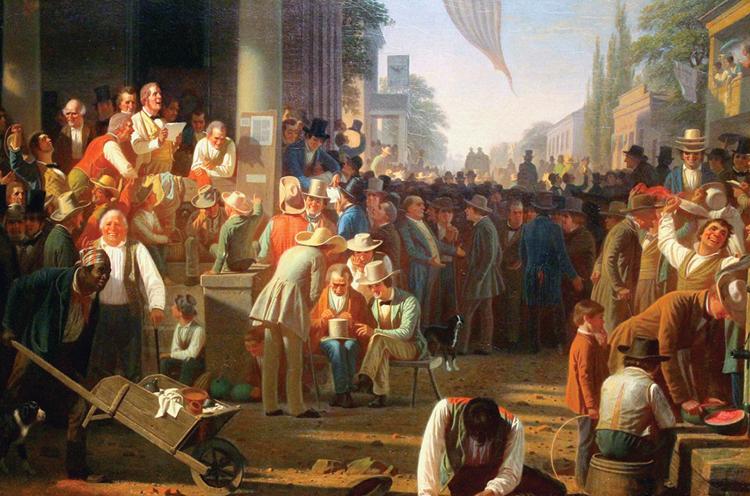 As our nation celebrates Independence Day, let's talk about "The Missouri Artist," George Caleb Bingham, artist and statesman.
At age 9, young Bingham was inspired by his time with Chester Harding, an acclaimed artist who was in Missouri to paint the likeness of Daniel Boone. Years later, Bingham recalled "the wonder and delight with which his works filled my mind."
By his early 20s, Bingham was making a living as a portrait artist in St. Louis, but his ambitions led him to the Pennsylvania Academy of Fine Arts and Washington, D.C. Bingham broadened his artistic experience and began to depict a wider range of subjects. In 1844, when he returned to Missouri, regional newspapers proudly dubbed him "The Missouri Artist."
Bingham lived up to his new title by painting the Missouri River and local political scenes. In a letter to his friend and patron James S. Rollins, Bingham spells out his artistic goal: to ensure that "our social and political characteristics as daily and annually exhibited will not be lost in the lapse of time for want of an Art record rendering them full justice" (Missouri Historical Review, 32. P 170).
Bingham continued to support himself through commissioned portraiture, but is best known for his landscapes and genre paintings of Missouri, where American civilization met the frontier.
"The Election Series" is perhaps Bingham's most important work. Executed between 1852-55, the paintings were purchased by John H. Beach, president of the Mercantile Library of St. Louis, in 1962. The series depicts different phases of a local political campaign: Stump Speaking, The County Election, and The Verdict of the People. Bingham captures the passion and excitement of the political contest, the foundation of the American system.
Bingham didn't just paint about the political process. He served in various elected political positions, including state treasurer for the provisional Missouri government during the Civil War.
In 2016, Bingham's "The Verdict of the People" was on prominent display at the U.S. Capitol's Statuary Hall during Donald Trump's inauguration events. Today, you can see it and the rest of The Election Series on display at the Saint Louis Art Museum.