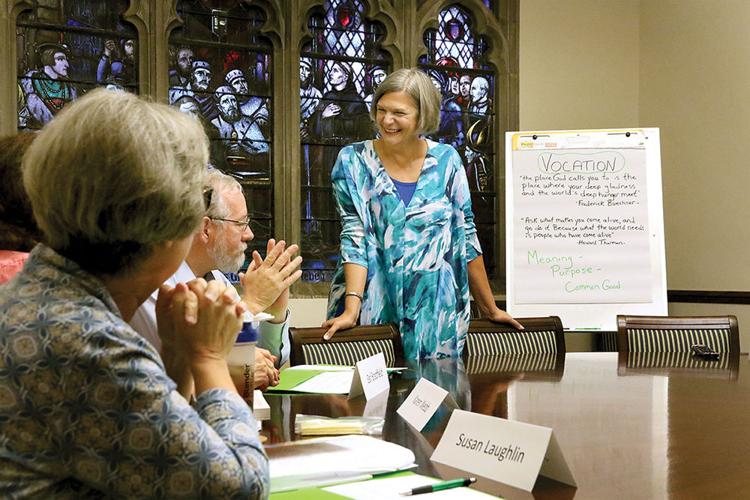 When it comes to financial planning, many plot a course to age 90. If one retires at 65, or even 70, a lot of life remains.
The Walker Leadership Institute at Eden Theological Seminary in Webster Groves offers a program, NEXT Steps, designed to help retired professionals take the "next step" in their lives.
The 14-week program leads participants on a journey of self-discovery through guest speakers, group discussions, volunteer guidance, personal development, networking and career guidance.
One program is tailored for laity, the other for clergy.
Susan Laughlin, Shrewsbury, is an attorney with the federal appellate court. With retirement in her future, she signed on to the NEXT Steps program.
"My kids and grandkids are grown and I'm trying to figure out what to do with the rest of my life," she said. "In my current role in the court, I'm not allowed to do anything political. So, I'm excited about doing something along those lines because I won't have those restrictions anymore. I may get more involved with the Sierra Club, because I'm interested in environmental issues."
The Rev. Dr. David Greenhaw, president of Eden, said Next Steps is based on a program called Encore at Union Seminary, a theological school in New York.
"It's basically, 'how do you take business people ready to retire and teach them how to run non-profits,'" Greenhaw said. "If you retire at 65 and plan, financially, to live to 95, what do you do in that phase?"
The focus of Next Steps is not teaching participants how to run nonprofits, Greenhaw said, but poses the question taken from a Mary Oliver poem, "What will you do with your one wild and precious life?"
"If you stop and look over your life, you made a variety of choices, and every time you chose something, you excluded something else," Greenhaw said. "The central core issue is vocation, and how did you get into that career. In college, you were going to be an engineer, then took an English class and ended up being a teacher."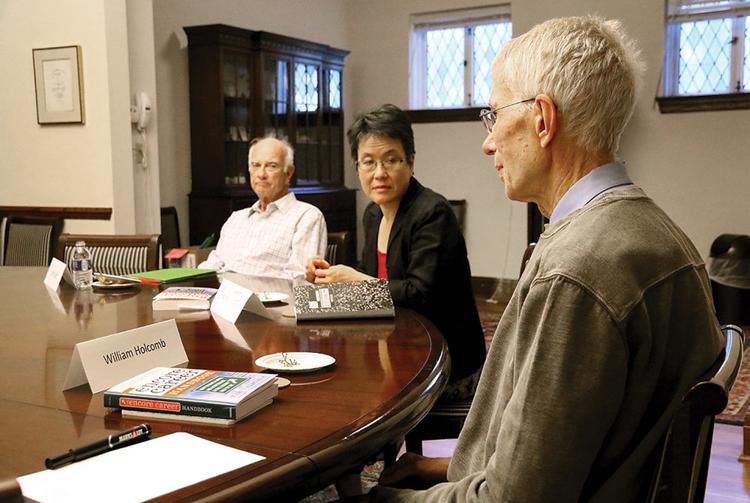 Greenhaw said death is talked about in the program.
"When you are 30, you have a goal of retiring, not dying. But when you're 65 or 70, and if you're not thinking about death, you're not very realistic," he said. "We could ignore it or talk about it, so we choose to talk about it, but not in a morose way."
The Next Steps Program is taught by Dr. Sharon Tan, acting dean of the seminary, and Mary Schauller Blaufuss, vice-president for Institutional Development.
Participants meet and, after discussing their options, devise an "experiment" based on what they think they would like to do. Classes meet every other week on Thursday night, and participants meet and report on the progress of their experiments.
"This is an opportunity for Eden Seminary to be in the space with people as they transition and figure out where they want to take their life," Blaufuss said. "What is the common good? What is God's calling in my life?
"Next Steps implies that we don't have it all figured out, nor do we have to have it all figured out," Blaufuss continued.
"As we do these themes each week of introducing ourselves, looking at what it means to be in midlife, what stories of death have shaped us and continue to shape us, and how do we make decisions about what comes next," she said.
Jim Eckert was in charge of farm operations at Eckert Farms in Belleville. He is enrolled in NEXT Steps.
"I slowed down several years ago and have some time now, so I'm trying to figure out a new venture," he said. "I'm pretty open to ideas, and don't know how my skills will transfer and that's to be determined."
Dr. Karen Webb of Clayton, a former Glendale resident, is retired from her position as chief medical officer at Saint Louis University and as a teacher at the A.T. Still University of Osteopathic Medicine in St. Louis.
"After years of focusing on medicine, I'm ready for something, but want to find out where the Lord's going to lead me," she said. "I want to be of service."
She and her fiancé, Earl Bradfield, are taking the class together even though Bradfield is not retired. "Hopefully, we can do something together," Webb said. "I think that would be romantic."
For more information, visit www.NextSteps@eden.edu or call 314-918-2547.