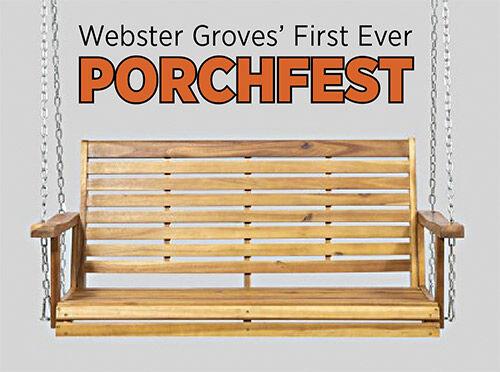 Webster Groves invites citizens to its inaugural "Porchfest," a free, walkable outdoor live music event on Sunday, Oct. 18, from 4 to 6 p.m.
Porchfest will feature 21 live local musicians and groups — including soloists, duos, trios, singing groups and five-member bands — spread out and performing from the front porches of 22 homeowners in the neighborhood bounded by South Gore and South Gray avenues, including the connector cross streets of West Cedar, West Jackson and West Swon. 
Residents can get some fresh air and stroll along the sidewalks at their leisure while stopping to listen to a variety of performers along the way. Attendees are encouraged to wear face masks and practice social distancing. 
No streets will be blocked.  Residents will walk on the sidewalks and cross at intersections as normal. 
Webster Groves Mayor Gerry Welch's husband, Pat, will be playing with his jazz band, the Rockin' Docs. All participating musicians are donating their time and talent. Rather than displaying individual tip jars, two large and clearly marked tip jars will be put out on South Gore and South Gray to collect cash and check donations for Webster-Rock Hill Ministries and those it serves.