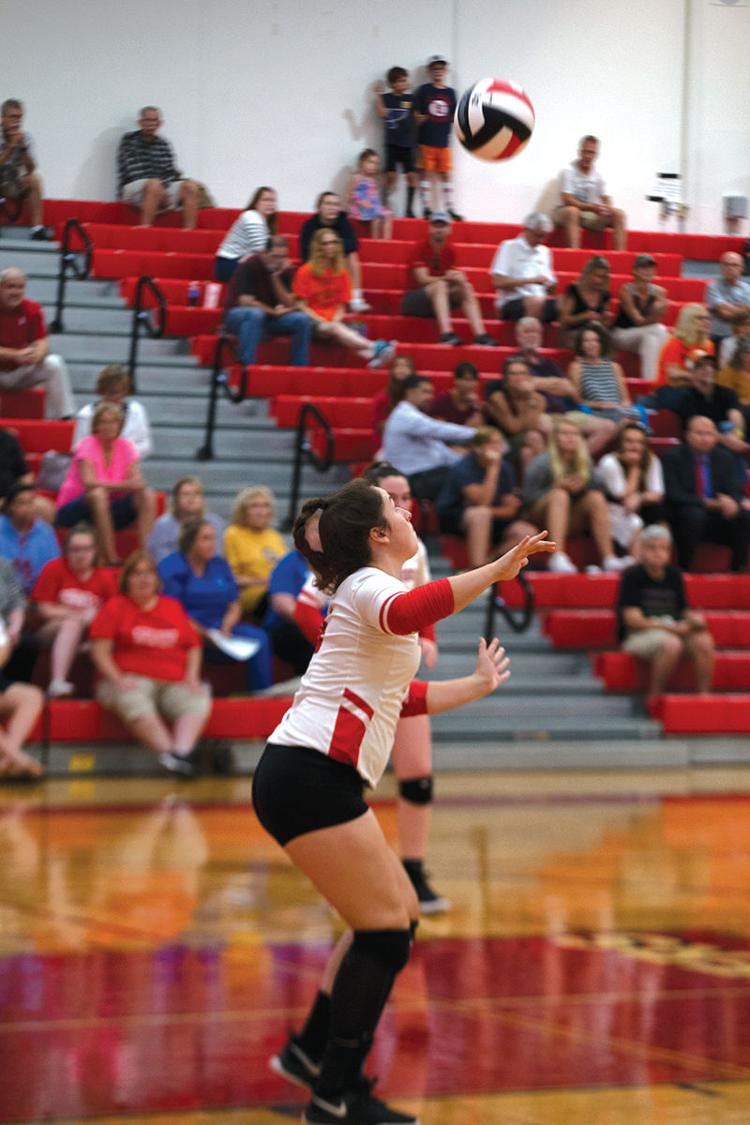 Kirkwood senior setter Katie Paul was adding to her calendar when she spotted a memorable entry for Sept. 10; a match against rival Webster Groves High School. The four-year starter had never beaten the Statesmen during her first three years. The Pioneers' last win over Webster, in fact, was in 2015.
But on Sept. 10, led by an energetic Paul, Kirkwood snapped a five-game losing streak to Webster Groves in three sets, 21-25, 25-14 and 25-11 at the David Holley Assembly Hall.
Before the match, Kirkwood honored Paul for surpassing the 1,000-assist plateau on Oct. 7 in the last match against Lutheran South in a tournament at St. Borgia in Washington. She ended the tournament with 1,007 assists.
Paul produced 16 assists against Webster Groves to bring her total to 1,023. She entered a match against Parkway West on Sept. 11 in fourth place on the school's all-time assist list.
"It's such a huge honor, but honestly, I can't set if my passers don't get me the ball," Paul said. "I can't get the assist if the hitters never get the kill. So, really it's all about the team."
Though the honor and ceremony before the match meant a lot, it was defeating Webster Groves for the first time that meant more, said Paul, who played before her family, including her grandfather, Dale Collier, the former athletic director, head football and track coach at Kirkwood.
"The thousand was great," Paul said. "The honor was great. The goal for today was to beat Webster. Personally, as a senior, being 0-3 the last couple of years and to beat them this year is a special feeling."
Kirkwood Coach Julie Goodmann said Paul didn't find out about her career achievement until the next day.
"What she really wants is to beat Webster," Goodmann said. "She has always dreamed of being a Kirkwood volleyball player. She is living her dream. And it's not getting old. This is her senior year and she wants to leave her mark. How does Katie Paul want to be remembered? That's how she plays every day. "
In the first game, Kirkwood (2-4-1 through Sept. 10) jumped out to a 12-5 lead before Webster Groves rallied to win by four points in a game that had four lead changes and three ties. The Pioneers used the loss to focus more and put them away easily.
In the second game, Paul delivered seven service points while senior designated server Mia Coronado produced five points. In the final game, sophomore setter Sienna Wright had seven service points, including six in a row and the decisive point. She finished with five aces.
"That was definitely a lesson for us as a team," Paul said. "We can't take anything for granted. But I really think we showed we can overcome them and we can learn from them. In the last couple of years, we worked just as hard; we had just as talented players. I think we've always had the fire. But I think this year we came out and we refused to lose. You could see that coming back from that first game. We refused to let them beat us."
Webster Groves Coach Jeff Ridgway said Paul's achievement is worth the attention. Ridgway experienced that last year with Hannah Sondag, who left Webster Groves as the school's all-time assist leader. Sondag was one of eight seniors who left their mark for the Statesmen.
"Isn't that awesome," Ridgway said. "It's an amazing feat, right, when you have a setter who gets to play that long and does such an awesome job. Luckily, we have setters waiting in the pipeline ready to go and they're pretty good setters. Filling Hannah's shoes was pretty tough, but they're going to have that issue, too. What an amazing feat."
Though he has talent, Ridgway said he knew he would experience growing pains this season. The Statesmen are 3-5-1 through Sept. 10, but players like sophomore middle blocker Eliza Maupin, a standout basketball player who is in her first year in volleyball, but who has "already shown to be a dominator", Ridgway said. She had seven kills and six service points, including the winner in the first game.
"We're young and we're learning," Ridgway said. "It takes time. I know everybody wants results now. They're working hard in the gym. We're getting places. Where we started and where we are now are two different places. The future is bright for this group.
"Kirkwood was much more consistent than we were. That's what it takes, consistent volleyball. They took it to us today, but we'll come back."